Dir: Philip Cox. UK-India. 2010. 100mins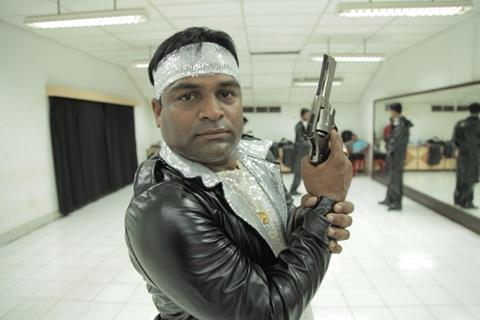 The Bengali Detective is the story of a private detective who chases criminals… and when he has the time, he pursues stardom. This portrait of a working cop with dreams is an absolute delight and a vivid look at crime-fighting in a big city.
For filmmaker Philip Cox, this character is a storytelling dream come true.
The entertaining subtitled doc could win over a mainstream audience if critics get behind it and the word gets out. English-speaking territories and India (with its limited alternative circuit) will be its prime territories. A larger public is likely to see its dramatic remake. Rights to that project were acquired by Fox Searchlight at Sundance. News of that deal should help the doc find an audience first.
The stage here is Kolkata (formerly Calcutta), a city of more than 15 million where police are indifferent and crime of every sort is rampant. Citizens have a last resort, the private detective, and paunchy Rajesh Ji and his crew are the heroes of this doc which plays like a quirky drama with a comic subplot.
Rajesh Ji isn't just a valiant detective, searching out every sort of evil from murder to the counterfeiting of shampoo. He's a family man in the world of middle-class India that outsiders rarely see, and a serious aspirant in his spare time to enter televised dance contests with his ensemble of detectives. Think of The Full Monty, then use your imagination.
For filmmaker Philip Cox, this character is a storytelling dream come true and Kolkata offers innumerable encounters and a unique pageantry.
Philips connects you with a character whom you can't stop watching, even if you're laughing at him – whether he's at work, with his family and sick wife, or rehearsing dance numbers earnestly and ineptly with fellow cops. But this director also has a remarkable peripheral vision. Endless dimensions of Kolkata are revealed while you travel through with the doc's protagonist.
Cinematographer Lisa Cazzato-Vieyra stays away from beauty shots that you'd get from the tourist bureau. She also avoids the obvious visions of Kolkata miserabilism. The film doesn't need them. It overflows with personality. At the end, it leaves you assuming that there are enough outtakes from The Bengali Detective to make a mini-series, or a few of them.
There's also sadness in The Bengali Detective, all part of a range of emotions which Philip Cox treats respectfully, without shortchanging any of its drama. Let's hope the doc has a long life (or at least a large audience), just in case a feature version of the story eclipses it.
Production company/sales: Native Voice Films, www.nativevoicefilms.com
Producers: Giovanna Stopponi, Annie Sundberg, Himesh Kar
Executive Producers: Angus Aynsley, Karol Martesko-Fenster, Gernot Schaffler, Thomas Brunne
Cinematography: Lisa Cazzato-Vieyra
Editors: Taimur Khan, Tom Hemmings
Music: Dennis Wheatley