From epic period pieces and zeitgeist-riding drama to futuristic thrillers, the directors in the running for awards recognition in 2010 have shown brilliance and ambition.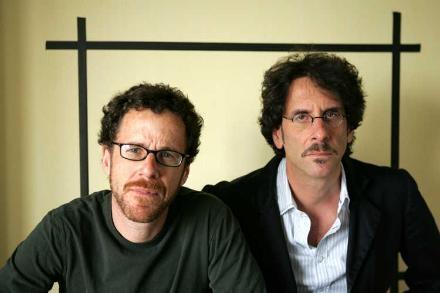 The 2010 class of directors features big name storytellers working at the top of their game, and ironically — like in 2008 — the key contenders are David Fincher and Danny Boyle, this time for The Social Network and 127 Hours respectively. In 2008, Boyle was the favourite for Slumdog Millionaire and took the Oscar, Bafta and Golden Globe that year, beating Fincher for The Curious Case Of Benjamin Button.
This year, Fincher is the director in pole position with The Social Network, which has been hailed as a vital chronicle of the times, and Boyle may have to settle for a nomination or two.
But it is by no means a two-horse race. Darren Aronofsky and David O Russell are among the favourites for Black Swan and The Fighter respectively, while Emmy and Bafta-winning director Tom Hooper cannot be underestimated for crowdpleaser The King's Speech. And talking of audience favourites, what about Christopher Nolan, so famously passed over for his box-office behemoth The Dark Knight. This year, he delivered one of the most audacious and well-reviewed studio tentpoles in years with Inception, and his enormous fanbase turned it into an $800m smash.
Throw in old favourites Mike Leigh and the Coen brothers and the contest for this year's best director will be hard fought.
ACADEMY AWARDS
2009 Kathryn Bigelow (pictured), The Hurt Locker
2008 Danny Boyle, Slumdog Millionaire
2007 Joel and Ethan Coen, No Country For Old Men
2006 Martin Scorsese, The Departed
2005 Ang Lee, Brokeback Mountain
GOLDEN GLOBES
2009 James Cameron, Avatar
2008
Danny Boyle, Slumdog Millionaire
2007
Julian Schnabel, The Diving Bell & The Butterfly
2006 Martin Scorsese, The Departed
2005 Ang Lee, Brokeback Mountain
BAFTAS
2009 Kathryn Bigelow, The Hurt Locker
2008
Danny Boyle, Slumdog Millionaire
2007
Joel and Ethan Coen, No Country
For Old Men
2006 Paul Greengrass, United 93
2005 Ang Lee, Brokeback Mountain

DIRECTOR: LEADING CONTENDERS
DAVID FINCHER
Film: The Social Network
What's the story?
It seems difficult to believe the director of Fight Club, Zodiac, Se7en and The Curious Case Of Benjamin Buttonhas yet to lay his hands on the coveted statuette, but many believe this could be his year. Regarded as a master, Fincher's work ethic is ultra-demanding but there is no doubt it works for those who can stay the course. He draws out the performance of a lifetime from Jesse Eisenberg and casts the youngster into serious lead-actor contention for his role as Facebook inventor Mark Zuckerberg.
Supporting actors Andrew Garfield and Armie Hammer have reasons to be thankful too, and the latter's dual role as the Winklevoss twins is a subtle example of the director's trademark technical expertise.
Utilising Aaron Sorkin's script to full effect and a serrated score from Nine Inch Nails frontman Trent Reznor and Atticus Ross, Fincher imbues the story with a restless intelligence which propels Zuckerberg and his cronies through their wild ride.
DANNY BOYLE
Film: 127 Hours
What's the story?
Boyle won the best-director Oscar for Slumdog Millionaire at the 2009 Academy Awards and he is a front runner to repeat that success with his spiritually uplifting, visceral follow-up. The UK director was very clear about how he wanted to treat the survival story of trapped rock-climber Aron Ralston after he read Ralston's book, so much so that the project almost didn't come together.
"I wanted to make it as a first-person immersive experience but [Ralston] wanted to make it like a dramatised documentary," says Boyle. "But after Slumdog Millionaire, he felt the film would stand a good chance of getting a good profile. I told him the basic deal was he would have to let us deliver the story and trust us."
James Franco plays the trapped climber in what Boyle calls "an action movie where the actor can't move". He was also uncompromising about how to depict the amputation scene. "It's based very closely on the book because I remember thinking, 'I'm not going to sensationalise this nor am I going to trivialise it.'"
TOM HOOPER
Film: The King's Speech
What's the story?
Hooper's classy work on The King's Speech had audiences and critics in raptures after its autumn festival premieres and delivered a crowd-pleaser which could go all the way. The acclaimed director of TV hits such as John Adams and Prime Suspect is a strong contender himself and has packed into this film everything Academy voters love: a period setting, a largely English cast and a stirring tale of courage in the face of adversity.
"I can't tell you how excited I was to make a film in London," says Hooper. "I was last there in 2003 filming Prime Suspect and since then I've recreated London in Vilnius and Virginia. I was so interested to feature a version of London that felt different. There's this clichéd notion of the Roaring Twenties and Thirties and the glamour of the inter-war period, but all my research indicates it was a very austere period. Ridley Scott was born in 1947 and remembers how you could walk across London and wipe a tissue across your face and it would come out black from the soot."
Colin Firth says Hooper is "one of the most formidably articulate directors" he has ever met.
CHRISTOPHER NOLAN
Film: Inception
What's the story?
Few directors working today could muster the clout to persuade Warner Bros and its partner Legendary Pictures to invest in a high-concept tale about a team of specialists who enter people's dreams. Fewer still could turn it into an $820m global blockbuster but, as the creative force behind The Dark Knight and Batman Begins, Nolan is such a man.
Inception was originally conceived years ago as a smaller film. The UK director waited years before he knew he had the experience to tell his story the way he wanted it told. The resulting box office vindicates the studio's decision to stand by their man.
Nolan directed the late Heath Ledger to a best supporting actor Academy Award for his portrayal of the Joker in The Dark Knight, yet has only earned one Oscar nomination himself for writing Memento. Inception may change all that.
MIKE LEIGH
Film: Another Year
What's the story?
The UK director's precise approach and the trademark lengthy periods of story and character exploration before production are renowned for their intensity and have produced some of the most acutely observed social dramas of the last several decades.
With Another Year, Leigh has crafted an absorbing slice of life peopled by truly memorable characters. Hollywood knows him well: Leigh has earned six Academy Award nominations for writing and directing for Happy-Go-Lucky, Vera Drake, Topsy-Turvy and Secrets & Lies.
PETER WEIR
Film: The Way Back
What's the story?
The second elder statesman of this season's crop, Weir's back catalogue features The Truman Show, Dead Poets Society, Witness, Gallipoli and Picnic At Hanging Rock. His work has garnered six Oscar nominations — four for best director — and some in Hollywood believe he has a shot at a seventh for The Way Back.
The drama, about prisoners who escape from a Siberian gulag during the Second World War, has an epic quality which sets it apart from other contenders. Weir blends intimate drama with the broader sweep of nature.
DARREN ARONOFSKY
Film: Black Swan
What's the story?
Aronofsky sought out Natalie Portman to be his lead in Black Swan almost 10 years ago and the resulting story of a fragile, sexually timid ballerina who begins to crumble after she lands the role of a lifetime is a dazzling psycho-thriller which refuses to abandon its uncompromising vision. The director ratchets up the tension and the trippiness, while retaining a firm grip on the integrity of the film's structure and nightmarish logic.
Aronofsky, whose credits include The Wrestler and Requiem For A Dream but who has never been nominated by the Academy, has plenty of admirers.Portman is one: "I don't think I've ever had an experience with a director like this. I've loved directors I've worked with before but there's some weird telepathy… He's very intuitive and really knows what actors need. He tailors the way he directs to what someone needs. He gave me the key of trying it 15 ways, then he would say, 'Now do it for yourself.' Directors often say you can have a freebie at the end, but his choice of words gave me that special freedom and I feel he often used those takes."
DAVID O RUSSELL
Film: The Fighter
What's the story?
Russell joined his Three Kings star Mark Wahlberg's passion project quite late in the day and pours his considerable talent into the true story of 'Irish' Micky Ward. The film snuck into the recent AFI Fest in Los Angeles and was an instant crowdpleaser which could become a wild card in several categories.
Russell brings a bustling energy to the underdog story of a junior welterweight boxer from Massachusetts who has a shot at a title fight. Best known for Three Kings and Flirting With Disaster, the director is yet to earn an Academy Award nomination and will endear himself to many with this rousing tale.
LISA CHOLODENKO
Film: The Kids Are All Right
What's the story?
Cholodenko's knack for incisive female roles reaches its apogee in The Kids Are All Right, an audience favourite from the moment it premiered at Sundance, where Focus Features wasted little time in snapping up rights.
The respected director of Laurel Canyon and High Art plays to her strengths as a chronicler of modern relationships and ups the ante with a heartfelt look at family life in this Berlinale Teddy Award winner.
Annette Bening and Julianne Moore slip into an on-screen gay marriage which seems to exist beyond the confines of the film, while Mark Ruffalo has rarely been as charismatic as the interloper who unwittingly threatens the security of their family unit.
Cholodenko runs the show in a clear-sighted way which quietly sows the seeds of conflict so that, when character dynamics invade the film's comfort zone, the stage is set for a satisfying finale.
ETHAN COEN AND JOEL COEN
Film: True Grit
What's the story?
The Coens have been red-carpet regulars on the awards circuit in recent years and could be set to return with their True Grit remake. The brothers followed up their original screenplay win in 1997 for Fargo by sharing best director and adapted screenplay honours in 2008 for No Country For Old Men. They also earned best picture and original screenplay nominations last year for A Serious Man.
Capable of channelling their absurdist world view into both whimsical dark comedy and heavy-hitting drama, the brothers have rebooted the 1969 Western, which cast John Wayne as a US Marshal on the trail of a murderer. Jeff Bridges, Matt Damon and Josh Brolin star.
OTHER CONTENDERS
People liked director Martin Scorsese's Shutter Island and his credentials are second to none. But the buzz surrounding his competitors suggests this may not be his year.
Ben Affleck is fast becoming one of the most admired young film-makers working today, and his impressive control of heist drama The Town keeps hisstock high.
Alejandro Gonzalez Inarritu is the kind of heavyweight whose work demands close attention, and Roadside Attractions is giving Biutiful a hefty push. The plutonium-heavy tone and miserable sequence of events may be too much for voters to bear, however.
John Cameron Mitchell reins in his wilder urges and confidently handles David Lindsay-Abaire's adaptation of his own stage play, delivering a rock-solid, relatively conventional job on Rabbit Hole. He coaxes top-tier performances from lead actors Nicole Kidman and Aaron Eckhart.
Derek Cianfrance has earned rave notices all year for Blue Valentine, his intricately structured chronicle of an ailing relationship which boasts excellent work from Ryan Gosling and Michelle Williams.
History suggests it would be madness to dismiss Clint Eastwood and, while the reviews for his supernatural fantasy film Hereafter have not been as strong as the prolific film-maker and Warner Bros executives would have liked, the pedigree of his work cannot be discounted.
Long shots include: Luca Guadagnino's I Am Love; Roman Polanski for political thriller The Ghost Writer (akaThe Ghost); Debra Granikfor Sundance favourite Winter's Bone; Matt Reeves for Let Me In, his adaptation of Scandinavian horror Let The Right One In; Doug Liman for CIA thriller Fair Game; Woody Allen for comedy drama You Will Meet A Tall Dark Stranger; and Sofia Coppola for Somewhere, a drama about a hard-living Hollywood actor