Dir: Rian Johnson. US. 2008. 109mins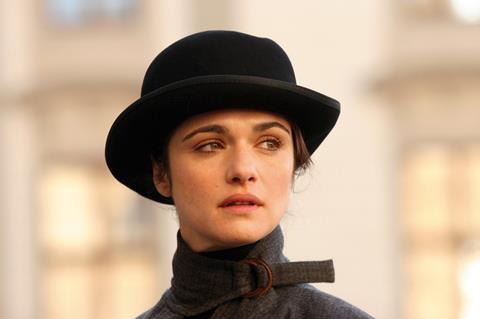 Rian Johnson's eye-catching 2005 feature debut Brick brought a fresh sensibility to the world-weary private eye thriller. That fresh sensibility takes a sharp turn towards the picaresque and eccentric in The Brothers Bloom, a globe-trotting con game adventure that has a degree of charm but also displays the exasperating indulgence of an ambitious auteur project that may have been more fun to film than it is to watch. More likely to gain a cult following than show mainstream appeal, it should generate modest returns as a specialist release targeting a sophisticated market.
A film that has the feel of a rambling, magical realist novel, The Brothers Bloom unfolds in its own beautifully crafted world. It could be set in the present day or the 1930s. There are elements of cockeyed screwball comedy in the manner of a Preston Sturges classic like The Lady Eve. The more anarchic elements (explosives, gunfire and a shipboard bolero) recall a Swinging Sixties caper like Gambit or the cinema of Richard Lester. There is also something of an affinity with fellow luminaries from the current generation of American independents, especially Wes Anderson (The Darjeeling Limited) or David O Russell in I Heart Huckabees mode. The unclassifiable nature of the material is part of its appeal although it is an appeal that diminishes as the narrative twists and bluffs start to pile up.
Beguiled by the possibilities of storytelling and the blurred lines between reality and make believe, the film concentrates on Bloom (Brody) and his older, protective brother Stephen (Ruffalo). The brothers are consummate con artists but Bloom longs for an unwritten life in which he is not playing yet another character in one of his brother's convoluted scenarios. He is committed to one last con involving lonely New Jersey heiress Penelope (Weisz) who is thrilled by the sense of adventure they bring into her life and unperturbed by the fact it may all be a scam. As Bloom develops real feelings for Penelope, the challenge for Bloom and mute sidekick Bang Bang (Kikuchi) is to develop a con in which everyone gets what they want.
Unfolding in a dizzying array of locations that includes Prague, St Petersburg, Greece, Montenegro and Mexico, The Brothers Bloom has the freewheeling spirit of a bedtime story that is being made up as we go along. The very literary qualities of the piece are underlined by loquacious voice-over narration and allusions to tales by Conrad
and even Agatha Christie. The lighthearted tone is continued in appearances from Robbie Coltrane as a supposedly larcenous Belgian museum curator and Maximilian Schell as the one-eyed, Fagin-like mentor Diamond Dick who appears to have taken the brothers under his wing at some point.
The film's eccentric humour is something of an acquired taste and the elaborate story does overstay its welcome. The general air of larkish artificiality makes its hard for the film to change gears and a finale that should be unbearably poignant doesn't have the emotional impact that it should. Johnson has risen to the challenge of that difficult second film with an ambitious mixture of comedy, adventure and heartfelt romance but ultimately it feels as if he has bitten off more than he can chew.
Production companies
Summit Entertainment
Endgame Entertainment
International sales
The Weinstein Company
(1) 646 862 3466
Producers
Ram Bergman
James D Stern
Executive producers
Wendy Japhet
Douglas Hansen
Screen play
Rian Johnson
Cinematography
Steve Yedlin
Production design
Jim Clay
Editor
Gabriel Wrye
Music
Nathan Johnson
Main cast
Rachel Weisz
Adrien Brody
Mark Ruffalo
Rinko Kikuchi
Robbie Coltrane
Maximilian Schell