Dir/scr: Carlos Sorin. Argentina. 2011. 89mins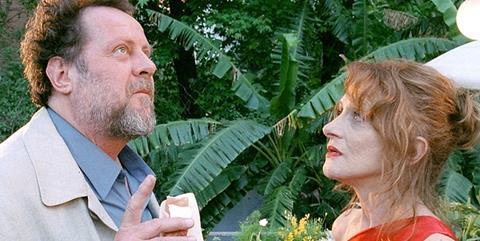 This nicely packaged film by veteran Sorin successfully balances humour and suspense in what might come across as a mere chamber play in lesser hands. Focusing on an well-respected academic just released from an institution after suffering a nervous breakdown and the translator wife whose own mental state deteriorates after he returns home and attempts to get his life back, it holds the viewer's attention with subtle comic touches coexisting with chilling scenes of her hallucinations and more ambiguous shots of his blank face post-treatment.
The CatVanishes (El Gato Desaparece) is not a thriller per se, neither is it a comedy, but more of an exercise in fusing form and content.
Sorin proves that he is as adept at capturing an upper-middle-class milieu in Buenos Aires as the more working-class Patagonian settings of Intimate Stories and Bombon: El Perro. Some Spanish-language markets are guaranteed, but its art-house future in other large cities is questionable.
Even in the couple's warm, Frank Lloyd Wrightish home, cinematographer Julian Apezteguia shoots in a heavily noirish style (characters filmed menacingly from below, ubiquitous shadows), which tells us more about their states of mind than exposition would. The claustrophobia inherent in this ambience infects the plotlines as well: The man is lost, no longer employed ("I've ceased to exist"), while she feels trapped after some unspecified number of years managing on her own.
The marketing challenge with a two-hander filmed in this manner is that it renders the enterprise slighter than if it were opened up more. The Cat Vanishes (El Gato Desaparece) is not a thriller per se, neither is it a comedy, but more of an exercise in fusing form and content.
What could be a tool to generate interest is the phenomenal level of the acting: Both Luque, playing Luis the professor, and Spelzini (who looks like a cross between Melissa Leo and Isabelle Huppert), as his wife Beatriz, give striking performances: his as a now "relaxed" man (he's on lots of psychotropic medication); hers as a passive, dutiful housewife and mother until she becomes whipped into a schizoid frenzy. The camera frequently lingers in tight close-up on their expressive faces.
Luis had been committed to the mental institution on account of his violent reaction when he suspected a colleague, Fourcade (Sigman), of stealing the research he had done over 15 years for a book on the philosophy of history. In the opening sequence, we see photographs of Pablo's smashed-up face when a group of doctors are deciding whether or not Luis is ready to re-emerge into the outside world. They are engaged in a serious discussion of Luis's paranoia when Sorin cuts to a caricature the head psychiatrist, himself goofy looking, is drawing of a colleague. Always a filmmaker and screenwriter of precision, he signals the twin tones of the movie right up-front.
Once he is out, Beatriz becomes more and more nervous, walking on eggshells while releasing her own psychological demons. She becomes more and more obsessive and anxious. Although she expects his condition to recur (the cat of the title is their black house pet, whose disappearance and her suspicion that her husband killed it trigger her emotional disarray), Luis turns out to be the more stable of the duo. She seeks validation, asking her daughter and one of Luis's ex-students to confirm that he appears odd; to her chagrin, they do not comply.
A scene between Fourcade and Beatriz in her car is significant. His oddly cackling mobile ring tone anticipates an important twist later on. And his presence there raises the unanswered question: Was she having a fling with the man who plagiarised her husband?
Their home recalls the Hollywood melodramas of the 1950s, as does part of the score (by Sorin's son, Nicolas), when it's not connoting generic disequilibrium. By the end of the film, the music has mellowed, and so has the irrationality afflicting Luis and Beatriz. Somehow, it works.


Production company: Guacamole Films
International sales: Bavaria Film International, www.bavaria-film-international
Producers: Patricia Bustamante, Juan Pablo Galli, Juan Vera Alejandro Cacetta
Cinematography: Julian Apezteguia
Editor: Mohamed Rajid
Music: Nicolas Sorin
Main cast: Beatriz Spelzini, Luis Luque, Maria Abadi, Norma Argentina, Hugo Sigman