Dir/scr.Tom Shankland. UK. 2008. 84 mins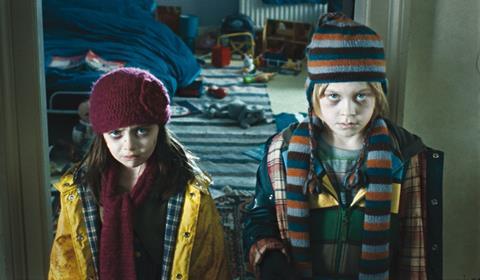 Highly amusing - whether intentionally or not - Vertigo's daft low-budget horror The Children presents us with Boden-tots who turn into demonic terrors during a festive family reunion. Sorely lacking in suspense or dread but scoring high on silliness and gore - including some gleeful send-offs of Chucky-like children - this is prime remake material for terror-loving territories such as Spanish-language markets, Southeast Asia and perhaps even North America. Who knows' A little extra cash in the remake pot may even make better sense of the plot .
With its festive theme, The Children opens in the UK December 5 where it could drum up similar business to last year's The Cottage, whose writer Paul Andrew Williams (London to Brighton) also came up with the idea for this (both are set in isolated country houses). Working in its favour is the novelty value of possessed/killer kids, not a recent fixture on the terror circuit, and always effective from The Innocents on up.
On the downside, The Children's lack of resources is evident from the get-go and manifests itself in some clunky acting and editing and bargain-basement production values (the entire set appears to consist of somebody's house, a couple of anorexic trees and the side of a hill). Still, all good grist for the genre, and aficionados may well respond; seasonal ancillary (late-night, of course) should be decent.
The Children begins as sisters Elaine (Birthistle) and Chloe (Shelley) reunite for a Christmas celebration in the snow-bound countryside with their respective husbands Robbie (Sheffield) and Jonah (Campbell-Moore) and tots. Also in tow is Elaine's sulky teenage daughter Casey (Tointon) who would much rather be elsewhere.
Youngest child Paulie (Howes) starts to vomit on arrival - a key sign, we will later discover, of a little 'un who is about to turn bad (the reasons why are never explained). One by one, the angelic tots become sullen and staring, before, rather excellently, one adult is taken out of the proceedings by the lethal combination of a toboggan and a garden rake. Indeed, the tots are soon having a festive feast of their own - on their parents.
At this point, The Children picks up some speed and all the elements of fun, gorey, low-budget horror come into play. It helps that the smug middle-class adults are uniformly annoying so it's quite a treat to see them being picked off by their progeny. The equally-irritating children - long before they even turned demonic - are murderous Chuckys, so there's no real qualms in witnessing them being splattered over the bonnet of a 4x4.
The main problem with The Children is its gaping plot holes - there's a good idea at the centre of this, but it looks suspiciously as if director Tom Shankland packed it up with the cast and crew and tiny budget and tried to work it out on the hoof. In the end, like its protagonists, it has nowhere to run.
In its favour, however, The Children never outstays its welcome at 84 minutes. Like The Cottage, it's long on British TV thesps, most notably Hollyoaks actress Hannah Tointon as tearaway teen Casey, and her relationship with Ae Fond Kiss's Birthistle is nicely played. Other adults have less to do, and do it less well. The children are decent, if unremarkable.
Production company
Vertigo Films
International sales
Protagonist Pictures
+44 (0) 207 306 5155
Producers
Allan Niblo
James Richardson
Screenplay
Tom Shankland, from a story by Paul Andrew Williams
Cinematography
Nanu Segal
Music
Stephen Hilton
Production design
Suzie Davies
Main cast
Eva Birthistle
Stephen Campbell Moore
Jeremy Sheffield
Rachel Shelley
Hannah Tointon
Rafiella Brooks
Jake Hathaway
William Howes
Eva Sayer