Dir: Rick Alverson. US. 2012. 95mins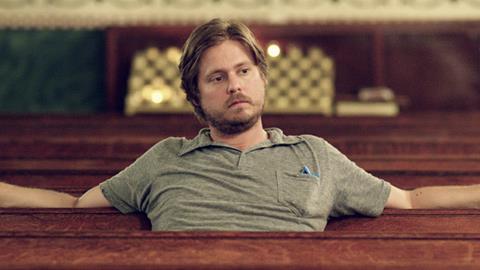 Though it certainly has its darkly funny moments, the third feature from American indie filmmaker and musician Rick Alverson isn't nearly as straightforward as its title suggests. The Comedy is actually a provocative and intriguing character study of a disaffected and sometimes shockingly obnoxious man-child drifting through his life as an ageing New York hipster. Often hard to watch, it's also hard to forget.
The adventures usually involve testing the limits of acceptable behaviour by antagonizing unsuspecting bystanders.
Tribeca Film, which bought North American rights after screenings at the SXSW and Sundance festivals and opens the film this week on VOD and next month in selected cinemas, may be able to turn The Comedy into a cult item for smart young audiences. International prospects are probably dimmer but the film might work in cities big enough and rich enough to generate the kind of First World ennui Alverson portrays.

Played by cult TV comedy name Tim Heidecker, Swanson is a slobby 35-year-old who's about to inherit his wealthy father's estate. Rarely in a job, Swanson passes time lounging on his grungy sailboat, in weird homoerotic games with his like-minded male friends and in bizarre adventures around Brooklyn. The adventures usually involve testing the limits of acceptable behaviour by antagonizing unsuspecting bystanders. Though he mostly seems willfully aimless and appallingly callous, there's also a childlike side to the character that is almost endearing.

Alverson, who previously directed The Builder and New Jerusalem, gives the film little dramatic shape, instead following Swanson through a series of episodes, some of which are squirm-inducingly funny, some almost frighteningly edgy and some oddly moving. The only link is the uncertainty - which the film never really resolves - as to whether Swanson will self-destruct or find some sort of release.

Heidecker (best known in the US for offbeat cable series such as Tim and Eric Awesome Show, Great Job!) is utterly convincing, creating a character that's a darker version of the screen personae of Sacha Baron Cohen, Zach Galifianakis and their ilk.

The film's marketability might get a bit of a boost from the supporting cast, which includes Heidecker's comedy partner Eric Wareheim, comedian Gregg Turkington, LCD Soundsystem front man James Murphy and couple of other names from the indie rock world.

Production companies: Jagjaguwar, Greyshack Films, Glass Eye Pix
US distribution: Tribeca Film
International sales: Odin's Eye Entertainment, www.odinseyeent.com
Producers: Mike S Ryan, Brent Kunkle
Executive producers: Chris Swanson, Darius Van Arman, Ben Swanson, Jonathan Cargill, David Gordon Green, Jody Hill, Danny McBride, Alex Plapinger, Matt Reilly
Screenplay: Rick Alverson, Robert Donne, Colm O'Leary
Cinematography: Mark Schwartzbard
Editors: Michael Taylor, Rick Alverson
Production designer: Shawn Annabel
Main cast: Tim Heidecker, Eric Wareheim, Kate Lyn Shell, Alexia Rasmussen, Gregg Turkington, James Murphy