Run by Mark Ordesky and Ileen Maisel, former senior production executives at New Line Cinema, with New Line stablemate Jane Fleming and documentary film-maker Lawrence Elman, Amber Entertainment is combining new film paradigms with old. The principals talked to Mike Goodridge.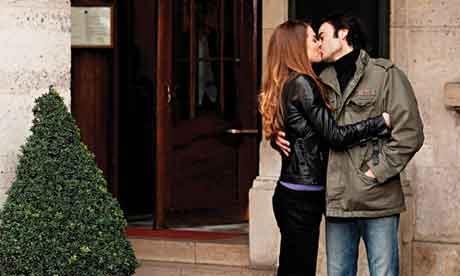 When New Line Cinema was being downsized in 2008, two senior production executives at the studio - Los Angeles-based Mark Ordesky (pictured) and London-based Ileen Maisel (pictured) - came up with the idea of a new kind of company based around intellectual property. Ordesky and Maisel had between them overseen some of New Line's biggest movies, including The Lord Of The Rings trilogy and The Golden Compass, and they knew a trick or two about literary source material. But they also realised that in the new world they could convert literary property rights to different media.
"Today there are many different ways of bringing product to the consumer," says Ordesky. "You have to have the willingness to operate with agility and open yourself up to new paradigms."
Quietly launched in January 2009 with private-equity backing and two further partners in former New Line business development executive Jane Fleming and documentary film-maker Lawrence Elman, Amber Entertainment has built an innovative business model based around five key areas of activity and revenue streams.
"We are distribution-agnostic. However many platforms you create, we will provide content for you."

Ileen Maisel
The areas are: producing theatrical feature films, producing DVD premiere features from bestselling authors, producing documentaries, producing reality and scripted television, and buying and managing literary estates.
"We are content providers," explains Maisel. "We are distribution-agnostic. However many platforms you create, we will provide content for you. Yes, we want to be producers of tentpole movies, but the question is how do you maintain a business while you are waiting for the hit? You have to have other sources of revenue."
On the theatrical features side, Amber is up and running with a slate of projects and two in casting - the high-concept genre thriller Bad Luck to be directed by David R Ellis (Final Destination) and conceived as the first in a Final Destination-style franchise, and a lush new version of Romeo And Juliet to shoot in Italy with Carlo Carlei (Flight Of The Innocent) attached to direct.
And already in post-production is Paris Connections, the first of the DVD premiere movies which Amber is making for UK retail giant Tesco based on the works of bestselling authors. Paris Connections is an adaptation of the novel by Jackie Collins, the first author in the Tesco pipeline which will also include films based on the work of Philip Pullman, Judy Blume, Dick and Felix Francis, Karin Slaughter and Josephine Cox. Nicole Steinwedell, Anthony Delon, Charles Dance and Trudie Styler head the cast of the film, which will hit Tesco stores in June for an exclusive three-month window.
Empowering retailers
"The idea of the Tesco deal is to create cashflow for the company," says Maisel, who said that she met Collins' manager Barry Krost in 2008 and then, through an introduction from Elman, took the idea to Tesco's entertainment director Rob Salter in early 2009. "It's almost impossible to get a feature film into production that quickly," she says, "but Tesco treats us like bananas. When we deliver the product, they give us a cheque. And Tesco's paper is very bankable for cashflow purposes." Maisel says the budget was less than $3.1m (£2m); IMG has come on board to represent worldwide rights for the title on DVD and TV.
"We're empowering retailers into the world of content using big authors as the brand," she continues. "They get the exclusive window and a carried interest and a percentage of the profits as we sell it around the world. But importantly the author - in this case Jackie - is a 50% partner on the back-end. We create partnerships with the authors on their books. We want to treat authors the same way that stars and directors are treated.?
Meanwhile the first two features are being put together through the conventional route of pre-sales, equity and banking. Emilio Ferrari's Entertainment 7 is handling worldwide sales on Bad Luck, which marks a step up for the sales agent from smaller genre fare into the $5m-$15m range.
"Both Bad Luck and Romeo And Juliet are exactly the right kind of model for the marketplace," says Ordesky. "They're affordable, made by real film-makers with a point of view and targeted to audiences."
"The studios need mid-budget entertaining movies from elsewhere. There is a real window of opportunity for strong, well-financed companies to flourish in this environment."

Jane Fleming
Fleming, who worked in everything from co-financing deals to internet strategy at New Line and Fine Line, believes Amber is well-positioned to take advantage of the dramatic shifts in the global marketplace.
"The studios continue to do their theme-park movies but they're going to need mid-budget entertaining movies from elsewhere," she says. "We can control the underlying rights and package the projects with talent and walk into whoever is going to finance the movie with packaged material."
"There is a real window of opportunity for strong, well-financed companies to flourish in this environment."
Sales and distribution will be tackled on a picture-by-picture basis. "Any given individual project will suggest its own path," says Ordesky, adding that the company is putting "as much love into the Tesco projects as into the bigger films".
Meanwhile other features in development include a film based on Collins' Vendetta: Lucky's Revenge and featuring the Lucky Santangelo character (a theatrical film, not part of the Tesco deal), a possible series of films based on Donna Leon's Venice-based police commissioner Guido Brunetti, and The Finger Of God, a thriller based on Graham Hancock's book The Sign And The Seal. In some cases, the authors themselves will work on the scripts, in others, screenwriters will do the adaptations. Collins might even direct one of the DVD premieres herself.
"There's very little that's not based on source material," says Maisel.
Literary rights
Elman, who ran documentary production outfit Drive Thru Pictures, will build a documentary portfolio for Amber in addition to working in feature production (he supervised the Paris Connections shoot in Paris), while Maisel says the accrual of literary rights for sale through agents will bring in another revenue stream. Among the early estates being pinpointed are thriller writer Desmond Bagley and spy novelist Ted Alberry, whose son and daughter will team with Amber to maintain the estate.
"We want to own the revenue streams once we exploit them properly," adds Maisel. Meanwhile the entrepreneurial and global-minded legacy of New Line is felt in Amber's principals.
"We want to build compelling product and place it with the right financial and creative partners and the appropriate distribution in whatever media."

Mark Ordesky
Discussions are under way with blue-chip retailers in the US and across Europe about expanding the Tesco/Amber concept, with New Line's former distribution partners about potential distribution relationships down the line and with talent on both sides of the Atlantic.
Maisel is philosophical about what she learned from New Line. "In success, one must remember the reasons you created a company," she says. "In success you start spending more money and I want to make sure we expand quality, not budgets."
"Everybody realises that a big change is happening in the business," says Ordesky. "Artists and those who represent artists are increasingly flexible and have a greater openness to innovative ideas and opportunities than they did even three years ago. We want to build compelling product and place it with the right financial and creative partners and the appropriate distribution in whatever media. For that, you have to be nimble."
The principals
MARK ORDESKY
From 1988-2008, he worked at New Line Cinema rising to president of Fine Line Features.
Helped introduce Jackie Chan to US audiences with the Rumble In The Bronx and parlayed the relationship into the Rush Hour franchise.
He oversaw The Lord Of The Rings trilogy for New Line and was executive producer of the three films.
ILEEN MAISEL
Started her career in 1983 as vice-president of production at MGM/UA.
In 1986 she became senior vice-president of worldwide production at Lorimar Pictures and oversaw production of Dangerous Liaisons and The Witches.
In 1989 she became senior vice-president of European production at Paramount Pictures.
In 1994 Maisel became a consultant to Fine Line Features' European division where she oversaw Twelfth Night and The Winter Guest among others.
In 1998 she joined New Line Cinema as senior vice-president of European production and acquisitions with credits including Ripley's Game, Birth, The Golden Compass and Inkheart.
JANE FLEMING
Joined New Line Cinema in 1993 as senior vice-president, business development, for New Line and Fine Line Features.
She left New Line to set up Shot In The Dark Entertainment, an independently financed development and production company where she developed properties with private-equity funding.
Fleming is president of Women In Film, Los Angeles.
LAWRENCE ELMAN
Founder of documentary film production company Drive Thru Pictures. He made his directorial debut with Tracing Che in 2000.
He produced and co-directed Changemakers (2002) for the BBC. Other BBC productions include Office Tigers (2006) and The Biggest Chinese Restaurant In The World (2008).
He directed 2003's Take It To The East, a documentary about the Rolling Stones in India.
He produced Bafta-winning documentary Nine Lives Of Alice Martineau (2003)
He directed and produced 2009 documentary John Mortimer: A Life In Words.