Dir: Lucy Walker. US. 2013. 107mins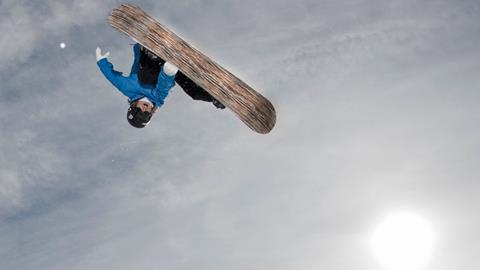 An enthralling, exciting and subtly moving documentary, Lucy Walker's film is a fascinating glimpse into the world of competitive snowboarding, following the dramatic ups and the chilling downs of professional snowboarder Kevin Pearce as he trains to qualify for the 2010 US team. More than a sports documentary, it is a film about skill, friendship and sheer determination, and could well appeal to territories where winter sports rule.
The Crash Reel is an intelligent, exciting and compassionate film… and Kevin Pearce a remarkable personality.
Pearce gained acclaim and celebrity status with his victory over champion snowboarder Shaun White during the European Open halfpipe final in Switzerland in 2008, and with a year to run before the Winter Olympics in Vancouver he is on a roll.
In 2009 he is busy building up his performance levels in Park City, but is badly injured attempting a dangerous double cork move on the halfpipe and sustains a terrible brain injury and spends weeks in a coma. In The Crash Reel, Walker follows his tough and intensive road to recovery, while also layering in background material of friends, family and his skill on the snowboard.
The road to recovery story is gripping, vivid and moving, but where the film really comes into its own is the astute use of plentiful footage of the Pearce family and their extended group of friends which offer-up clarity for his balanced nature, determination to success and the support structure for his harrowing road to recovery in a neurocritical care unit.
Twice Oscar-nominated Lucy Walker is in her element with this enthralling story – it is perhaps closer to her 2006 film Blindsight rather than recent more politically-oriented documentaries – and shows a sure hand when it comes to the dynamic editing and astute use of music to help track both snowboarding (and Pearce's rivalry with Shaun White) and the rehabilitation story.
And while the snowboarding footage is often remarkable, what gives the film its heart is the access to Pearce's extended family, and in particular his brother David C Pearce (who talks thoughtfully about his Downs Syndrome) and father Simon, a well-known glass-blower. The support structure of his friends and family is the bedrock on which his recovery process begins.
Initially determined that he will make his way back to onto the snowboarding circuit, the film charts Pearce's frustrations at the lengthy recovery process – as we learn about other sports injuries, with footage from 'crash reel' clips, hence the title – and eventual understanding that he has to come to term with his injuries. The Crash Reel is an intelligent, exciting and compassionate film… and Kevin Pearce a remarkable personality.
Production company: Tree Tree Tree Productions
International sales: The Film Sales Company, www.filmsalescorp.com
Screenplay: Pedro Kos, Lucy Walker
Producers Julian Cautherley, Lucy Walker
Executive producers: Sheila Nevins, Geralyn Dreyfous, Dan Cogan
Cinematography: Nick Higgins
Editor: Pedro Kos
With: Kevin Pearce, Adam Pearce, Andrew Pearce, Christy Pearce, David Pearce, Pia Pearce, Simon Pearce, Shaun White, Sarah Burke, Jack Mitrani, Luke Mitrani, Ellery Hollingsworth, Daniel Amen