The director and producer of the documentary - released today - talked about the aborted Superman film that was set to be directed by Tim Burton starring Nicolas Cage as the Man of Steel.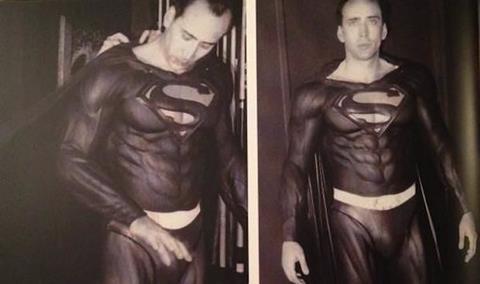 Director Jon Schnepp and Producer Holly Payne revealed the origins of their documentary The Death of "Superman Lives"; What Happened (TDOSLWH) at a special screening and Q&A for NFTS students.
TDOSLWH stars Tim Burton, Kevin Smith, Jon Peters, Colleen Atwood, Lorenzo di Bonaventura, Steve Johnson and many others involved in the production of the prematurely shuttered film, Superman Lives.
Speaking at the NFTS event, Jon Scnepp and Holly Payne explained that in the year 1996, long before the current "Golden Age of Superhero Films", Warner Brothers producer Lorenzo di Bonaventura recruited a young writer/director named Kevin Smith (Chasing Amy) to draft a Superman screenplay for the 90's. It was intended to be a unique take & reboot of the then dormant Superman franchise. Tim Burton was hired soon after to direct, and Academy Award winning actor Nicolas Cage was cast as The Man of Steel. This attempt to restart the Superman franchise was a risky one however. The last time audiences had seen Supes on the big screen was in 1987's critical disaster, "Superman IV: The Quest for Peace".
Hollywood Mega Producer Jon Peters, following his great critical and financial success with Tim Burton on 1987's 'Batman', had obtained the rights to Superman and he successfully convinced Warner Brothers to take another chance on revitalizing the franchise.
An elite team of SFX artists, concept artists and costumers were then assembled and Warner Brothers agreed to bankroll the film's development for over 2 years. In addition to the elaborate concept designs, models were built, and sets were under construction. Nicolas Cage was being fitted for multiple Superman suits, including a "regeneration" light-up, body sculpted feat of SFX engineering. Then, just three weeks before principal photography was due to begin, the studio pulled the plug… the question is, why?
'The Death of "Superman Lives"; What Happened?,' written and directed by Jon Schnepp & co-produced with Holly Payne, delves into the rise and fall of 'Superman Lives', one of Hollywood's most infamous, intriguing and unexpected "what if" stories.
Featuring exclusive interviews with many of the key players; namely director Tim Burton; producer Jon Peters and screenwriters Kevin Smith, Wesley Strick, and Dan Gilroy, as well as an A-list Art Department including production designer Rick Heinrichs, SFX master Steve Johnson; costume designer Colleen Atwood, and many of the original concept artists, this independent documentary pulls the curtain away to reveal why the film was ultimately shelved. It also features exclusive never before seen behind the scenes pre-production footage of flight tests, SFX suit construction, as well Nicolas Cage & Tim Burton toying with their ideas for the characters of both Superman and Clark Kent.
This documentary shines a light on the creative genius, tensions and turmoil involved in the making and unmaking of a Hollywood blockbuster - experiences that will no doubt resonate with anyone working in the film industry.
Schnepp explained the film's genesis to NFTS students: "Holly and I were in a restaurant opposite Meltdown Comics in LA having dinner with friends, and I told them them I had just met SPFX artist Steve Johnson, and that he'd worked on 'Superman Lives.' I told them how I'd been collecting art from the film online for years, and had made a desktop folder of images that I'd picked up from Google over the years… My friends suggested I make a documentary about what happened to the film and raise the money through Kickstarter. Even though I'd never made a documentary, I just couldn't stop thinking about the idea…"
Several months later Schnepp launched his Kickstarter and successfully raised $115,000 to make the documentary. The film took over two-and-a-half years to complete, during which time Jon and his small crew ran out of money and launched a second successful crowdfunding campaign to finish financing the documentary.
The buzz in Hollywood restarted about the unmade film and elicited emails from people eager to talk about their involvement in the aborted production. "Some of the concept artists wanted to talk about their experience on the project, and show us the artwork and designs that they'd created," says Schnepp.
However, some of the key players still remained elusive: "Crew members that I wanted to interview who had worked on 'Superman Lives' were asking me, "…have you spoken to Tim Burton yet?"
Then there was a legendary lucky break; a person working opposite the lot where 'Big Eyes' was being filmed, contacted Schnepp privately and offered to pass along his info to the Production Manager on 'Big Eyes'. Jon wrote an email that eventually ended up reaching Derek Frey, Tim Burton's Executive Producer. Derek reached out to Jon, and they set up a meet with Tim six months later in London, but even upon arriving in London there was no guarantee yet of securing an interview.
"We flew to London to be vetted by Tim Burton. Luckily, after just 10 minutes of talking with us, he agreed to do the interview and two days later we were shooting him in his home. He was brilliant, friendly, and had a wonderfully dry sense of humour. He was very relaxed with us, but it was clear the experience of working on that film was still painful because he'd put his heart and soul into it," explains Schnepp.
Burton gave the TDOSLWH crew access to his warehouse of archival material: "Boxes and boxes of archived materials from all of Burton's films were stacked to the ceiling, It was like that scene in "Raiders of the Lost Ark" – it was a treasure trove."
One of the previously unseen pieces of archived material is raw video footage of Nicolas Cage with Tim Burton during wardrobe fittings for the Superman costume that might have radically changed the public's view of the super-hero. Shot on hand held camera, this candid footage reveals a lot about Cage, and the dynamic between the actor and director and the direction they were taking with Superman.
Asked by students what this version of Superman would have been like, Payne replied: "This would have been a more alien Superman, not the traditional invulnerable "boy scout" we'd become accustomed to. He would have been an outsider who connected more with the comic book readers."
After 2 years, and as production of the documentary began to wind to a close, there was still one major player that Schnepp and Payne had yet to talk to.
"I knew we had to have Jon Peters in the film," says Payne. "Schnepp wasn't keen at first after hearing some of the concept artists describe the "disruptive environment" Peters had created in the art department during the making of "Superman Lives", but I knew if we were going to tell the WHOLE story, there was no way we could tell it without him."
Schnepp's interview with Jon Peters is priceless. Shot at Peters' home surrounded by gilded furniture, movie memorabilia and Tuscan-inspired frescos, the Hollywood mogul both charms and bewilders in this soon to be legendary interview.
Much of the appeal of the interviews in this documentary come from, as Payne describes it, "Schnepp's ability to "get along with all kinds of people and instantly win their trust with humor and sincerity", and despite the some complaints voiced against Peters in the film, Schnepp says he personally "gets" Peters.
"He's just an old style film producer who works hard to fund films based on certain criteria. So long as he gets those things, he's happy for the director to go off and make their film."
While the documentary gives voice to the producer, director, writers and the many artists who suffered the fallout of the production being pulled by the studio, it also gives insight into the practical, financial reasons why "Superman Lives" was ultimately pulled, including (at the time) a run of Warner Brother's films which had tanked at the box office, leaving the studio feeling risk-averse.
Asked if he thought 'Superman Lives" would actually have been a good film, Schnepp replied:
"Yes! Although none of the scripts were in a finished state, they would have evolved during the filming. It would have been a fun, cosmic fairytale, light hearted, like Mars Attacks, and with Tim Burton as director, it would have worked. What we missed was an opportunity to see Superman played by Nic Cage at the peak of his career. It would have changed the trajectory of where we've gone with superhero movies, and it would have opened up new possibilities with casting. We missed out on Tim Burton and Nic Cage working together, and that's something I would've liked to see!"
'The Death of "Superman Lives"; What Happened?' is releases officially on Blu-Ray/DVD and Digital Download on July 9 at www.TDOSLWH.com
Visit http://nfts.co.uk for more information about the National Film and Television School.