Dir: Michael R. Roskam. US. 2014. 107mins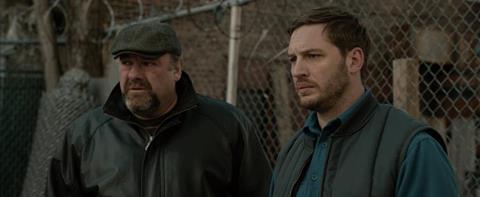 Desperate men are driven to desperate, bloody acts in The Drop, a flinty, hardboiled thriller that marks the English language debut of Bullhead director Michael R. Roskam. It is also the first screenplay by Mystic River and Shutter Island author Dennis Lehane.The combination of Lehane's terse, punchy dialogue and cleverly constructed plot with Roskam's fondness for character and fresh eye for American locales makes for an idiosyncratic, slow-burning tale that ultimately satisfies. Positive reviews and an attractive cast should be sufficient to nudge the film from sturdy arthouse attraction towards more mainstream success.
Roskam has the confidence to let Lehane's story and Runyonesque individuals have space to breathe and develop before he starts to tighten the screws.
Lehane has relocated his short story Animal Rescue from Boston to Brooklyn. Cousin Marv's is an unremarkable neighbourhood dive that also serves as a dropping point for some of the dirtiest money in the city. Marv (James Gandolfini) was once a respected figure in the crime fraternity but is now just a front for a collection of ruthless Chechen gangsters. His cousin Bob (Tom Hardy) tends bar, attends church and seems to struggle with the morality of a life defined by violence and betrayal.
Hardy's Bob is the most interesting character in the film. His shuffling, awkward manner and heavy accent seem to have taken their inspiration from a mixture of Marlon Brando in On The Waterfront and Sylvester Stallone's Rocky Balboa. He is a big-hearted, seemingly slow-witted fellow who is kind to stray dogs and orphans in the storm. We are to learn that there is much more to him than meets the eye as he befriends local waitress Nadia (Noomi Rapace) and gives a home to an adorable bull terrier pup that once belonged to Nadia's violent, volatile boyfriend Eric (Matthias Schoenaerts).
There is a robbery early in the story but Roskam and Lehane seem much more interested in spending time with the soft-spoken, bashful Bob as he becomes attached to the dog and to Nadia. The film meanders and broods, feeling quite theatrical at times and suggesting that it might amount to little more than a shaggy dog story.
As we become more fully aware of hidden lives, guilty secrets and all the ghosts of the shared past between Marv and Bob, the various strands of the story start to smoothly come together, gather much needed momentum and build towards a climax made all the more tense by the crisp editing of Christopher Tellefsen and the urgent score by Marco Beltrani.
Roskam has the confidence to let Lehane's story and Runyonesque individuals have space to breathe and develop before he starts to tighten the screws. He also brings out the best in his cast from a compelling Hardy, to the charismatic Matthias Schoenaerts and the late James Gandolfini exuding affable ambiguity as a slippery character who has never quite been reconciled with the loss of his power or the fatal flaws in his nature. The Drop is one last, stirring reminder of what a great character actor Gandolfini was.
Production company: Chernin Entertainment
Distribution 20th Century Fox
Producers: Peter Chernin, Jenno Topping
Executive producers: Mike Larocca, M. Blair Beard, Dennis Lehane
Screenplay: Dennis Lehane, based on his short story Animal Rescue
Cinematography: Nicolas Karakatsanis
Editor: Christopher Tellefsen
Production designer: Therese De Prez
Music: Marco Beltrami
Main cast: Tom Hardy, Noomi Rapace, James Gandolfini, Matthias Schoenaerts, John Ortiz