Dir/scr: Mark Webber. 2011. US. 90mins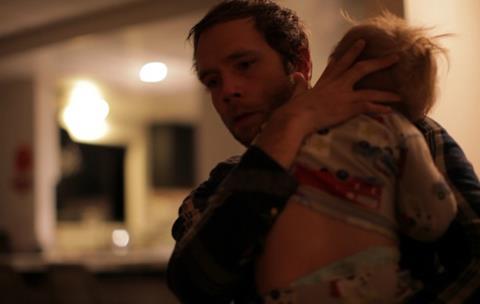 Toddlers may be funny to watch on YouTube or in Hollywood comedies starring macho actors, but rarely do they make for substantive actors. But in his trenchant directorial debut, The End Of Love, actor Mark Webber performs alongside his two-year-old son, Isaac, capturing all the challenges, crying fits and playfulness of new parenting with remarkable acuity.
The End Of Love is well composed, more than the home movie it might first appear.
While the film is a sensitive slice of life about "Mark," an aspiring actor, trying to raise Isaac and come to grips with the death of the child's mother, it's the naturalistic performances and verite moments of father and son that make the film something special. The End Of Love is a small film, and will only crawl in the marketplace, but it's got heart and emotional truth. If given adequate critical support, it should have a life on ancillary markets, particularly if Webber (last seen in Scott Pilgrim vs. The World) continues to climb in popularity.
Webber smartly frontloads the movie with the more comic experiences of raising a toddler, like trying to get a few extra minutes of sleep, arguing about what to eat for breakfast, or watching the youngster make a complete mess of himself. One early funny bit has Mark bringing his son to an audition, opposite starlet Amanda Seyfried (Chloe). While he tries to deliver his lines, Isaac constantly interrupts.
Further fleshing out the film's real-life Hollywood milieu, Seyfried is among many young stars playing versions of themselves in the film, from a friendly Jason Ritter (TV's Parenthood), who helps Mark with some much needed cash to a notably outrageous Michael Cera (Juno), who lives in a large glass house high on the hills, hosts Balderdash parties and waves a handgun around. While these cameos might help raise the profile of the film in the marketplace, they're more gimmicky than fulfilling.
The movie ultimately belongs to Webber and his son. Helping drive the story is a very tentative budding attraction between another single parent (played by Shannyn Sossamon). But shrewdly, the film avoids turning into a romantic dramedy; rather, her maternal presence is there to provide Mark one more step towards coping with grief.
Webber, the actor, does some convincing work as the crestfallen father, trying to remain upbeat around his son, while facing loss and loneliness. The performance—and the project—teeters on self-pity at times, but he's also likeable enough to carry both the sadness and the hope of the film.
But it's really young Isaac who steals much of the show. His responses and reactions are as real as in a documentary, but remarkably, the young boy never shatters the film's fictional space. Webber runs his young son through the wringer, like waking him up—crying—in the middle of the night to take him "night camping." Those tears aren't acting, of course. In one crucial little scene, there's a discussion about whether to call their new pet fish "daddy" or "mommy." It's improvised, as were all of their scenes together, but it still unfolds like a coherently scripted dramatic scene.
While shot mostly handheld on small digital cameras, The End Of Love is well composed, more than the home movie it might first appear.
Production company: Poor Rich Kids
International sales: Preferred Content, asst@preferredcontent.net
Producers: Mark Webber, Liz Destro, Matt Sprague
Executive Producers: Mollie Engelhart, Tim Ryan
Cinematography: Patrice Cochet
Editor: Sven Pape
Main Cast: Mark Webber, Shannyn Sossamon, Michael Cera, Jason Ritter, Amanda Seyfried, Frankie Shaw