Dir/scr: Eran Kolirin. Israel-Germany. 2011. 90mins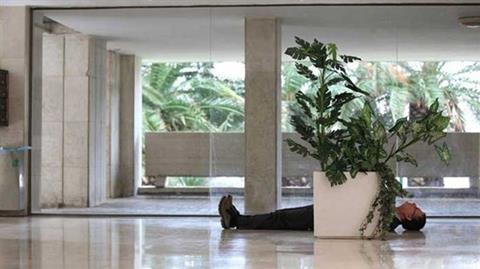 A wildly unexpected follow-up to the crowd-pleasing The Band's Visit, this strange, existential exploration of modern life, while still replete with the deadpan expressions of his predecessor, does not use them for comic purpose but rather for whimsical reflections, definitely less enticing innature.
A kind of psychological experiment, to be sure, it is not certain that everyone will identify its intentions.
Kolirin takes an interesting premise – trying to break out of one's personal bubble and see life from other angles as well – nurses it carefully up to a certain point, but fails to provide a satisfying denouement that might have put it all into context. Bound to generate lots of pro and con debates, The Exchange (Hithalfut) is a natural for film festivals but might be just too mystifying for general audiences.
Oded (Rotem Keinan) is an assistant lecturer at the Tel Aviv University, about to be granted a Ph.D. in physics. He is married to Tami (Sharon Tal), a freshly graduated young architect looking for a job. They live in an upper middle class part of town, have an apparently happy marriage, good sex and plenty of mutual affection. Following a perfectly established routine, Oded leaves home every morning to take the bus to his office at the University, where he lectures and researches then returns every evening to have dinner and take Tami to bed.
It's always the same bus with the same driver, taking him in the morning, the same neighbours sharing the elevator with him every evening. One day, however, having forgotten a file at home, he goes back for the first time in the middle of the day, enters his flat at an hour when he is never home, finds Tami asleep in the bedroom, and gazes around, astounded to see the familiar set-up looking so vastly different in daylight.
He feels the uncontrollable urge to remove the blinkers of his routines and try to rediscover the world around him with fresh, virgin eyes. In the process, he gradually loses contact with everything his life consisted of up to that point, his interest in his studies and scientific future grows more remote by the minute, so is his concern for his wife's career.
He befriends one of the neighbours, Yoav (Dov Navon), who seems to share his obsession of breaking pre-ordained frames and look objectively at his own existence, though Oded tells his students very early in the picture that objective reality is impossibility. Together, Oded and Yoav scream their frustrations at the doors of empty flats, they spend the night (but there is no hint of homosexuality) in the basement, they lie on the floor of the lobby to look at it from a different perspective.
Oded gets an interview with Yoav's wife (Shirili Deshe), a banker, while the husband is observing them, then Yoav visits Oded's mother in her library and this time it is the son who watches them. Briefly, everything familiar is to be evaluated from an unfamiliar viewpoint, in a way an enriching experience, but also an alienating one, for by detaching themselves for this purpose, the abyss between them and all the rest grows ever deeper until separation becomes inevitable.
With spare, carefully framed, minimalist camera work and sparking clean images provided by cinematographer Shai Goldman, a leisurely pace taking its time and never rushing the proceeding, intentionally abstaining from music and a cast that has been instructed to downplay every scene, Kolirin expects his spectators to recognise themselves, at least partly, in his characters and to accept that basically they all live in similar little boxes and are the slaves of identical pre-ordained routines, without realizing how much more there is to see out there, in real life. A kind of psychological experiment, to be sure, but put in laboratory conditions as it is here, it is not certain that everyone will identify its intentions.
Production companies: July August Productions, Pandora Filmproduktion GmbH
International Sales: The Match Factory, www.the-match-factory.com
Producers: Elon Ratzkovsky, Karl Baumgarten
Cinematography: Shai Goldman
Editing: Arik Lahav-Leibovich
Production design: Yesim Zolan, Miguel Mirkin
Main cast: Rotem Keinan, Sharon Tal, Dov Navon, Shirili Deshe