Dir: Simon West. US. 2012. 103mins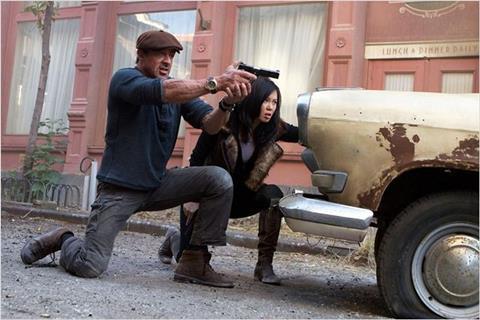 The Expendables 2 is imposingly violent, dramatically clunky, and more than a bit cynically conceived — and, despite all of that, it's also shamelessly entertaining. Improving on the first film but still hopelessly barbaric in its attitudes, this sequel once again casts Sylvester Stallone and his band of greying or forgotten action stars as a merciless team of mercenaries who kill everything in sight, although there are few things they mangle as badly as their woefully hokey dialogue. Nonetheless, The Expendables 2 delivers the goods with such a brazen confidence that its clear flaws end up feeling more like adorable quirks.
The Expendables 2's lean, muscular propulsion and more-is-more showmanship work well to smooth over the simplistic storytelling.
The first Expendables became a surprise hit in August 2010, bringing in almost $275 million worldwide, despite its restrictive R rating. Lionsgate's follow-up film, which opens August 17, could be equally successful, although this time around it'll be burdened with commercial expectations that weren't present two years ago. But even if this sequel can't match its predecessor, it will probably find an inviting audience among action aficionados on DVD and cable.
Barney Ross (Stallone) and the rest of his Expendables (including Jason Statham, Terry Crews, Dolph Lundgren and new member Liam Hemsworth) are recruited again by the mysterious Church (Bruce Willis) to retrieve a valuable safe inside a plane that crash-landed in Albania. But when Barney's team arrives at the crash site, they realize that the contents are more valuable than first realized — and that a ruthless madman named Vilain (Jean-Claude Van Damme) wants them for his own evil purposes.
The novelty of the 2010 film was that it showcased a group of fading stars who banded together in an unapologetically bloody, stripped-down action film that lacked the polish of modern-day studio blockbusters. Whether that throwback novelty still remains is up for debate, but The Expendables 2 copies the formula of the first film, opting for a gritty, brutal approach to its action sequences. (In The Expendables 2, unlike most Hollywood movies that try to tone down their violence, bad guys are riddled with bullets, sending blood spurting everywhere.)
Unfortunately, this new movie also sticks to the original's fondness for cardboard characters, man's-man chauvinism (the presence of new female cast member Yu Nan notwithstanding), and wincingly bad dialogue replete with creaky punch lines.
But after directing the first film himself, Stallone has turned the reins over to Simon West (The Mechanic, Lara Croft: Tomb Raider) for this sequel. West isn't exactly a visionary action filmmaker, but he's a stronger craftsman with a better eye for spectacle, mixing violent overkill with taut tension. His skills keep The Expendables 2 zipping along at a compelling clip, never more impressively than in a bravura 15-minute opening that showcases all the franchise's strengths in one sequence: terrific, brawny action scenes and very little human interaction.
The Expendables 2's lean, muscular propulsion and more-is-more showmanship work well to smooth over the simplistic storytelling and give the proceedings a pulpy, giddy urgency.
Stallone, who co-wrote the new film (as he did with the original), embodies the spirit of these movies as well as anyone in the cast. There's a certain laziness in his portrayal of the haunted, inexpressive Barney — even in Stallone's prime, he wasn't a particularly gifted or supple actor — but the enthusiasm he brings to the fight scenes is arresting. Stallone doesn't have the grace of Statham or the commanding presence of Willis, but his warm charisma and gravelly gravitas make him a comforting sight nonetheless.
Self-aware of its retro appeal, The Expendables 2 overrates its own charms, especially in a second half that features too many jokey references to previous action movies starring these same actors. (Schwarzenegger, who, like Willis, turned in a cameo for the first Expendables, is given more to do in the sequel, but this mostly consists of him repeating all his mouldy old taglines for minimal comedic effect.)
On one hand, this strategy indicates the filmmakers' good-natured recognition of the ludicrousness of having all these aging stars save the day, but at the same time, there's a cynicism in capitalizing on audiences' nostalgia. But while this self-amusement can grate, let it be said that The Expendables 2 does have its genuinely funny self-deprecating moments, including a memorable action scene involving muscle-bound heroes cruising around in a tiny Smart car.
As with the first film, The Expendables 2 doesn't get much traction establishing an emotional undercurrent. In the sequel, one of the team members is murdered by Vilain, which is meant to inspire much deep thinking within Barney about mortality and his fear of letting people be close to him. But these seemingly dramatic interludes add up to little, although West's clean efficiency in executing these scenes gives them a crispness that somewhat compensates for the dull emoting.
When these stars were in their heyday, acting was never their strong suit, so it shouldn't be a surprise that The Expendables 2 really cooks when they keep the dialogue spare and let their guns and fists do the talking.
Production companies: Millennium Films, Nu Image
Domestic distribution: Lionsgate, www.lionsgate.com
Producers: Avi Lerner, Kevin King-Templeton, Danny Lerner, Les Weldon
Executive producers: Jon Feltheimer, Jason Constantine, Eda Kowan, Basil Iwanyk, Guymon Casady, Danny Dimbort, Boaz Davidson, Trevor Short
Screenplay: Richard Wenk and Sylvester Stallone, story by Ken Kaufman & David Agosto and Richard Wenk, based on characters created by David Callaham
Cinematography: Shelly Johnson
Production design: Paul Cross
Editor: Todd E. Miller
Music: Brian Tyler
Website: www.theexpendables2film.com
Main cast: Sylvester Stallone, Jason Statham, Jet Li, Dolph Lundgren, Chuck Norris, Terry Crews, Randy Couture, Liam Hemsworth, Scott Adkins, Yu Nan, Jean-Claude Van Damme, Bruce Willis, Arnold Schwarzenegger, Amanda Ooms, Charisma Carpenter, Nikolette Noel