Dir: Patrick Hughes. US. 2014. 126mins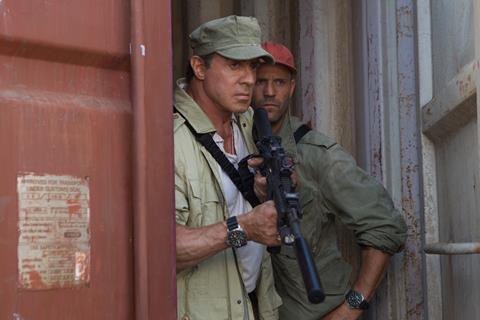 Big guns, big explosions and big muscles (and plenty of them), The Expendables 3 serves up the expected mish-mash of blazing action, set-piece stunt scenes, testosterone a-plenty and a welcome handful of amusing asides – delivered in between fast draws, knife-fights and cigar-chomping – and while there is perhaps too much repetition and exposition it is a film that resolutely delivers exactly what its hard-core fan-base is after. The hefty cast of heavyweight action stars lumber into battle with a certain macho glee, but the bloodletting is downplayed this time round as the franchise seeks to lure the youth market into its celebration of honour, war and big ol' guns.
None of the newbies can compete with Mel Gibson's smiling, snarling bad guy. He plays a formulaic villain with a rushed back-story but Gibson invests some real personality into the role…and personality is a rare thing when it comes to the Expendables films.
This time round we get even more Expendables for our buck. Out goes the increasingly smug-seeming Bruce Willis and in comes Harrison Ford (though he has little to do), and on the bad guy front the dispatch of Jean-Claude Van Damme in The Expendables 2 allows room for Mel Gibson to deliver an impressively judged psycho performance that is up there with his on-screen loopiness in the Lethal Weapon series. The Expendables franchise – and its marketing-friendly star roster – will have an appeal at the box office, but its old-fashioned format will be unlikely to dislodge The Guardians Of The Galaxy from the summer top spot, though it will undoubtedly fare well internationally.
That elephant in the room – the age of these bulky macho men – is addressed to a certain extent (though you can bet none of their screen characters match their actual ages) as team leader Barney (the reliable Stallone) decides to pep up his team with some more tech savvy younger members. He also – shock, horror – adds a woman to this new team (UFC fighter Ronda Rousey) which offers up some smartly staged fight scenes, much flicking of long blonde hair and some inept flirting from some of her aged compatriots.
As the film opens Barney and his boys are busy staging a jailbreak on a train. He has found out the one of his original crew, Doc Death (Snipes, whose 'wittiest' line is when he calls himself "the knife before Christmas" when competing for the top knife wrangler award with Barney's second-in-command Lee Christmas, played with muscular panache as always by Jason Statham) is being held on board, and since he needs another guy for their latest mission they decide to bust him out. But things get dark and more complex when it turns out the arms warlord they have been sent to take out is in fact Conrad Stonebanks (Gibson), a man who helped set up the team and whom Barney had thought he had killed years before when Stonebanks went rogue.
When things go bad and one of the team is seriously injured a downbeat Barney heads home and decides to put his old guard to one side and recruit some young fighters - Kellan Lutz (Twilight), Rousey, boxer Victor Ortiz and Glen Powell – with the aid of (rather bizarrely in an Expendables film) Kelsey Grammer, an old buddy who is essentially an Expendables talent scout. With his team of fresh-faced newbies he heads back to tackle Stonebanks (the key thrust being that he doesn't want old friends to die and this new bunch know they may be on a one-way trip), but when things go wrong – again – it is left to the old guard to try and save the day. Plus in the form of Arnold Schwarzenegger's Trench he even calls on the 'even-older guard'.
The formula is pretty much the same of the last in the series. (Action…mission…bonding…a dollop of defeat…some ruminating on what it means to be a fighting man…get the team back together…big action climax.) Well, that may be the case, but at least in The Expendables 3 that big action climax certainly does deliver as it pitches the team against essentially a whole army…replete with rocket launchers, helicopters and even tanks (look out for The Expendables 4 to put the gang up against a warship or two).
The main issue is that it veers around far too much for what is essentially a very straightforward and simple tale. Plus there are just too many bodies competing for screen time. Franchise regulars Terry Crews and Randy Couture get virtually nothing to do; Dolph Lundgren glowers gamely but fares little better and even though Statham gets a fight scene with one of Stonebanks' muscular lackeys late in the film, it is poorly staged and does the charismatic Statham no real favours.
Of the new recruits, Antonio Banderas as wannabe Expendable Galgo, a fighter who just can't shut up (though in truth he is playing a variation of his Puss In Boots character from the Shrek films), comes off best. Snipes has his moments, though none of the newbies can compete with Gibson's smiling, snarling bad guy. He plays a formulaic villain with a rushed back-story (he also collects art apparently) but Gibson invests some real personality into the role…and personality is a rare thing when it comes to the Expendables films.
Stallone does his best to invest his character with a little heart, and has a little bit of fun with Grammer when they head off on their recruitment drive, but even he suffers when it comes to screen time. Though his best moments still come with his interactions with the cigar-chomping Schwarzenegger…two true beefcake action stars happy with the fact they are still box office champs after all these years.
The climax may well feature some nifty moments (though no overt blood-letting remember) as the gang tackle hordes of troops, but it lets itself down with some sub-standard CGI when it comes to a helicopter battle. It is directed in a matter-of-fact style by Australian Patrick Hughes, but running over two hours it would benefit from being tighter and pacier.
Its greatest sin, however, is with the late addition of Jet Li to the squad. His is a character who has been there since the first film, played by one of the greatest martial arts stars the screen has seen. And what do they have him do? Sit him in a helicopter and have him shoot a machine gun. Screen sacrilege.
Production companies: Nu Image/Millennium Films, Davis-Films, Ex3 Productions
International sales: Nu Image/Millennium Films, www.millenniumfilms.com
Producers: Avi Lerner, Danny Lerner, Kevin King Templeton, John Thompson, Les Weldon
Executive producers: Guy Avshalom, Guymon Casady, Boaz Davidson, Danny Dimbort, Robert Earl, Samuel Hadida, Victor Hadida, Basil Iwanyk, Zygi Kamasa, Trevor Short
Screenplay: Sylvester Stallone and Creighton Rothenberger & Katrin Benedikt, based on a story by Stallone
Cinematography: Peter Menzies Jr
Editors: Sean Albertson, Paul Harb
Production designer: Daniel T Dorrance
Music: Brian Tyler
Main cast: Sylvester Stallone, Jason Statham, Arnold Schwarzenegger, Dolph Lundgren, Wesley Snipes, Mel Gibson, Randy Couture, Terry Crews, Harrison Ford, Kelsey Grammer, Antonio Banderas, Jet Li, Victor Ortiz, Ronda Rousey, Kellan Lutz, Robert Davi