Dir: Josh Boone. US. 2014. 126mins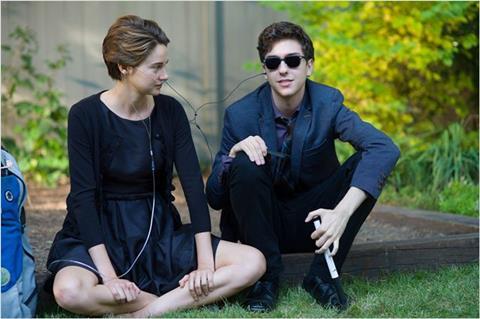 Director Josh Boone's adaptation of John Green's bestselling novel about two teenagers who meet at a cancer support group and fall in love, The Fault In Our Stars is engagingly plotted and anchored by rich characterisations — a swollen tearjerker that confirms the star presence of Shailene Woodley.
Other films of Woodley's have and will make more money, but it's well-modulated work in movies like this and last year's The Spectacular Now that confirm her intelligence and canny instincts.
Opening wide Stateside on June 6, in about 300 fewer cinemas than Warner Bros.' Tom Cruise-starring sci-fi actioner Edge of Tomorrow, The Fault In Our Stars arrives powered by strong name recognition of the source material and robust ticket presales. Positive peer review and critical notices alike should help drive solid box office business, particularly among under-30 audiences, potentially deep into the eight-figure range, while Woodley's rising star should help cement continued ancillary value.
Indiana teenager Hazel Lancaster (Woodley) has for three or four years been dealing with a terminal cancer that leaves her lungs weak and prone to filling up with fluid. She has a good relationship with her parents (Laura Dern and Sam Trammell), even if their doting sometimes drives her stir-crazy. At a youth group meeting, Hazel meets cute with the rakish Augustus Waters (Ansel Elgort, who in a slightly weird twist plays Woodley's brother in Divergent and its now-filming sequel).
Augustus, who's there accompanying his friend Isaac (Nat Wolff), lost one leg just below the knee to cancer, cutting short a promising high school basketball career. After Hazel shares with Augustus her love of a unique novel about the struggle with disease, An Imperial Affliction, he tries, and eventually succeeds, in arranging for a trip to Amsterdam to meet its visit reclusive author, Peter van Houten (Willem Dafoe, in a nice supporting turn). Unfortunately, the reality of their conditions threatens Hazel and Augustus' future together.
Screenwriters Scott Neustadter and Michael H. Weber, who in addition to co-writing the breakout hit (500) Days of Summer also proved that they know their way around an adaptation with The Spectacular Now, remain remarkably faithful in their modification of The Fault in Our Stars, jettisoning a few extraneous supporting characters but successfully juggling the source material's disparate tones.
There's a dollop of self-referentiality and an acerbic wit that belies the staid conventions of "cancer cinema" (in addition to some peer banter with Isaac, Hazel's dad pops the balloon of his daughter's self-pity in one scene by joking that they've been thinking about dropping her off at an orphanage), but The Fault in Our Stars also locates deeper feelings via some pointed speechifying about the depth of love and remembrance by a few versus many, and a stirring sequence in which the three friends share eulogies.
Neustadter and Weber also use the fictional novel An Imperial Affliction as a way to provide a little bit of take-it-or-leave-it parallel commentary about the expectations of life and relationships in correlation to pop cultural representations of the same. If there are a few quibbles around the edges, one is that Hazel's view of herself — she calls herself "a grenade," and worries about mitigating the fallout from when she finally explodes — doesn't entirely square with the open, supportive family life we see.
Boone, who's been tapped to next adapt and direct a long-gestating big-screen version of Stephen King's sprawling The Stand, oversees a polished and engaging technical package. The music, by Mike Mogis and Nathaniel Walcott — new film composers who are also members of the indie darling Bright Eyes — is effective in a twinkly, unobtrusive manner. And, working in tandem with production designer Molly Hughes, cinematographer Ben Richardson (who knows when to harness the power of a beautiful, devastating close-up) also subtly captures seasonal vibes that track with the developing nature of Augustus and Hazel's relationship.
Elgort's performance rounds into form, but early on is over-articulated by about half. Everything he says (and there are numerous monologues) is charming to the nth degree, and met with unfettered delight, to the point that it invites exasperation. Once the movie settles down and stops laboring to convince viewers how appealing this character is, we're able to better enjoy the warm rapport of the leads.
Woodley, meanwhile, is open and ever-present — note-perfect in capturing the emotional swirl of living and losing, from the first nervous flutters of falling in love to the anticipatory pre-breakdown clench of not wanting to hear bad news that one knows is coming. Other films of Woodley's have and will make more money, but it's well-modulated work in movies like this and last year's The Spectacular Now that confirm her intelligence and canny instincts.
Production companies: Fox 2000 Pictures, Temple Hill Productions, in association with TSG Entertainment, Dayday Films and Ingenious Media
Distribution: 20th Century Fox
Producers: Wyck Godfrey, Marty Bowen
Executive producers: Michelle Imperato Stabile, Isaac Klausner
Screenplay: Scott Neustadter & Michael H. Weber, based on the novel by John Green
Cinematography: Ben Richardson
Production designer: Molly Hughes
Editor: Robb Sullivan
Music: Mike Mogis & Nathaniel Walcott
Website: www.TheFaultInOurStarsMovie.com
Main cast: Shailene Woodley, Ansel Elgort, Laura Dern, Sam Trammell, Nat Wolff, Willem Dafoe, Lotte Verbeek, Mike Birbiglia, Milicia Govich, David Whalen