Dir: David O. Russell. US. 2010. 116mins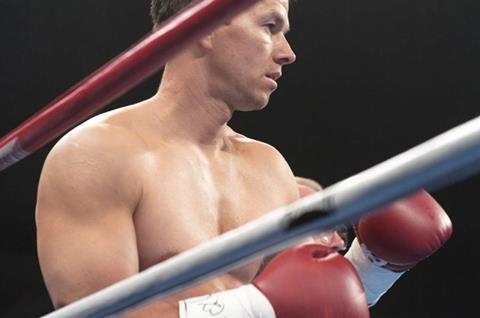 More a lurching, blue-collar social drama than a conventional boxing biopic, The Fighter connects fitfully as a story of brotherly bonds and underdog triumph. Engaging performances and a certain overall nervy energy help overcome slapdash plotting in what represents the realisation of a longtime passion project for actor-producer Mark Wahlberg.
Critical support will be key in aiding respectable Stateside adult audience turnout when Paramount opens The Fighter on December 10. But the movie's lack of focus on boxing action and the ultra-specificity of its regional setting should put a damper on foreign returns.
Based on a true story from the 1990s, the film centers on Micky Ward (Wahlberg), a once-promising welterweight fighter in small-town Massachusetts who is working his way back into contention after a couple tough losses. Keeping him from realizing his full potential is a family — including his manager mother Alice (Melissa Leo) and a gaggle of a half dozen teased-hair, uneducated sisters — that seems to both gravy-train and live vicariously through his livelihood.
The worst offender is Micky's older half-brother Dickie Eklund (Christian Bale), a former boxer who frittered away his own chance at ring stardom on drugs, and is now an unreliable trainer, still strung out on crack. When Micky strikes up a relationship with bartender Charlene Fleming (Amy Adams) and entertains the advances of a new manager, most of his family rebels. Dickie lands in prison, but gets out just in advance of the biggest fight of Micky's life, again injecting chaos into proceedings.
The script is an awkward mash-up of the conventional and colorful, enlivened by its actors. From its training gym work to sequences involving impressing a woman by beating up a mouthy bar patron, and cementing a burgeoning romantic relationship through having said woman tend to wounds, The Fighter is full of scenes seen before. Even as Micky trades in an upset win for a title fight, the stakes in the ring feel small, and known.
Outside the ring, the movie sets up some interesting and substantive inter-family conflict, and then ultimately walks away from most of it, content to play around the edges, concern itself with the boxing arc and a few grace notes surrounding Micky and Dickie's eventual reconciliation.
Part of the film's loose hold relates to the fact that Micky is in many ways a get-along bystander in his own life. He wants to please, and have everyone be happy. That can be a frustrating quality in a protagonist, but plumbed for interesting paradoxical effect if it's explored as it relates to a character in many other ways so aggressive. The Fighter largely shrugs off this opportunity, though.
Eschewing much of his signature directorial quirkiness, David O. Russell, working for the third time with Wahlberg, nonetheless locates a rich and unexpected humor in the material, particularly in a dopey criminal scheme gone wrong by Dickie, and Charlene's choppy interactions with Micky's family. With cinematographer Hoyte Van Hoytema, Russell also ditches any attempt at pulverizing grittiness, instead presenting the boxing matches largely in degraded videotape (aping their televised presentations) and saving the most chaotic handheld camerawork for the movie's domestic friction.
A compact vessel for the audience's sympathies, Wahlberg is a good match for the material physically, and evinces a basic levelheaded decency. Adams shows heretofore hidden facility with spitfire forcefulness. Most striking, though, is Bale, who should receive strong awards consideration in supporting actor categories. In a committed performance that physically finds him in only slightly more nourished condition than the emaciated turn he gave in The Machinist, he locates and balances the doomed jitteriness of an addict's self-destruction with the tender compassion of fraternal love.
Production companies: Paramount Pictures, Relativity Media, Mandeville Films, in association with The Weinstein Company and Closest to the Hole Productions
Domestic distribution: Paramount Pictures
Producers: Mark Wahlberg, David Hoberman, Todd Lieberman, Ryan Kavanaugh, Paul Tamsay, Dorothy Aufiero
Executive producers: Darren Aronofsky, Tucker Tooley, Harvey Weinstein, Bob Weinstein, Eric Johnson, Keith Dorrington, Leslie Varrelman
Screenplay: Scott Silver and Paul Tamsay & Eric Johnson, based on a story by Paul Tamsay & Eric Johnson & Keith Dorrington
Cinematography: Hoyte Van Hoytema
Editor: Pamela Martin
Production designer: Judy Becker
Music: Michael Brook
Website: TheFighterMovie.com
Main cast: Mark Wahlberg, Christian Bale, Melissa Leo, Amy Adams, Jack McGee, Mickey O'Keefe, Dendrie Taylor, Bianca Hunter, Erica McDermott, Jenna Lamia, Melissa McMeekin, Chanty Sok, Anthony Molinari