Dir: David Ren. US. 2012. 84mins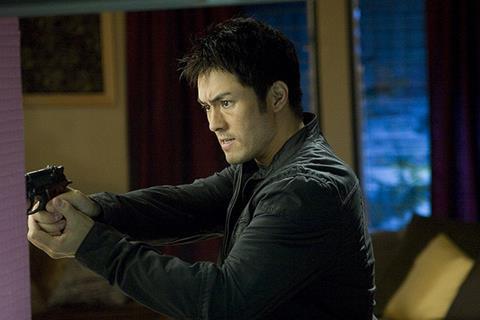 An engaging blend of martial arts and film noir, this stylishly shot actioner may well suffer from a rather clumsy title and a cliched storyline, but it has enough punches, kicks and an expected smattering of sex to work as a palatable B-movie, though its main life will be as a DVD title blessed with an appropriately gaudy sleeve.
Jason Yee has a certain charisma, though is more at ease in the fight scenes than the moments of dialogue.
Directed by Chinese-American David Ren (who made well-thought of film Shanghai Kiss) – and with action scenes directed by Ron Yuan, who also stars - The Girl From The Naked Eye gets a limited US release, though in most territories home entertainment and VOD is the most likely route. Cameo casting of Sasha Grey and Dominique Swain may also help its profile.
The film ambitiously opens with a classic pulp fiction noir scene of a comic-book style of the glistening city streets drifting into a shot of the hero Jake (former stuntman Jason Yee) clutching the dead body of his girl, high-class escort Sandy (Samantha Streets).
Determined to find out why she was killed, he sets out on a journey into the mean streets to find her killer, leading him to the likes of Simon (Yuan), owner of the dance club Naked Eye who also operates an escort operation and a brutal gang boss (played by British boxer-turned-actor Gary Stretch, who appeared in Dead Man's Shoes). His revenge mission is intercut with flashback of Jake and Sandy's tentative romance, which slowly offers clues as to why she was killed.
Jason Yee has a certain charisma, though is more at ease in the fight scenes (which crop up every five minutes or so) than the moments of dialogue, while Samantha Streets is engaging as the doomed escort girl. Sasha Grey (the adult film star who appeared in Steven Soderbergh's The Girlfriend Experience) crops up in a brief cameo (as 'girl in the elevator' essentially), though this does guarantee her coverage on the film's promotional material.
Production company: Lifted Productions, Mu-Yee Productions, Bentlight Digital
International sales: Tombstone Distribution, http://tombstonedistribution.com
Producers: Jason Lee, Ron Yuan
Co-producer: Max Yoffe
Executive producer: Henry Mu
Screenplay: Jason Yee, Larry Madill, David Ren
Cinematography: Max Da-Yung Wang
Editors: Greg Babor
Production designer: Suzanne Rattigan
Music: Danny Manor
Website: http://nakedeyemovie.com/
Main cast: Jason Yee, Ron Yuan, Samantha Streets, Sasha Grey, Gary Stretch, Dominique Swain, Jerry C. Ying