Dir: Phillip Noyce. US. 2014. 97mins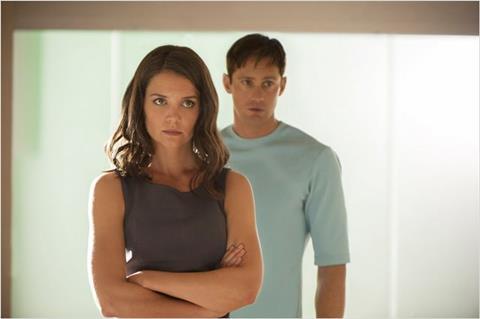 On a theoretical level, the mannered attention to detail of a director like Phillip Noyce could put an interesting spin on a teenage dystopian fantasy drama. In the dreadfully dull The Giver, however, allegory of stifled expression and awakened emotion is given a completely listless workout. Possessing of a visually arresting palette but a narcoleptic narrative, this young-adult novel adaptation delivers mostly boredom.
Coming on the heels of any other number of dystopian, young-adult-skewing big screen fantasy realms but especially the adaptation of the very similarly framed Divergent, it feels like a rehash powered by mock, pseudo-intellectual intentions.
Opening wide Stateside this week against The Expendables 3 and the comedy Let's Be Cops, but also facing strong holdover competition, The Giver feels mostly like a teenage movie made for adult audiences, and as such seems destined to lose out in preferred choice against James Brown biopic Get On Up, The Hundred-Foot Journey, the expanding Boyhood and various other specialty market releases in that realm. The presence of Jeff Bridges and Meryl Streep in supporting roles could give the film some small box office boost, both domestically and abroad, but The Giver seems especially reliant upon an unlikely level of breakout international success in order to fulfill its franchise aspirations.
The film unfolds in a tidy and happy but drab and restrictive world where everything is black-and-white (literally, courtesy of striking cinematography from Ross Emery), every member of society has a specifically assigned job and daily doses of medication help stamp out any feelings that are too high or low. As he graduates into adulthood alongside friends Fiona (Odeya Rush) and Asher (Cameron Monaghan), 18-year-old Jonas (Brenton Thwaites) is tapped by the Chief Elder (Meryl Streep) for a position most extraordinary.
Instead of a normal occupational assignment, Jonas is tabbed to become the next "Receiver of Memory," which means submitting to the tutelage of The Giver (Jeff Bridges), who's sort of the repository of all human history, a kind of corporeal Wikipedia. After mind-meld sessions reveal troubling truths that are odds with with what's being told to everyone else, Jonas begins behaving in ways that make his parents (Alexander Skarsgard and Katie Holmes) suspicious, and also starts to wonder about Elsewhere, a land that exists on the edge of his community, beyond its gates and cliffs.
Lois Lowry's Newbery Medal Award-winning novel was published in 1993. Yet coming on the heels of any other number of dystopian, young-adult-skewing big screen fantasy realms but especially the adaptation of the very similarly framed Divergent, it feels like a rehash powered by mock, pseudo-intellectual intentions. Making Jonas older (in the book he starts out at 11 years old) on the surface makes the material more relatable to a wider viewership, but it actually fundamentally changes the nature of the material. On an immediate level it renders The Giver more generic, and in lockstep with its YA brethren, but it also undermines its thread of wonderment and corrupted innocence, and begs a more rebellious and reactive narrative arc than The Giver can deliver.
The muddled nature of the narrative, credited in adaptation to Michael Mitnick and Robert B. Weide, only increases with its escalating elements. Do people still have agency to lie? And why do the Elders choose to pass on historical truths at a time of extraordinary vulnerability? The internal logic of the movie's core conceit comes crumbling down around it, rendering especially its adult characters but also the very basic nature of its underlying societal structure quite risible.
The movie's visual aesthetic is far and away its most interesting quality. Noyce and cinematographer Emery start their movie out in a silvery monochrome, but it bleeds into color in an interesting fashion, with stabs of intrigue and woundedness here and there. If one labors to block out the unfolding inanity, there's plenty to get lost in on this level.
There's clearly a certain mandate amongst certain characters to stick to an anesthetised range, but the signpost acting of Holmes especially sticks out like a sore thumb. Australian-born Thwaites, who also delivered good work in The Signal, gives as compelling and anchoring a performance as the material will allow. And Bridges, though he seems to be workshopping a familiar, mumbly absentminded professor archetype at times, also summons forth a couple moments of feeling by way of the deep reservoirs of regret he conveys.
Pop songstress Taylor Swift, meanwhile, pops up in a couple brief flashback sequences as a previous Receiver of Memory, mainly, one presumes, so she can contribute a song to the soundtrack.
Production companies: Walden Media, Tonic/As Is Productions, Yucaipa Films
Domestic distribution: The Weinstein Company
Producers: Nikki Silver, Jeff Bridges, Neil Koenigsberg
Executive producers: Dylan Sellers, Bob Weinstein, Harvey Weinstein, Ron Burkle, Alison Owen, Ralph Winter, Scooter Braun
Screenplay: Michael Mitnick and Robert B. Weide, based on the novel of the same name by Lois Lowry
Cinematography: Ross Emery
Production designer: Ed Verreaux
Editor: Barry Alexander
Music: Marco Beltrami
Website: http://www.TheGiverFilm.com/
Main cast: Brenton Thwaites, Alexander Skarsgard, Cameron Monaghan, Odeya Rush, Katie Holmes, Jeff Bridges, Meryl Streep, Emma Tremblay, Jefferson Mays, Taylor Swift