A Golden Globe is one of the industry's most coveted awards, and its show (Jan 16) one of the most entertaining — detractors aside. Jeremy Kay reports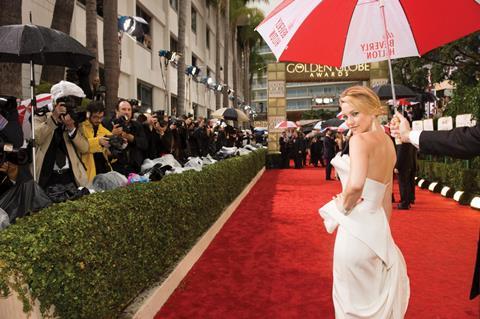 Hollywood Foreign Press Association (HFPA) president Phil Berk (pictured) is feeling bullish about his organisation's place in Hollywood, especially during the annual business of bestowing honours.
"We've had a huge impact on the awards season, mainly because outside of the Academy Awards we're the most recognisable trophy," Berk says from his West Hollywood office. "Everybody who cares about movies cares about the Golden Globes."
Most would agree the HFPA's opinions matter deeply to the firmament of film and television talent and the industry which supports their trophy-hunting endeavours. A Golden Globe has long been regarded as a major achievement in a career and the awards show is without question the most relaxed and entertaining on the circuit, considering the star wattage it attracts.
"Our members watch more films than any other group that hands out awards"

Phil Berk, HFPA
The HFPA's 80 members need no reminding that with great power comes great responsibility. The present-day HFPA is a far cry from 30 years ago, when Pia Zadora's newcomer triumph for Butterfly raised accusations the vote was unduly influenced by a promotional campaign organised by the starlet's wealthy husband, Meshulam Riklis.
Berk is quick to point out that members are scrupulous working journalists who represent the world's leading outlets. They attend junkets and press conferences and endure busy travel schedules in order to see everything that needs to be seen. That way, Berk says, the votes carry as much weight as possible, because they are based on informed opinion.
"We have a long history, a recognisable brand and our selections have been favourably reviewed," he says. "We make fair decisions and our members watch more films than any other group that hands out awards. We take the job very seriously. We are working journalists who are able to grant our members access to stars. I'd say 25% of the studio films require us to be in New York and occasionally London. We also travelled to Chicago in one case [this year] and of course we went to Toronto."
High-profile event
Despite the strength of the brand, there are detractors within Hollywood — including reporters and chat-show hosts — who still argue the HFPA is a coven of lazy freeloaders whose awards mean nothing. Try telling that to previous winners such as Nicole Kidman, Clint Eastwood, Charlize Theron or Sean Penn. The mud-slinging usually starts in December, the month before the awards show, which this season will take place in Beverly Hills on January 16, 2011.
Berk is not fazed by the annual slurs. "It's all envy," he says. "Many of the journalists who write about us are obviously people who don't have some of the perks that members of the HFPA are given.
"We are fewer in number than the Academy's 6,000-odd members and the nominations and the whole process are enormously important to the studios and the industry. I have weathered the storm for so many years it's almost become a joke. We have only 80 members and we're not geared up to have more than this because most of our work involves press conferences — if we opened it up to 150 members it would become difficult for everyone to ask questions."
Nonetheless senior members are acutely aware that things need a little tweaking to accommodate a fresh influx from the ranks of respectable journalists in Los Angeles. "We have attempted to create a machinery that could open the membership to journalists without the encumbrance of being in competition with another journalist who's already a member," Berk says. "Last year we had two or three really good journalists who didn't make the cut because they didn't have enough support as some members felt threatened."
In response to this, the HFPA will convene an ad hoc committee to adjudicate tricky cases. If a prospective member secures the required two sponsors in support of his or her admission but some members have reservations for whatever reason, the committee will try to smooth things out.
As the 68th annual Golden Globes loom on the horizon and members scurry about town catching up on films, Berk reflects on the studio offerings so far. "The year has been somewhat meagre in terms of the quality of films that have screened for the first nine months. But from that point on, things have been jumping and there seems to be quite a lot of contenders."
With film voting categories split between drama on the one side and comedy or musical on the other, there is always the possibility that studios will try to game the system. This season the HFPA has taken measures to ensure the studios do not maximise their chances by knowingly submitting a candidate for inappropriate categories.
"We decided this year we would ask studios to submit the film under whichever category is considered to be in their best interests," says Berk. He pauses. "Then a committee will sit down and make sure nobody's trying to manipulate the categories."
At time of going to press, the HFPA had engaged in a legal battle with longtime Globes producer Dick Clark Productions but this should have no impact on the 2011 show.
GOLDEN GLOBES FRONT RUNNERS
Period pieces and indie drama are likely to appear on the Globes' shortlist, while the musical or comedy category will recognise films and performances which tend to be overlooked at other awards event
Many of the Golden Globe contenders for motion picture — drama are likely to turn up on the Academy's recently enlarged list of 10 finalists. The musical or comedy category offers less crossover, but there is some. HFPA members are said to be keen on Tom Hooper's The King's Speech, a crowdpleaser from the moment it launched at Toronto. Expect the period drama to figure prominently across all categories — particularly in recognition of Colin Firth, Geoffrey Rush and Helena Bonham Carter — when the HFPA announces its nominations on December 14.
Blue Valentine is another drama which could go far. Its strong indie vibe has registered with the group and Ryan Gosling and Michelle Williams could be among the nominees. Ditto Danny Boyle's 127 Hours and star James Franco, Solitary Man lead Michael Douglas, and Mark Wahlberg and Christian Bale from The Fighter. The Social Networkand lead Jesse Eisenberg are widely admired and will likely be among the runners and riders. That Sony hit could go head-to-head with other studio pedigrees such as Inception and Shutter Island— both of which could push Leonardo DiCaprio to the fore — and True Grit, starring current Globe and Oscar-holder Jeff Bridges alongside Matt Damon.
Lisa Cholodenko's The Kids Are All Right featuring a memorable turn by Annette Bening has garnered plenty of goodwill and should be in the mix. There could be recognition for Mike Leigh's slice of life, Another Year, and its star Lesley Manville, just as voters may warm to Debra Granik's indie darling Winter's Bone and her star Jennifer Lawrence. Natalie Portman in Black Swan would appear a shoo-in for her portrayal of a deeply disturbed ballerina, as would Nicole Kidman as a grieving mother in Rabbit Hole.
Nowhere Boy leads Kristin Scott Thomas and Aaron Johnson should not be underestimated and could earn drama nominations for the John Lennon biopic.
The comedy or musical category opens the door to films and performers which may not get a look-in in the Academy Awards or critics polls. Enter rom-com Love & Other Drugs (pictured), boasting solid work from Jake Gyllenhaal and, in particular, Anne Hathaway. James Brook's rom-com How Do You Know could garner support for leads Paul Rudd and Reese Witherspoon, an HFPA darling who won the Globe (and the Oscar) in 2006 for Walk The Line. Plus there is Harrison Ford and Rachel McAdams in the newsroom comedy Morning Glory and Emma Stone in Easy A.
It remains to be seen into which category Sony Pictures Classics will pitch Made In Dagenham, but the tale of plucky British factory workers and their fight for equal pay has thrust Sally Hawkins and Miranda Richardson into the limelight. Talking of plucky ladies, there is also Diane Lane as racehorse owner Penny Chenery in true-life drama Secretariat.
The musical of the season is Burlesque and the buzz has centred on performances by Christina Aguilera and Cher in Steve Antin's lavish production.