Dir: Philippe Falardeau. US. 2014. 110mins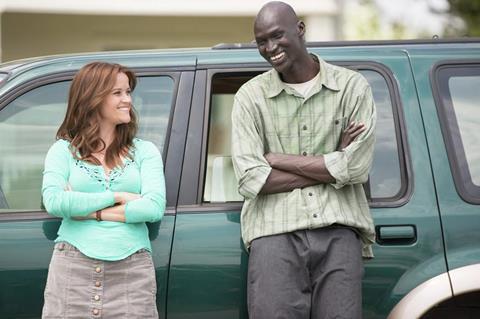 The plight of Sudan's "lost boys" is dramatised in touching but simplistic fashion in The Good Lie, a drama that takes pains to sidestep some message-movie conventions but nonetheless fails to deliver an appreciably memorable or thought-provoking experience. Reese Witherspoon will be front and centre for the film's advertising campaign, but director Philippe Falardeau's follow-up to Monsieur Lazhar actually focuses on its Sudanese characters, which is a commendable switch from the typical white-American-saves-the-day inspirational drama. But that cultural sensitivity isn't enough to compensate for well-meaning, staid storytelling.
As the film's marquee name, Witherspoon stays in the background, showing a winning (but not overdone) sassiness as the no-nonsense Carrie.
After its festival run, The Good Lie will be released by Warner Bros. on October 3. This is one of two movies starring Witherspoon this awards season — the other being Wild, which has earned her stellar reviews — and The Good Lie's feel-good tone may lure audiences who would otherwise be wary of seeing a film about the so-called Lost Boys of Sudan, the name given to children displaced because of the African nation's bloody civil war. Commercial prospects are mixed and will probably be dependent on good word-of-mouth.
Inspired by true events, The Good Lie spends most of its first act in Sudan as a group of boys and girls flee their village in the hopes of finding refuge in Kenya. More than a decade later in 2001, three of those refugees — Mamere (Arnold Oceng), Jeremiah (Ger Duany) and Paul (Emmanuel Jal) — learn that they will be transported to America to live. The men are excited, but they quickly discover that the culture shock is overwhelming.
Once they arrive in Kansas City, Missouri, they meet Carrie (Reese Witherspoon), who helps them find low-level jobs. But it becomes clear that her work isn't done there, as she soon befriends these Sudanese men, helping them to figure out a way to transport Abital (Kuoth Wiel), Mamere's sister, from Boston so that she can live with them.
Falardeau, who was nominated for a Best Foreign Language Film Oscar for Monsieur Lazhar, wisely undersells the more potentially emotionally manipulative elements of the material, trying to stay intimate and specific in his dramatisation of these men's journey. Regrettably, The Good Lie spends too much time on fish-out-of-water comedy as the men acclimate to a society far more advanced than their own, one with fast food restaurants, grocery stores and even telephones.
But what's better observed is how the men are silently experiencing a form of PTSD, their dreams still haunted by the atrocities they witnessed in order to survive. The Good Lie nicely argues that shipping refugees to America isn't enough to secure a better life for them: There's also a difficult transitional period that requires patience and is fraught with discouragement and disillusionment.
Carrie comes in relatively late to the film — maybe 25 minutes in — and it's indicative of Falardeau's approach that she's not then positioned as the film's selfless hero. Margaret Nagle's script engagingly leaves her character vague — we get a sense that her personal life is as big of a mess as her home — so that we don't spend time dwelling on her. She's merely a facilitator for Mamere, who is the group's de facto leader and the film's emotional centre.
So while The Good Lie deserves kudos for that approach, that doesn't negate the film's generally tepid approach to its story. Each of the three men has his own struggle: Mamere feels guilt for the people left behind, Jeremiah finds his religious faith in conflict with American values, and Paul feels marooned in this new land. But there's a frustrating tidiness to their arcs that reduces them to Hollywood formula. It's ironic that while The Good Lie insists that its Sudanese characters are more important than its American ones, it nevertheless falls into the same inspirational-movie traps that strip the life out of these kinds of true-life dramas.
As the film's marquee name, Witherspoon stays in the background, showing a winning (but not overdone) sassiness as the no-nonsense Carrie. As for the Sudanese characters, they're mostly played by Sudanese actors, some with no prior experience. Oceng is a bit too piously earnest as Mamere, a man always thinking of others. Duany does his best with an underwritten role as the gentle-giant Jeremiah, who shows endless compassion for other outcasts, specifically the homeless. And Jal has the showiest role of the three men, playing Paul with a slow-burn desperation that makes his eventual breakdown all the more affecting.
Production companies: Alcon Entertainment, Imagine Entertainment, Black Label Media, Reliance Entertainment
US distribution: Warner Bros. Pictures
Producers: Ron Howard, Brian Grazer, Karen Kehela Sherwood, Molly Mickler Smith, Thad Luckinbill, Trent Luckinbill
Executive producers: Andrew A. Kosove, Broderick Johnson, Kim Roth, Ellen H. Schwartz, Deepak Nayar, Bobby Newmyer, Deb Newmyer
Screenplay: Margaret Nagle
Cinematography: Ronald Plante
Production design: Aaron Osborne
Editor: Richard Comeau
Music: Martin Leon
Main cast: Reese Witherspoon, Arnold Oceng, Ger Duany, Emmanuel Jal, Corey Stoll, Kuoth Wiel