WRITER-DIRECTORS: Only 18 months separate 25-year-old Matt Halsall from his younger brother Simon.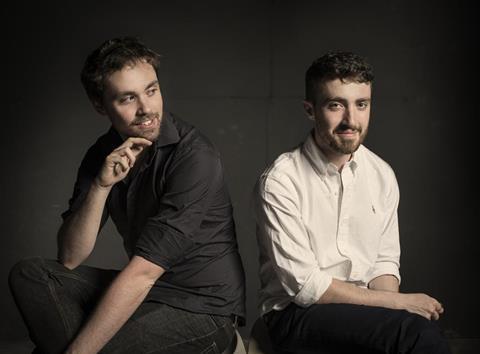 "Working with your brother means there's someone who's going to tell you how it is," he says, adding, "but there can be tension sometimes because there's not that professional politeness."
The Halsall brothers are highly unusual in that, as UK film-makers born in Folkestone, they have made two Korean-language, revenge genre, short films despite not speaking Korean or, really, living in the country.
Their first self-funded short, If I Had A Heart, is an impressive, blood-soaked, fatalistic tale of revenge, while they are currently putting the finishing touches to the 45-50 minute mini-feature When Dead Ghosts Cry, set in North Korea but shot in their London apartment.
Having signed with Agile Films, for commercials and videos, and WME and set to collaborate with Rook Films/Agile on their debut feature, the Halsall brothers are breaking through. While their shorts betray a film-geek's love of Asian genre, with a particular debt to the Tartan Films catalogue, there is real depth to their film-making — surprising, given the circumstances in which they were made.
Restless after graduation and unable to break into film, Matt went to Korea to teach English for a year, winding up in a village two hours outside Seoul. Simon, meanwhile, was graduating from Bournemouth's film production course. Once Matt had saved up enough money, he brought Simon out to Korea and the pair made the film over an intense five-week production.
"Small things like booking kit was taking two weeks instead of 10 minutes," recalls Matt, "because we were asking people to translate for us. My then-girlfriend got so pissed off."
Midway through, Simon got his first big editing gig on a commercial in Shanghai, while their lead actor and close friend Kim Min-jung was called up for military service. "Everything looks so planned and perfectly composed when it was mayhem, majestic chaos, trying to get it finished," says Matt.
When Dead Ghosts Cry was also self-funded, although Agile Films stepped in with $11,800 (£7,000) for finishing funds. Now they are developing their debut feature, about the true story of a Japanese soldier who spent 30 years in the Philippine jungle, unaware the war was over.
Contact Oliver Azis, Independent Talent oliverazis@independenttalent.com