Dir: Francis Lawrence. US. 2013. 146mins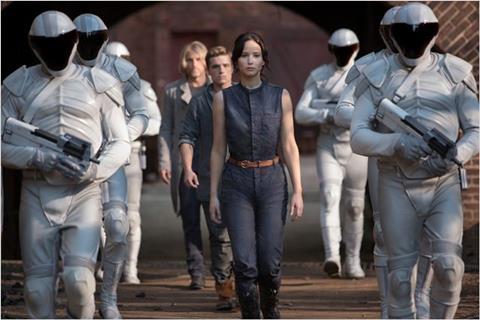 A sense of déjà vu hangs heavy over The Hunger Games: Catching Fire. It's not just because this sequel comes only 20 months after the release of the original film, however: It is that this follow-up's structure and stakes aren't appreciably different from those in the first run-through. Despite a gripping performance from Jennifer Lawrence as the conflicted, resourceful heroine Katniss Everdeen, Catching Fire is only sporadically combustible — a ho-hum sequel that mostly sets the stage for hopefully more scintillating future chapters.
There's a grim fascination throughout Catching Fire due to the emotionally charged storyline, but because the plot very much echoes the first film's, weary familiarity blunts the life-or-death urgency.
Arriving in the UK on November 21 and the US the following day, Catching Fire will be looking to top last year's The Hunger Games, which pulled in almost $700m worldwide. The runaway success of the first film, the popularity of Suzanne Collins's dystopian sci-fi novels, and Jennifer Lawrence's increased visibility thanks to her Oscar win for Silver Linings Playbook would seem to all but guarantee higher grosses this time around. This Lionsgate offering doesn't have the action/fantasy market all to itself, having to contend with Thor: The Dark World and the forthcoming The Hobbit: The Desolation of Smaug, but nonetheless Catching Fire seems well positioned for substantial holiday reapings.
Picking up where The Hunger Games left off, Catching Fire looks at the fallout from Katniss (Lawrence) and Peeta's (Josh Hutcherson) controversial tie as champions of the latest edition of the Hunger Games, in which teens must battle to the death in the name of mass entertainment. Though Katniss has feelings for a humble local miner named Gale (Liam Hemsworth), she must pretend to be devoted to Peeta once they go on a publicity tour following their Hunger Games triumph.
But because the ruthless President Snow (Donald Sutherland) sees in Katniss a rebellious leader who could inspire widespread riots against his government, he and his new gamemaker Plutarch Heavensbee (a calmly sinister Philip Seymour Hoffman) hatch a plan to bring her back to the Hunger Games. In defiance of the game rules that a champion gets to live the rest of his or her life in peace, Snow announces that this year's Games will be populated with past winners, including Katniss and Peeta.
Much like the first film, Catching Fire is close to two-and-a-half-hours long and is split evenly between a first half of slow build-up and then a second half in which Katniss fights to stay alive in the Hunger Games. Taking over for Gary Ross, who directed and co-wrote last year's instalment, director Francis Lawrence (I Am Legend) had adopted a similarly bleak tone, delving less into social commentary and instead focusing on the character arc of Katniss, who is grateful to have survived the first competition but is nonetheless haunted by those who were killed around her.
But as with The Hunger Games, Catching Fire lacks much of a moral thrust regarding the striking scenario it depicts. Katniss detests what she did to stay alive, but this new movie is nonetheless built around the suspense of whether she can survive once again — this time against more skilled competition. There's a grim fascination throughout Catching Fire due to the emotionally charged storyline, but because the plot very much echoes the first film's, weary familiarity blunts the life-or-death urgency.
That's unfortunate since Lawrence is just as arresting as she was in The Hunger Games. From the beginning, Katniss has been a resilient young woman, and Lawrence has infused the character with confidence and attitude that transcend the condescending "strong female protagonist" label normally slapped on heroines in action movies. Her Katniss comes across as a believable teen, filled with uncertainty but not stereotypically angst-ridden. Katniss's duelling feelings for Gale and Peeta, who has significant romantic urges for her that she doesn't quite share, give Catching Fire extra emotional heft — and even though the filmmakers clumsily explore those warring affections, Lawrence provides an intensity and openness that make the character's inner struggles somewhat poignant.
And yet, Catching Fire remains glumly mediocre because it can't shake its disappointing mirroring of the first film or its role as connective tissue between The Hunger Games and subsequent sequels. Although Francis Lawrence films the Hunger Games sequences with decent amounts of dread and excitement, these scenes aren't significantly more interesting than what was shown in last year's instalment. (And Hutcherson, playing Katniss's close confidant Peeta, can't bring much passion to a drab part.)
As for the film's resolution, let it be said that Catching Fire ends on a cliffhanger that promises higher stakes to come. Tellingly, it's only near the finale while those events are being put into motion that Catching Fire comes to life. Before then, the movie merely reheats thrills that were fresher a year ago.
Production company: Color Force
US distribution: Lionsgate, www.lionsgate.com
Producers: Nina Jacobson, Jon Kilik
Executive producers: Suzanne Collins, Louise Rosner-Meyer, Joe Drake, Allison Shearmur
Screenplay: Simon Beaufoy and Michael deBruyn, based upon the novel Catching Fire by Suzanne Collins
Cinematography: Jo Willems
Production design: Philip Messina
Editor: Alan Edward Bell
Music: James Newton Howard
Website: www.thehungergamesexplorer.com
Main Cast: Jennifer Lawrence, Josh Hutcherson, Liam Hemsworth, Woody Harrelson, Elizabeth Banks, Lenny Kravitz, Philip Seymour Hoffman, Jeffrey Wright, Sam Claflin, Jena Malone, Stanley Tucci, Donald Sutherland