Lionsgate's adaptation defeats good weather to record the year's highest debut to date and the best ever UK debut for distributor Lionsgate.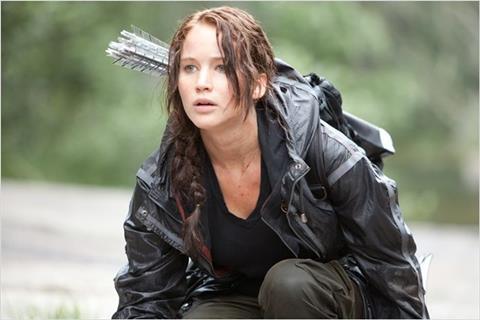 Following in the footsteps of its record-breaking $155m debut in the US, The Hunger Games landed top in the UK with an estimated $7.5m (£4.9m) bow, the highest debut this year.
Lionsgate's adaptation of Suzanne Collins' best-selling novel, set in a dystopian future where children are forced to fight to the death, defied the sunshine to record a $14,629 (£9,570) average from its 512 locations. Its debut was also almost double the original Twilight's $4.0m (£2.5m) opening and is the distributor's best ever opening in the UK. Bend It Like Beckham ranks as Lionsgate's strongest performance overall in the UK at $18.3m (£11.6m), a total easily achievable for The Hunger Games.
Commenting on its excellent opening, Zygi Kamasa, co-founder and chief executive of Lionsgate UK, said: "We're really delighted. It's a huge opening for the first in a franchise. We've done a lot of work with the book publishers Scholastic because it's not had the huge book sales that it's had in the US. The US sold around 24m copies which is about one in five homes. The first Hunger Games book [in the UK] has sold 275,000 units, that's only 1% of the number of homes in the UK so it's not that many compared to the amount in the US.
"It's also 20% less than the first Twilight [book] sold before the first Twilight came out and that movie opened on £2.5m and we've almost doubled that even though we sold less books. So what's great is we've managed to translate across more than just the core fanbase."
Kamasa believes a "small percentage" of its box office was lost because of the weather but thinks that the upcoming easter school holidays will make it up and also envisages a £1m-£1.5m week as adults go to see it based on its strong critical acclaim and positive word-of-mouth.
"There will be a lot of adults who won't have gone on the weekend and will be interested in seeing it based on the critical reaction. It's very rare for a big blockbuster to get so widely approved by the critics. There's a lot of people who look at that and go 'oh, I didn't expect it to be so good' and they don't come out first weekend," added Kamasa.
21 Jump Street held firm in The Hunger Games' wake, falling just 21% in its second week to remain second. Sony's comedy grossed $2.0m (£1.2m) to stand at $6.4m (£4.0m) after ten days in play.
Fox's The Best Exotic Marigold Hotel was also immovable in third after taking a further $1.4m (£886,708) from its 470 locations. The comedy-drama has accumulated a superb $24.9m (£15.8m) to date which so far ranks it as the fifth best performance this year in the UK.
Falling three places to fourth was Paramount's The Devil Inside. The found footage horror scared its way to $1.2m (£758,370) from 388 sites in its second week for a solid $5.8m (£3.7m).
Rounding off the top five for a second week in a row was Fox's We Bought A Zoo which grossed $720,393 (£455,286) to stand at $2.6m (£1.7m).
Momentum's Act Of Valour, which has made $65.9m in the US and stars real-life Navy SEALs, made $413,810 (£260,885) to open in eighth.
This week sees saturation releases for Sony's The Pirates! In An Adventure With Scientists (opening March 28), Vertigo's StreetDance 2 and Warner Bros.' Wrath Of The Titans.