Dir: Daniel Nettheim. Australia. 2011. 101mins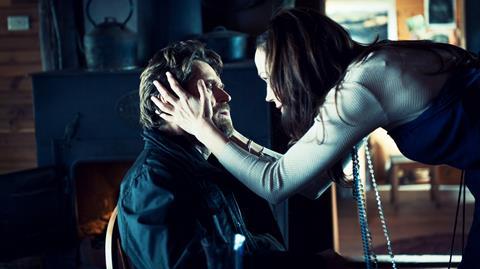 Daniel Nettheim's compelling debut feature is based on the 1999 debut novel of Julia Leigh, whose own first feature, the confronting Sleeping Beauty, caused a stir at this year's Cannes Film Festival. Mixing international espionage with save-the-wilderness activism, The Hunter is both unpredictable and unsettling. After its Toronto world premiere, local interest will be strong for the October 6 Australian arthouse release. Willem Dafoe's intense, craggy presence will certainly boost the international prospects of this apocalyptic tale.
Director Nettheim has a track record of quality television drama, though nothing to prepare us for the breadth, style and confidence of his cinema debut.
Into the heart of Tasmanian darkness goes Martin David (Dafoe), ultra-professional hunter with a secret mission. Martin's prey - and we never doubt that this obsessive soldier/hunter will somehow track it down - is a thylacine, the long-thought-extinct 'Tasmanian tiger'. As part of the movie's excellently precise introduction, we see some magical 1930s footage of one of the last Thylacines in captivity. It's a sad, living image that haunts the rest of the story.
Reported new sightings have lead American military biotech company Redleaf to hire Martin to trap the beast in order to harvest some of its DNA. Brilliantly equipped with the latest traps and high-powered, telescopic rifles, he arrives to find deeply suspicious tree-lopping backwoodsmen and equally determined crusading 'Greenies'. He's booked to stay with local eco-warrior Jarrah, but Jarrah has gone missing and his drugged, hippy wife Lucy (Frances O'Connor) has permanently taken to her bed. Their two brightly feral children, self-named Sassafras (Morgana Davies) and Bike (Jacek Koman), latch on to their ruggedly self-assured American visitor.
Dafoe is memorable as the deeply private freelancer, compulsively scouring a tub in order to take a cold-water bath, laying intricate snares on his weeklong treks into the wilderness. His quest is conflicted: if he ever finds a Thylacine, will he kill it or preserve it? Is his macho 'goodness' as much under threat as these giant old-growth trees? Alice Addison's taut screenplay from Leigh's austere novel keeps all options open for an unexpected conclusion.
Also fine is Frances O'Connor as the fraught 'sleeping beauty' who wakes to new challenges, and Sam Neill as the laconic neighbour whose friendliness might well be compromised.
Director Nettheim has a track record of quality television drama, though nothing to prepare us for the breadth, style and confidence of his cinema debut. As usual for movies shot in inland Tasmania, the scenery is constantly amazing. Wild widescreen vistas are beautifully captured by award-winning cinematographer Robert Humphreys (Somersault, Unfinished Sky): he gives us prehistoric, shattered-mountain moonscapes and mammoth, moss-covered treescapes.
Towards the end there's a long and breathtaking sequence of outstandingly convincing animation, realised by fast-rising, Sydney-based visual effects studio Fuel VFX, who have recently contributed to Hollywood's Iron Man 2, Thor and Cowboys & Aliens.
'Traps and snares are illegal in Tasmania', says an end title. Lucky nobody told anyone involved with this gripping movie.
Production company: Porchlight Films
Aust/NZ distribution: Madman Entertainment
International sales: Entertainment One
Producer: Vincent Sheehan
Executive producers: Liz Watts, Anita Sheehan, Paul Wiegard
Screenplay: Alice Addison, based on the novel by Julia Leigh
Cinematography: Robert Humphreys
Editor: Roland Gallois
Production designer: Steven Jones-Evans
Music: Matteo Zingales, Michael Lira, Andrew Lancaster
Website: www.thehuntermovie.com
Main cast: Willem Dafoe, Sam Neill, Frances O'Connor, Morgana Davies, Jacek Koman, Dan Wyllie