Dir: Dustin Marcellino. US. 2013. 107mins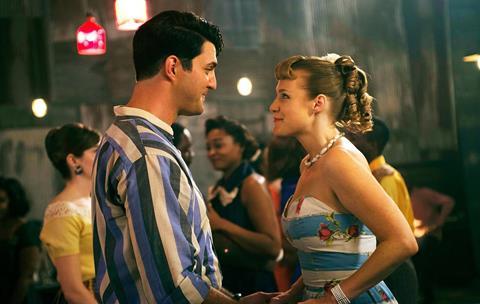 A rigorous earnestness drains the life out of The Identical, a potentially intriguing exploration of identity and nature-versus-nurture debates set against the backdrop of America's musical evolution from the 1950s to the '70s. Charting the course of identical twins separated at birth and unaware of each other's existence, Dustin Marcellino's directorial debut rarely rises above the staid and melodramatic, focusing on a blandly inspirational, tear-jerking tone that never cuts very deeply.
In a year with several high-profile Christian films — God's Not Dead, Heaven Is For Real, Son Of God and Moms' Night Out — The Identical isn't overly proselytising, treating its characters' faith seriously without being heavy-handed.
Opening September 5, The Identical will be released through Freestyle, which had great success earlier this year with another low-budget, religious-themed indie, God's Not Dead ($61m domestic from a reported budget of $2m). Catering to Christian audiences and featuring a survey of different musical styles — everything from rock to bluegrass — The Identical will also receive a boost from a cast that includes Ray Liotta and Ashley Judd. But considering that the film opens during a notoriously arid stretch at the box office, expectations will probably need to be tempered, although The Identical could be a notable DVD and cable performer.
The Identical opens with a flashback to the Great Depression as we witness the difficult decision an impoverished husband and wife (Brian Geraghty, Amanda Crew) must make after they give birth to twins and realize they can't afford to support both. With no other options, they give one of their twins to Reverend Wade (Liotta) and his wife Louise (Judd), who has just miscarried, joining into an agreement that none of them will ever tell their children about the other twin.
From there, the movie shifts focus to newcomer Blake Rayne in a dual role. For most of the film, he plays Ryan, the reverend's God-fearing son growing up in the 1950s with a love for this new sound called rock 'n' roll. (Reverend Wade, naturally, disapproves of this hell-raising music.) Simultaneously, a rising star named Drexel Hemsley (Rayne again) is becoming an Elvis Presley-like sensation, gyrating his hips on stage while combining rock, blues and gospel. (Interestingly, within the world of The Identical, the actual Elvis also exists. Also worth noting: Presley had a twin brother who was stillborn, an event that seems likely to have inspired The Identical.)
The film, written by Howard Klausner from a story by Wade Cummins, centres around Ryan's desire to release his own songs — a goal that's interrupted when his striking physical and vocal resemblance to Drexel is noticed by agents and promoters, netting him a lucrative career as a Drexel imitator. The Identical follows Ryan as he wrestles with his competing desires to be successful and to break out of Drexel's shadow, not realizing they're brothers. At the same time, he's also disappointed his father Reverend Wade, who had hoped Ryan would follow in his footsteps and devote his life to God's teaching.
There is much at the heart of The Identical that's provocative: our obsession with celebrity (even if it's merely a lookalike); the tension between following one's dreams and honouring one's roots; the mysteries behind what makes us human and unique. But Marcellino's direction doesn't do much to bring these issues to life. Instead, the film plays out as a neutered recreation of rock 'n' roll's early days, offering warmed-over musical history without much of the electricity or danger of the period. (Jerry Marcellino, a long-time record producer, and Yochanan Marcellino — who are the director's grandfather and father, respectively — wrote the pleasant, unmemorable original songs, which cover a variety of genres.)
Additionally, there's an inescapable illogic to the proceedings. No matter how expertly Ryan imitates Drexel, it's hard to imagine that he could become as famous as The Identical claims he is. (It's awfully rare for a tribute act to be more popular than the original artist while he's still alive.) Furthermore, the inner workings of the music industry are treated simplistically, reducing a complicated industry to something that's only a few notches more nuanced than a fairy tale.
The film's overall blandness extends to Rayne's performances. A former Presley impersonator, the actor has a decent amount of aw-shucks charm and onstage presence. (He sings the Mercellinos' songs with sufficient swagger.) But we don't feel much of Ryan's inner turmoil over the personal and professional crossroads he faces. (By comparison, his portrayal of Drexel is intentionally more oblique, portraying the star as unknowable, hidden behind sunglasses and big hair.) The Identical means to be emotional, lamenting that these twins never knew the truth about their lives, but Rayne reveals very little depth, so the pathos never develops.
The supporting cast are stronger because they're more seasoned, but their parts don't offer much range. Judd plays the dutiful, sympathetic wife and mother, while Joe Pantoliano and Seth Green aren't too broad as Ryan's supportive friends. Probably the most interesting portrayal comes from Liotta, best known for his hyper-violent turns in films such as GoodFellas and Narc, playing a passionate preacher who loves his adopted son but is tortured by the secret he must keep from the boy. Reverend Wade is far from the pinnacle of Liotta's career, but the actor, who is one of the film's executive producers, works to add complexity to what could have been a one-note adversary to Ryan's musical aspirations.
In a year with several high-profile Christian films — God's Not Dead, Heaven Is For Real, Son Of God and Moms' Night Out — The Identical isn't overly proselytising, treating its characters' faith seriously without being heavy-handed. But with that said, the movie's reverent, inoffensive tone runs counter to the milieu it documents. Rock 'n' roll's pioneers flirted with the (metaphorical) devil in their pursuit of this liberating, cathartic art form. The Identical is far too chaste to fully grasp the music's tempting power.
Production companies: City of Peace Films; Identical Production Company, LLC
International sales: Vision Films, http://www.visionfilms.net/
Producers: Howard Klausner, Joe McDougall, Clio Tegel, Mark G. Mathis, Yochanan Marcellino, Matthew Dean Russell, Coke Sams, Clarke Gallivan
Executive producers: Michael Edious Johnson, Yochanan Marcellino, Ray Liotta
Screenplay: Howard Klausner, based on a story by Wade Cummins
Cinematography: Karl Walter Lindenlaub
Editor: Rick Shaine
Production designer: Keith Brian Burns
Music: Jerry Marcellino, Yochanan Marcellino
Website: http://theidenticalmovie.com/
Main cast: Erin Cottrell, Amanda Crew, Brian Geraghty, Seth Green, Ashley Judd, Joe Pantoliano, Blake Rayne, Ray Liotta