Dir: Daniel Barber. US. 2014. 95mins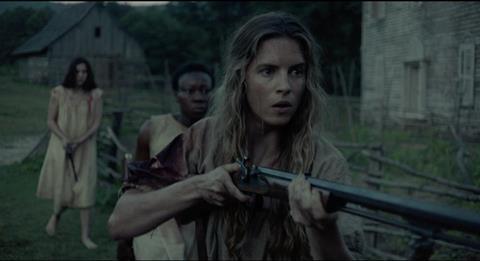 A striking and atmospheric feminist Western drama, Daniel Barber's tough minimalist suspense film tells the dark and almost Gothic tale of three women left alone at an isolated farm during the final bloody days of the American Civil War as they are stalked by a pair of lustful and bloodthirsty Yankee advance scouts.
It is a strikingly suspenseful film about women, war and race.
Perhaps in some ways The Keeping Room – which refers to a nasty story told by one of the women - is a variation on the home invasion thriller, but the premise is given an impressive edge thanks to Julia Hart's intelligent script and moody direction by Daniel Barber, whose 2009 film Harry Brown screened at Toronto. The presence of rising indie star Brit Marling should help distribution – though in some ways it is a niche film despite its often-violent genre aspects.
Deep in the woodlands of South Carolina, Augusta (Marling), her teenage sister Louise (Hailee Steinfeld) and their stoical slave Mad (Muna Otaru) struggle to keep their home, growing what food they can and locking themselves in a top room of the house every night. Augusta keeps guard with their only rifle while petulant Louise still imagines a life of luxury and sees herself above doing real work.
When Louise is bitten by an animal and develops a fever, Augusta heads off to a nearby town for medicine, but also comes across two Yankee scouts (Sam Worthington and Kyle Soller), who we know from the start of the film are engaging in pillaging and killings in advance of the approaching Union Army as General Sherman began his march to the sea. Augusta manages to escape, but they track her to the farm, leaving the three poorly armed young women to have to try and fight back.
The bloody and brutal battle between the three women and their drunken would-be assailants (both ruined and corrupted by war and caught in a mindless cycle of blood and lust) is fierce and nasty, with the story also offering an unpleasant and sad twist. But these tough Southern women are oddly pragmatic about what they have to do to survive and killing is a new skill they have to learn.
A tough and brutally taut revisionist drama, The Keeping Room (which refers to a space or room where a fire was always kept going, and also the room where something awful happened to Mad) is a tough and rather merciless film that makes no bones about the horrors of war. It is also a strong and strident story of how three very different women unite as they defend their home and each other.
Most clearly drawn is Brit Marling's strong-willed Augusta who takes on the role of leader and gathers strength from her determination. As Marling has shown in previous films, she is a charismatic actress whose intelligence and drive shows through, and is terrific as a Southern beauty who in times gone with the wind would have been the belle of the ball, but now carries a rifle and will not hesitate to pull the trigger.
Oscar-nominee Hailee Steinfeld (from True Grit) has perhaps the most thinly developed role, though her stroppy teen has to grow as the story gets more intense, while newcomer Muna Otaru is impressive as the placid Mad, who eventually reveals the awful truth about her past.
The film is elegantly shot, with director Barber and cinematographer Martin Ruhe making the most of the wooded locations and making the backdrop both gritty and oddly beautiful. In the end it is a strikingly suspenseful film about women, war and race that deserves to find caring distributors who can bring out the best in it.
Production companies: Wind Dancer Films, Gilbert Films, Anonymous Content
Internationals sales: Sierra/Affinity, www.sierra-affinity.com
Producers: Jordan Horowitz, Judd Payne, Matt Williams, David McFadzean, Dete Meserve, Patrick Newall
Executive producers: Gary Gilbert, Michael Sugar
Screenplay: Julia Hart
Cinematography: Martin Ruhe
Editor: Alex Rodriguez
Production designer: Caroline Hanania
Main cast: Brit Marling, Hailee Steinfeld, Muna Otaru, Sam Worthington, Kyle Soller