Dir/scr: Jean-Pierre and Luc Dardenne. France-Belgium-Italy. 2011. 87mins.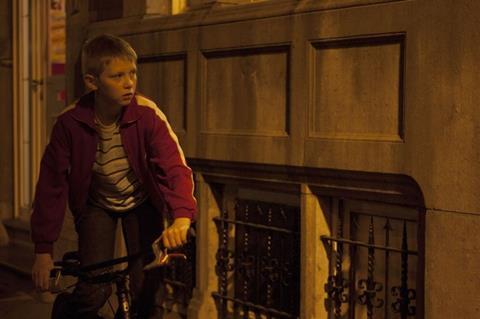 It's business as usual, more or less, for the Dardenne brothers in The Kid With A Bike (Le Gamin au Vélo). But that can only be good news for their devoted admirers, who know that a deliberately restricted thematic palette and rigorously economical methodology allow the Belgian duo to take no-frills realism to emotional places where it doesn't normally go.
The Dardennes - no slouches at finding unknown talent - have discovered a terrific talent in young lead Thomas Doret.
After the slightly sub-par Lorna's Silence (2008), the brothers are back on peerless form with this story of innocence betrayed and befriended, which must count as one of the best films about childhood since Kes - or for that matter Bicycle Thieves, to which it surely nods. An ending that is (superficially at least) relatively upbeat, plus the increasingly bankable presence of Cécile de France, who recently went transatlantic in Clint Eastwood's Hereafter, should make this one of the brothers' most commercially successful films - although the presence of a legitimate star doesn't mean that they've softened their approach one jot.
Told in the Dardennes' characteristically elliptical but to-the-point manner, the story follows the travails of Cyril (Doret), an 11-year-old boy first seen trying to contact his absentee father Guy and retrieve the bike that means everything to him. On one of his desperate escapes from the care home where he is living, he has a chance encounter with Samantha (de France), a hairdresser living on his father's housing estate.
And after she brings the bike back to him - apparently for straightforward Good Samaritan reasons that the film never spells out - Cyril asks if she'll foster him at weekends. Samantha contacts Guy (Renier, playing another of the wastrels he specialises in for the Dardennes), but the boy gets a cold brush-off from his feckless dad.
Playing adoptive mother to Cyril proves far from easy for Samantha, and things take a troubling turn when the kid is befriended by teenager Wes (di Mateo) whom you can instantly tell is going to be a very bad influence indeed.
Despite the worst happening, things seem to be panning out for the boy, when matters take a left turn in a genuinely unpredictable coda. The film's final moments leave you genuinely uncertain about what's in store for Cyril, but even so, they bring the film to a satisfying and quietly moving
close.
This film marks two significant departures for the Dardennes. One is the prominent but very sparing use of music - the briefest snatches of Beethoven's Emperor Concerto, to emotionally suggestive effect. Another is the use of a known star - but de France, far from dominating the film, proves a perfect fit as a character about whom we know little, but whose independence and compassion we sense in every sequence she appears in.
It's a terrific performance, level-headed and no-nonsense, and reaffirms De France's status as an intelligent and subtle performer to be reckoned with.
The Dardennes - no slouches at finding unknown talent - have discovered a terrific talent in young lead Thomas Doret. As Cyril, he embodies a mixture of blankness - asbefits the character of a deeply damaged child – and incredible ferocity and will. Doret's piping monotone voice should, by rights, seem inexpressive, and yet it speaks volumes about the boy's isolation, hunger for love and - as so often with the Dardennes' apparent loser figures - ferocious will to survive.
Shooting as usual with cinematographer Alain Marcoen, and in their familiar stamping ground of Seraing, the brothers this time bring a somewhat different, airier look to their locations, more suburban than in the past. Marcoen's camerawork, also, is rather more free-wheeling than the tightly constrained (and often imitated) tightness of The Son.
This is as resonant and engaging a Dardennes story as ever, but has extra resonances in its Dickensian echoes: this could almost be seen as a modern-day minimalist Oliver Twist, with de France as a more fortunate Nancy. And an extraordinary long take of Cyril racing his bike at night recalls a younger Renier in the brothers' career-making The Promise, making an implicit connection between two films' father and son figures. The fleeting presence of Olivier Gourmet makes for further implicit links between the Dardennes' films, which are slowly but surely building up to a small-scale but masterfully conceived Human Comedy for the unglamorous modern age.



Production companies: Les Films du Fleuve, Archipel 35, Lucky Red
International sales: Wild Bunch, www.wildbunch.eu
Producers: Jean-Pierre and Luc Dardenne, Denis Freyd
Cinematography: Alain Marcoen
Editor Marie-Hélène Dozo
Production designe:r Igor Gabriel
Main cast: Cécile de France, Thomas Doret, Jérémie Renier, Fabrizio Rongione, Egon di Mateo