Dir/scr: Lu Chuan. China. 2012. 115mins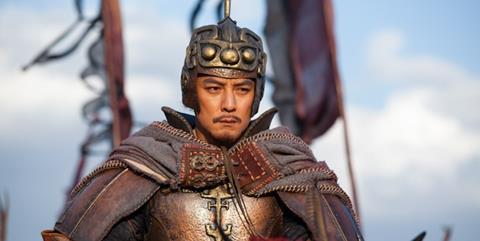 A companion piece to Chen Kaige's award-winning The Emperor And The Assassin (1998), which portrayed the rise of the Qin dynasty and the unification of the Chinese empire and running on parallel lines with last year's Hong Kong production White Vengeance, Lu Chuan's new and visually spectacular historical pageant is dedicated to the fall of that same house of Qin, at the end of the Third Century BC.
To make some sense out of this complex plot is very much like assembling a large puzzle whose pieces have been scattered in all directions.
Lu Chuan, best known in the West for his City Of Life And Death, has been at work for years on this complex project, involving not only a large cast and enormous production means, but also a plot - or more exactly a myriad of intersecting plots - whose details could mystify any audience unfamiliar with the Chinese history.
He has finally come up with a Chinese version of Macbeth. A tale about a king who is the victim of his own ambition and haunted by guilt, and about his wife who would stop at nothing to preserve her power. The moral of this tale, however, offers some surprisingly updated hints about modern China and its rulers, likely to be frequently discussed in Western reviews.
A lesson in Chinese history, this isn't. The plot is far too intricate and its presentation is too convoluted to make much sense for an unprepared audience. Lu, who also wrote the script, chooses the point of view of a raving Liu (Liu Ye), the almighty emperor who started the Han dynasty, troubled by nightmares in which his closest assistants are plotting to get rid of him.
The film constantly goes back and forth in time, from the early days when Liu was a humble peasant leader joining forces with the young and highly respected noble Yu (Hong Kong star Daniel Wu) to topple the corrupt Qin rule, through the various pacts and treacheries established between the various chieftains, climaxing at the famous banquet when, despite the attempts of Yu's advisers to kill him, he manages to come out, alive.
He later defeats Yu's armies thanks to General Xin (Taiwanese Chang Chen), who defected from Yu's camp. But after subsequent plots and counterplots Liu is lead to believe that Xin will now betray him as well to take away his crown. His wife, Empress Liu (a subtle, fiercely controlled Qin Lan), who has been at his side all along, engineers one cold blooded murder after another to prevent any attempt in stopping her from taking over once her ailing husband is dead.
To make some sense out of this complex plot is very much like assembling a large puzzle whose pieces have been scattered in all directions. And once assembled, there will still be quite a few of them missing. No wonder it is difficult to follow, but at least all the production departments have spared no effort or imagination in making the film look fabulously eye-catching.
A pageant mostly concerned with the lessons of history rather than history itself, it constantly points at the bitter fruits of ambition; suggests acquisition of power is a long procession of deceptions, conspiracies, corruptions and treacheries, and suggest one never relies on historians to tell you the truth. Whether the decision to spurn chronological narrative was the outcome of production difficulties or editing problems, it will certainly constitute a major obstacle for this handsome picture, at least outside its home territory, where audiences might be more familiar with the material it is presented.
Production company: Beijing Chuanfilms Company Ltd.
International Sales: Wild Bunch, www.wildbunch.biz
Producers: Albert Yeung, Alan Zhang, Yang Teng-Kuei, Zhao Xiaowen, Gu Guoqin, Lu Chuan
Executive producer: Qin Hong
Cinematography: Zhang Li, Ma Cheng
Editor: Liu Yijia
Production designer: Chen Haozhong, Lu Tianhang
Music: Liu Tong
Main cast: Liu Ye, Daniel Wu, Chang Chen, Qin Lan, Sha Yi, Lv Yulai, Nie Yuan, Huo Siyan, Cuckoo He, Tao Zeru, Li Qi, Ki Dao, Hao Bojie