Dir: Gore Verbinski. US. 2013. 149mins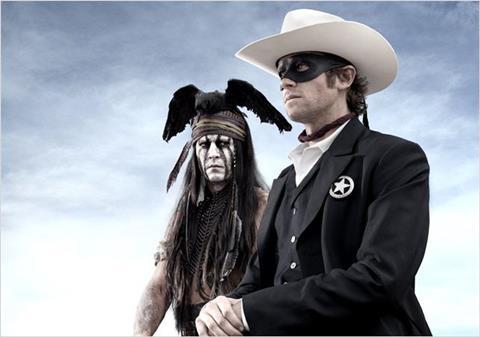 Transplanting the Pirates Of The Caribbean aesthetic to the Wild Wild West proves disastrous in The Lone Ranger, an indigestible swill of forced humour and oversized, overbearing action sequences. Reuniting the Pirates franchise's creative team of director Gore Verbinski, producer Jerry Bruckheimer and star Johnny Depp, this origin story of the iconic American cowboy character has plenty of combustion, but it's almost entirely devoid of charm or genuine excitement.
The Lone Ranger resembles the Pirates Of The Caribbean series (whose first three instalments were directed by Verbinski) in its mixture of playful slapstick and large-scale action.
Unspooling on July 3 across North America and other territories, The Lone Ranger looks to have a dynamic initial launch thanks to the movie being the major action draw for the US Independence Day holiday weekend. However, downbeat reviews may translate into mediocre word-of-mouth, especially if there are complaints from Native American groups about Depp's gimmicky portrayal of the Lone Ranger's loyal sidekick Tonto. So, stratospheric grosses may be unrealistic, although this Western still seems destined to be one of summer's better performers.
Told in a series of flashbacks by an elderly Tonto (Depp) to a young boy, The Lone Ranger takes place in the mid-1850s in Texas as idealistic young attorney John Reid (Armie Hammer) ends up befriending the distrustful Comanche warrior Tonto while pursuing Butch Cavendish (William Fichtner), a sadistic outlaw who has killed John's older brother Dan (James Badge Dale), a Texas Ranger. Though they come from warring cultures, John and Tonto must work together, with Tonto believing that this white man has been granted special powers by the spirit gods.
Based on the 1930s radio serial, which was later adapted into films and a TV show, The Lone Ranger resembles the Pirates Of The Caribbean series (whose first three instalments were directed by Verbinski) in its mixture of playful slapstick and large-scale action. As he did in his performance as Jack Sparrow, Depp turns Tonto into a surreal, eccentric character who dominates the film. That's especially problematic since Hammer's John (the movie's central figure, who will transform from a meek lawman into the assertive Lone Ranger, complete with trademark black mask and white hat) pales in comparison.
But the complaints don't end there. Depp, who has claimed partial Cherokee heritage, has insisted that he wanted to play Tonto with more sensitivity than has previously been afforded a character who in the past has been little more than a "noble savage" cliché. Unfortunately, the portrayal is nonetheless bothersome because Depp digs into his usual bag of actorly tics and cutesy deadpan expressions to get laughs. The performance may be less culturally offensive, but Depp's Tonto is still a bit of a buffoon — and not a particularly entertaining one.
Hammer has proved himself capable of mocking his golden-boy looks to good effect in Mirror Mirror, but John Reid doesn't provide him with the same comedic opportunities, even though the character (especially early on) is meant to be a ridiculously effete city-slicker who doesn't have the backbone to survive in the rough-and-tumble American West. With a screenplay credited to three scribes — two of whom, Ted Elliott and Terry Rossio, worked on all four Pirates films — The Lone Ranger goes for humour based on the odd-couple relationship between John and Tonto. But Verbinski's comic timing is leaden, and the two leads don't display a lot of chemistry, killing much hope for chuckles.
As for the supporting cast, it's starry — including Tom Wilkinson and Helena Bonham Carter — but not well-used. Indicative of the film's overblown style, Fichtner's villain is ugly and crude, Butch's unremitting nastiness dished out without any sense of proportion or restraint.
Repeating the mistake of his Pirates films, Verbinski also overdoes his set pieces, creating such elaborate, effects-heavy sequences that they cease being even remotely believable, substantially limiting audience investment in what's happening. If, on paper, a finale involving two runaway trains — including characters swinging from one to the other while a separate character rides a horse atop one of the trains — sounds dynamic, on screen it's simply numbing because of the filmmakers' unwise decision to keep increasing the stakes without much thought to the laws of gravity or the limits of the human body. The Lone Ranger starts off at a fever pitch of action intensity — epic train chases bookend the movie — but because Verbinski elsewhere wants the movie to have a dark, realistic edge, these sequences simply feel phony and excessive.
Featuring locations across the American Southwest, The Lone Ranger doesn't lack for arresting visuals, with Verbinski and cinematographer Bojan Bazelli filling the frame with beautiful shots of vast, rugged landscape. Penny Rose's costumes and Joel Harlow's makeup are also expert, with Harlow able to help Depp pull off his latest, albeit familiar, chameleon act.
But of the other craftspeople, perhaps the most notable is Hans Zimmer, whose score is rather generic with the exception of his slight alterations to the classic William Tell Overture, which has become more widely known by many as the Lone Ranger's theme. The Lone Ranger's most stirring moment comes from the eventual playing of that original theme — and it's quite damning that this brief blast of pure euphoria easily outclasses everything the producers have brought to their gussied-up new film.
Production companies: Jerry Bruckheimer Films, Blind Wink, Infinitum Nihil
US distribution: Disney, movies.disney.com
Producers: Jerry Bruckheimer, Gore Verbinski
Executive producers: Mike Stenson, Chad Oman, Ted Elliott, Terry Rossio, Johnny Depp, Eric McLeod, Eric Ellenbogen
Screenplay: Justin Haythe and Ted Elliott & Terry Rossio, screen story by Ted Elliott & Terry Rossio and Justin Haythe
Cinematography: Bojan Bazelli
Production design: Jess Gonchor, Mark "Crash" McCreery
Editors: Craig Wood, James Haygood
Music: Hans Zimmer
Website: Disney.com/theloneranger
Main Cast: Johnny Depp, Armie Hammer, Tom Wilkinson, William Fichtner, Barry Pepper, James Badge Dale, Helena Bonham Carter