Dir: Scott Hicks. US. 2011. 101mins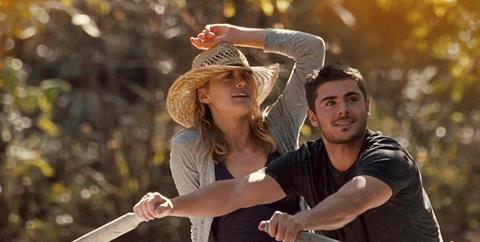 The romantic drama The Lucky One, the latest big-screen adaptation of a Nicholas Sparks bestseller (The Notebook, Dear John), provides exactly what its undiscriminating audience will desire: tear-jerking melodrama, gooey scenes of love conquering all, and some vague musings about the mysteries of fate. By this point, it's probably pointless to complain about how terribly hokey and overblown these films are, but even though Zac Efron and Taylor Schilling make an appealing couple, The Lucky One's slow, relentless emotional manipulation eventually becomes insufferable to anyone who hasn't already bought into Sparks' soapy formula.
The Lucky One's real treat is Blythe Danner.
This Warner Bros. release arrives April 20, and the studio has understandably advertised the film directly to Sparks fans, and indeed the author's most recent adaptations, 2010's Dear John and The Last Song, brought in combined about $204m worldwide, with about 70% of that haul coming from US audiences. Hoping to duplicate the commercial success of another romantic drama from earlier this year, The Vow (currently at $175m globally), The Lucky One will be a test of Zac Efron's popularity as a serious actor. He wasn't so lucky the last two times he tried in that vein: Me And Orson Welles and Charlie St. Cloud are his lowest grossers to date.
The film opens in the Middle East as Logan (Efron), a US soldier, barely survives an intense firefight. In the aftermath, he finds a photograph of a beautiful American woman that he keeps with him, convinced that she's a guardian angel protecting him on the battlefield. After his deployment ends, Logan returns to the US, curious to find this mysterious woman.
His search takes him from his home in Colorado to Louisiana, and soon he's face to face with Beth (Schilling), whose brother was also a soldier in the Middle East. When Logan realizes Beth's brother was killed during combat, he is too embarrassed – not to mention scarred from his time in war – to tell her the reason why he sought her out. Taking a job at her kennel, Logan starts to fall in love with Beth, but what chance does a relationship have when he's harbouring this terrible secret?
Directed by Scott Hicks, who has gone from helming the Oscar-winning Shine to middlebrow Hollywood films like No Reservations and Hearts In Atlantis, The Lucky One benefits from Efron's easygoing charm and likable presence, which he's utilised mostly in comedies to this point.
Though he's badly out of his depth when he has to portray Logan's post-war anguish – and the script makes him a ridiculously ideal male love interest, able to discuss philosophy and play chess while sporting perfect stubble – his scenes with Schilling have a graceful warmth that are pleasurable in small doses.
The problem, however, lies in the fact that the film is built around the suspense of what will happen once Beth finds out the truth concerning Logan's appearance in her life. Unfortunately, Hicks and writer Will Fetters fail to convincingly explain why Logan doesn't tell Beth early on, instead inventing convoluted distractions that keep Beth from questioning the bizarreness of Logan's arrival and the odd coincidence of him and her brother both spending time in the Middle East.
Admittedly, a film such as The Lucky One doesn't require an airtight plot: The appeal rests in the comforting inevitability of the attractive leads finally realising that they're meant for each other. But even by that low standard, the movie is riddled with stock supporting characters and situations, the most irritating being Beth's ex-husband (Jay R. Ferguson), whose chief function in the plot is to come around occasionally to remind her that he could take custody of their son anytime he wants. And eventually when the truth comes out about Logan, The Lucky One doesn't find a surprising or satisfying way to resolve the conflict.
If predictability weighs on every frame of this film, at least several cast members help give the story a little life. Schilling isn't particularly accomplished, but like Efron she radiates down-to-earth geniality. As Beth's young son, Riley Thomas Stewart doesn't indulge in a lot of cutesy child-actor tics, lending believability to a character that's little more than a story device. But The Lucky One's real treat is Blythe Danner. Playing Beth's loving grandmother, she brings a hint of humanity and sly spunk to a story in which most everything else seems to have been pre-programmed to ensure that the audience feels particular emotions at precise intervals.
Production companies: Village Roadshow Pictures, Di Novi Pictures
Domestic distribution: Warner Bros. Pictures, www.warnerbros.com
Producers: Denise Di Novi, Kevin McCormick
Executive producers: Ravi Mehta, Alison Greenspan, Bruce Berman
Screenplay: Will Fetters, based on the novel by Nicholas Sparks
Cinematography: Alar Kivilo
Production design: Barbara Ling
Editor: Scott Gray
Music: Mark Isham
Website: www.theluckyonemovie.warnerbros.com
Main cast: Zac Efron, Taylor Schilling, Blythe Danner, Riley Thomas Stewart, Jay R. Ferguson, Adam LeFevre