Dir: Oren Moverman. US. 2009. 105 mins.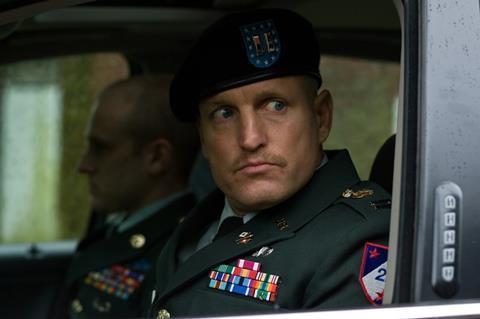 The directorial debut of accomplished screenwriter Oren Moverman, whose credits include I'm Not There and Jesus' Son, The Messenger is another story of US soldiers struggling with life after Iraq which, while well-acted and observed, is ponderous and prone to cliches. A main competition slot in Berlin following its Premiere screening in Sundance will help exposure but international buyers, as well as domestic, will be looking closely at the track record of other back-from-Iraq movies before committing to this one.
And that track record is a bleak one. From Stop-Loss to The Lucky Ones, Grace Is Gone to In The Valley Of Elah and Home Of The Brave, these movies have categorically failed to connect with audiences. Films set in the conflict itself like The Kingdom, Redacted or Rendition have bombed. Nor do big stars help apparently, as Lions For Lambs and Body of Lies proved. The Messenger is unlikely to break the tradition.
Moverman's conceit is to focus on the task of soldiers charged with notifying loved ones of soldiers who have died in the line of duty. Which means, unfortunately, that his film is long on sequences showing parents and spouses reacting hysterically to the bad news. To say it's a downer is an understatement, and, while the film-maker injects some humour along the way, it doesn't go far enough in combating the maudlin subject matter.
Ben Foster is a revelation here, carrying the film and delivering his first true adult performance after a string of youthful turns in 3:10 To Yuma, X-Men: The Last Stand and Alpha Dog. He plays Will Montgomery, a staff sergeant decorated for heroism in Iraq, who has three months left on his army contract when he is assigned to be a Casualty Notification Officer. Reluctantly paired with the colourful and salty captain Tony Stone (Harrelson), he learns the techniques and hazards of the job - encountering everything from rage to violence to vomiting in the unfortunate NOK (next of kin).
On one assignment, the two inform a woman called Olivia (Morton) that her husband and the father of her son has been killed. She takes the news calmly and with kindness, prompting Will to take the unethical step of keeping in touch with her and helping her out. The two become friends, much to Stone's chagrin.
The film doesn't really have much of a story beyond that. Will and Stone forge a strong friendship, talk about women, drink together and behave badly at the engagement party of Will's former girlfriend (Malone). Olivia decides to move away and make a fresh start, but she gives Will hope that they might have a future together.
Through these strong relationships, Will is able to offset the harrowing nature of his new job and reacclimatise to the US.
Harrelson gives one of his best performances as the army lifer Stone, a likeable sort behind the bravado, and Morton is excellent as always as the gentle widow, although some of the dialogue Moverman gives them borders on the affected, such as Olivia telling Ben that her late husband's shirt smelt of 'fear and rage'.
Despite the high level of performance, the script isn't short of stock moments, including tearful recollection of coming under attack in Iraq to the violent expressions of rage (punching the wall in) to the obligatory brawling and womanising that comes with army movie territory.
Production companies
The Mark Gordon Company
Good Worldwide
Omnilab Media Group
Sherezade Film Development Co Ltd
BZ Entertainment
Domestic sales
c/o UTA (+ 1 310 273 6700)
International sales
ContentFilm International
Producers
Mark Gordon
Lawrence Inglee
Zach Miller
Screenplay
Alessandro Camon
Oren Moverman
Cinematography
Bobby Bukowski
Production designer
Stephen Beatrice
Editor
Alex Hall
Music
Nathan Larson
Main cast
Ben Foster
Woody Harrelson
Samantha Morton
Jena Malone
Steve Buscemi
Eamonn Walker