Dir: Lorranie Lévy. France-Israel. 2012. 106mins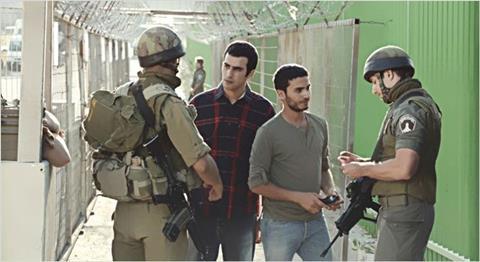 Nearly 18 years after an attack on a Haifa hospital, an Israeli-Jewish couple and a Palestinian-Muslim couple learn that their sons were mistakenly switched at birth in Lorraine Levy's suspenseful and touching The Other Son (Le Fils de l'autre). A no-brainer for festivals and a strong candidate for international theatrical play (Cohen Media is distributing in US), the film does justice to its tantalising premise via excellent casting and a thoughtful, layered script.
There is a strong theme of tolerance, but never in a knee-jerk way.
Viewers of any background can easily wonder "What would I do if my ethnic, political, religious and family certainties were stripped away from one minute to the next?" And not just that, but flipped for the "enemy" version.
When Joseph (Jules Sitruk, excellent) reports for his pre-induction interview prior to obligatory service in the Israeli army, his blood type raises red flags. His mother, Orith (Emmanuelle Devos), a French-born physician, and his father Alon (Pascal Elbé) a colonel in the Ministry of Defence, can't make sense of the results.
True, Joseph, a habitual dreamer who writes songs and plays guitar, has never looked much like either of his parents or his younger sister, but he excelled at his Jewish religious studies and they're a tight knit, loving family.
Orith assures Alon that she never cheated on him. Research reveals that two slightly premature male babies who shared an incubator must have been switched during the chaos of an air attack. DNA tests prove that Joseph is really the biological son of Leila (Areen Omari) and Said (Khalifa Natour from The Band's Visit and When Pigs Fly), who live on the West Bank with their militant anti-Israeli son, Bilal (Mahmood Shalabi) and young daughter.
The son they raised, Yacine (Mehdi Dehbi, excellent) is a handsome, self-possessed lad who has been studying in Paris where he will soon start an eight-year course of medical training.
One of Joseph's first questions is "Am I still Jewish?" The answer is heartbreaking.
Although shaken to the core, the two mothers process the revelations as an emotional issue - a mistake for which nobody is to blame - and form a tentative bond. But the men are almost unmanageably angry and can't help adding political considerations. The Palestinian couple lost another son, presumably due to something Israel did and, of course, as a career military officer, Alon wants no part of having to adjust to the fact that the boy he raised is actually Palestinian by blood.
The narrative is plausible at all times. Only the fact that Yacine has been studying in France - which means most of the dialogue can be in French, but with a logical mix of Hebrew, Arabic and English - is almost too convenient. But it works.
There is a strong theme of tolerance, but never in a knee-jerk way, as the protagonists decide how to juggle curiosity, animosity, wariness and more. And, as with any inconvenient truth or genie that can't be stuffed back into the bottle: What will the neighbours think?
Lévy, whose The First Time I Was 20 was a strong 2005 debut followed by the well-meaning but silly London-set Mes Amis, Mes Amours in 2008, follows through on the story's seriousness of intent with well-chosen settings and careful attention to all the details that count.
Production companies: Rapsodie Production, Cité Films
International sales: Cite Films, contact@citefilms.com
Producers: Virginie Lacombe, Raphael Berdugo
Screenplay: Nathalie Saugeon, Lorraine Lévy, Noam Fitoussi from an original idea by Fitoussi
Cinematography: Emmanuel Soyer
Editor: Sylvie Gadmer
Production designer: Miguel Markin
Main cast: Jules Sitruk, Emmanuelle Devos, Pascal Elbé, Mehdi Dehbi, Areen Omari, Khalifa Natour, Mahmud Shalaby