Organisers at the Seattle International Film Festival (SIFF) announced the complete line-up of 450 films from 92 countries on Wednesday. The festival runs from May 14-June 7.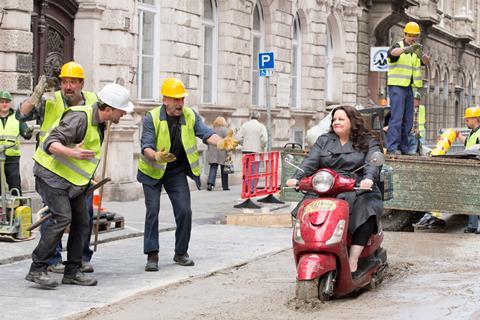 The Overnight starring Jason Schwartzman will close the event and as previously announced Spy (pictured) with Melissa McCartney will kick off proceedings. Kevin Bacon will receive career achievement in acting award.
"This year's festival is bigger and more international than ever, with a record 92 countries represented," said SIFF artistic director Carl Spence. "Adding to our diverse international line-up is our new programme, Culinary Cinema, which features 11 fantastic new films.
"And I'm particularly excited to welcome Kevin Bacon as this year's Tribute Guest – SIFF will now be only one-degree of separation away!"
Galas and premieres include Max Landis' directorial debut Me Him Her, Chris Evans in Before We Go, Jesse Eisenberg and Jason Segal in the Centerpiece Gala End Of The Tour . Inside Out, Mr. Holmes and Shaun The Sheep comprise the Special Presentations strand.
The festival will celebrate the 25th anniversary of Martin Scorsese's The Film Foundation with 12 films, among them Sergei Parajanov's The Color Of The Pomegranates (Armenia, 1969), Ahmed El Maanouni's Alyam, Alyam (Morocco, 1978), Robert Siodmak's The Dark Mirror (USA, 1946), Michael Powell and Emeric Pressburger's The Red Shoes (UK, 1948) and Nicholas Ray's Rebel Without A Cause (USA, 1955).
The roster of world premieres includes Aaron Hann and Mario Miscione's Circle (USA), Levan Tutberidze's The Village (Georgia), James Redford's Paper Tigers (USA) and Frank Lotito's Good Ol' Boy (USA).
The inaugural Culinary Cinema strand features 11 titles exploring taste and the sense, among them Jonathan Gold's City Of Gold (USA), José-Luis López-Linares' Sherry & The Mystery Of Palo Cortado (Spain) and King Georges (USA) by Erika Frankel.
The New Directors Competition offers a $2,500 cash prize to the winner. The entries are:
A Blast (Greece-Germany-Netherlands) by Syllas Tzoumerkas; Bonifacio (Philippines) by Enzo Williams; Corrections Class (Russia-Germany) by Ivan I Tverdovsky; Liza, The Fox-Fairy (Hungary) by Karoly Ujj-Meszaros; Love, Theft And Other Entanglements (Palestine) by Muayad Alayan; and A Matter Of Interpretation (South Korea) by Kwang-kuk Lee.
The list continues with: Morbayassa (Guinea) by Cheick Fantamady; My Skinny Sister (Sweden-Germany) by Sanna Lenken; Short Skin (Italy) by Duccio Chiarini; Under Construction (Bangladesh, world premiere) by Rubaiyat Hossain; Vincent (France) by Thomas Salvador; and Waterline (Poland) by Michal Otlowski.
New American Cinema Competition for films without US distribution awards a $2,500 cash prize and a copy of Adobe Creative Suite 6 Production Premium edition to the winner.
The entries, all of which are from the US and receive their world premieres, are: Chatty Catties by Pablo Valencia; Circle; Fourth Man Out by Andrew Nackman; Front Cover by Ray Yeung; Good Ol' Boy; Happy 40th by Madoka Raine; Me Him Her; and Those People by Joey Kuhn.
The Documentary Competition winner will collect a $2,500 cash prize. Selections are: Cooking Up a Tribute (Spain) by Luis Gonzalez and Andrea Gomez; Dreams Rewired (Austria) by Martin Reinhart, Thomas Tode and Manu Luksch; The Glamour & The Squalor (USA, world premiere) by Marq Evans; and The Great Alone (USA, world premiere) by Greg Kohs.
Documentary entries continue with: In Utero (USA, world premiere) by Kathleen Gyllenhaal; License To Operate (USA, world premiere) by James Lipetzky; Mountain Spirits (Taiwan), by Singing Chen and Kuo-Liang Chiang; Paper Tigers; Romeo Is Bleeding (USA) by Jason Zeldes; nSergio Herman, F**KING PERFECT (Netherlands) by Willemiek Kluijfhout; and War Of Lies (Germany) by Matthias Bittner.
Programming includes the third year of Africa Pictures and panels on marketing, pitching, digital storytelling in the classroom, crowdfunding and filming in Africa.
For the full roster click here.