Dir: Antoine Charreyron. France-Luxembourg-Belgium. 2011. 96mins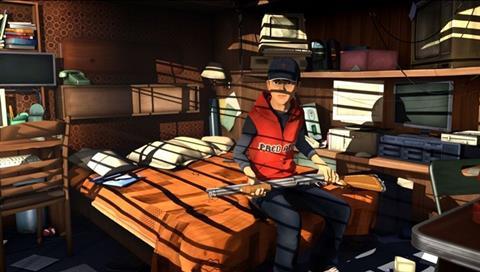 Hell hath no fury like a young genius scorned in The Prodigies, a fetchingly animated 3-D adaptation of a bestselling French novel from 1981 that did for misunderstood Gallic youth what The Catcher In The Rye has done for generations of young Americans.
On an allegorical level, it's a story of that youthful moment when kids feel both misunderstood and invincible and want to rule the world.
Visceral tale alive with physical and emotional violence is deeply European in its approach although all the characters are American and the action is set essentially in a beautifully rendered Manhattan. The film opens in France 8 June after an official Cannes showing for high school students.
A brilliant young man who was horribly abused as a child locates five young geniuses across the U.S. and brings them together for what he hopes will be mutual support and a nurturing exploration of their exceptional talents. But things go terribly wrong and five angry children suddenly and secretly have the upper hand in realms customarily run by adults.
As the book has sold million of copies and even carried the seal of France's National Board of Education, there's a built-in audience for this 27 million euro venture in France.
Producer Marc Missonnier, who read the novel at age 12, concluded with his Fidelité producing partner Olivier Delbosc, that the book's incredibly dark vision - its adolescent protagonists are raped and beaten in New York's Central Park - would be nearly impossible to render in live-action.
Even in animated form - motion capture-based with impressive, deeply evocative backgrounds - the characters have been bumped up from ages 11-to-14 to 13-to-15. A few aspects of the source novel that would have raised American eyebrows, as did Luc Besson's original Leon (The Professional) have been eliminated or toned down.
What remains still has the level of violence of a kill-'em-all video game redeemed by a potently emotional backstory. Material considered appropriate for ages 12 and up in France will almost certainly be branded with an R stateside. And that's a shame, since this is a bigscreen production that youngsters can profitably dig their eyeballs and teeth into.
In a visually gripping prelude, 13-year-old Jimbo is playing with his electronic gear when his parents bring an argument into their son's room-cum-workshop. Without provocation, Jimbo's dad stomps on the boy's treasured computing device and gives him a vicious beating. When the scene is over, Jimbo's mother is dead on the floor and his father has
hung himself.
Diagnosed with paranoid schizophrenia, Jimbo, who spent a week with the dead bodies, is locked up in an insane asylum when one Charles Killian, a distinguished press baron, comes to interview him. Kindly Killian understands that Jimbo is incredibly gifted and may possess a secret power he's having trouble controlling.
Cut to Jimbo as an adult (voiced by Mathieu Kassovitz in the original French version and by Jeffrey Evan Thomas in the English-language version) teaching higher math and science at the Killian Foundation, living in a fab Manhattan loft and wed to understanding Ann, a TV anchorwoman. Jimbo's drive home reveals a city where most of the billboards advertise Killian's TV holdings or other media ventures.
That night, the test Jimbo and Killian hid in one of their popular computer games reveals five youngsters with stratospheric scores. Jimbo sets off to convince the 2 girls and 3 boys - scattered across the nation and representing a range of racial affiliations, socio-economic backgrounds and body types - to come to NY where their hyper-intelligence can be nurtured at the Killian Foundation.
By dint of their brilliance, the five kids are misfits; young Gil, who lives in a trailer in New Mexico, is beaten much as Jimbo once was.
While Jimbo returns from convincing the kids' parents to let their offspring reach their full potential, his surrogate father and mentor Charles Killian dies. A very nice "Matrix-meets-Vanilla Sky" style scene freezes the action in NYC's Times Square when Jimbo hears the news.
Killian left his empire to his brittle daughter Melanie who wants to shut down the money-losing Foundation. Seeing a way to make the little geniuses pay for themselves, Jimbo suggests an American Idol-style elimination TV show. Melanie loves the concept and dubs it "American Genius."
But when the five kids sneak off one night to meet by the statue of Killian in Central Park, they are savagely attacked. What really happened is hushed up and the anger this unleashes is both deadly and unstoppable. With a finale that includes meeting the President at the White House, genius superpowers that can be used for malevolent ends are problematic.
Visually, the tale is very sophisticated, although there is always a residual creepiness to motion capture. The human characters have a deliberately stiff, sculptural quality while their surroundings are both pared down and rich to behold. The look is CGI plus oil paint, exploiting a European patina trained on iconic American settings. Reflections are particularly well rendered. The whole thing plays out like a lovingly crafted video game; which is almost certainly a plus for young viewers however disturbing their parents may find the material.
On an allegorical level, it's a story of that youthful moment when kids feel both misunderstood and invincible and, in a nutshell, want to rule the world. The door is left open for a sequel.
Production companies: Fidelité, Onyx Films, Studio 37/TP, Scope Pictures
International sales: Kinology
Producers: Marc Missonnier, Olivier Delbosc, Aton Soumache, Alexis
Vonarb, Jim Burton
Executive producers: Jean-Bernard Martinot, Olivier Rakoto
Screenplay: Matthieu Delaporte, Alexandre de la Patelliere, loosely
inspired by Bernard Lenteric's novel La Nuit des enfants rois
Production design/ conception of visual universe: Viktor Antonov
Character design: Humberto Ramos, Francisco Herrera
Editors: Benjamin Weill, Vincent Tabaillon, Sebastien Prangere
Music: Klaus Badelt
Website : www.theprodigies-lefilm.com
Main cast (French release voice): Mathieu Kassovitz
Main cast (US release voice): Jeffrey Evan Thomas, Moon Dailly Monira, Dominic Gould, Jacob Rosenbaum, Ben Schilling