Dir: Jean-Baptiste Leonetti. US. 2014. 90mins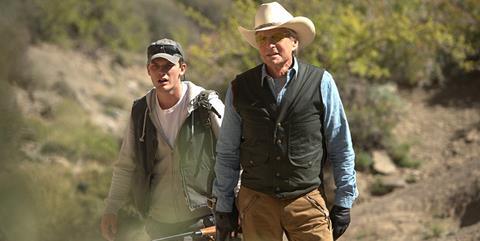 No matter how much shouty, scenery-chewing relish Michael Douglas brings to the party, he is still an alpha male icon trapped in some laughable B-movie foolishness throughout The Reach. The film marks a particularly lamentable low for Douglas after his award-winning triumph as Liberace in Behind The Candelabra. Douglas and co-star Jeremy Irvine might have sufficient clout to ensure some guilty pleasure viewing in ancillary but theatrically The Reach never extends beyond a long shot.
Seeking to find a positive in the crushing disappointment, it should be noted that special makeup effects artist Corey Welk and team do a terrific job.
The lack of logic or originality in Stephen Susco's script makes you wonder what everyone concerned saw in the project, especially Douglas who is also listed as co-producer. The David and Goliath tussle at the heart of the story should be able to generate some sweaty tension but we simply never care about the outcome or who lives or dies. A rushed series of ludicrous endings casts credibility aside and further propels the film into the realms of cheesy 1980s thrillers with Douglas as the big bad white hunter from hell.
Jeremy Irvine sports an acceptable American accent and an amazing gym-honed physique as Ben, the best tracker in the Mojave Desert. When his girlfriend (Hannah Mangan Lawrence) heads to college, a mopey Ben is prepared to accept a lucrative pay cheque to act as guide for a rich city slicker on a hunting trip. John Medec (Douglas) shows up in a $500,000 custom-built SUV that will cater to all his creature comforts, including storing very dry martinis in a very hot desert.
He has his imported Austrian rifle and an attitude that suggests he knows the price of everything and the value of nothing. In many respects the film is what Gordon Gekko did on his holidays. Naturally, he riles poor, honest Ben from the very start.
Director Jean-Baptiste Leonetti cuts quickly to the chase. Trigger-happy Medec takes aim at an object he believes to be an animal and winds up killing a man. Made a generous offer to make the body disappear, Ben refuses and is soon at the mercy of a deranged, exasperated Medec who forces him to strip to his underwear (more of Jeremy's amazing torso!) and stumble through the desert to his inevitable death. If only Douglas had grown a moustache for the dastardly Medec to twirl.
There seems more thought in a Road Runner cartoon than the cat and mouse chase that subsequently ensues. Ben proves to be as adaptable as Bear Grylls when it comes to surviving in impossible conditions with handy stores of everything hidden away throughout the desert. Hunter Medec seems incapable of destroying his prey even with his Austrian rifle, a telescopic lens and a fistful of dynamite. It just gets sillier and sillier, much to the amusement of an irreverent press and industry audience at the Toronto screening.
Carre Blanc director Leonetti sets this nonsense in striking desert locations and keeps it trim but there is still plenty of time to ponder how the elderly Douglas resembles father Kirk more and more as time goes by and to admire Jeremy's lovely body. Perhaps we have mentioned that before?
Seeking to find a positive in the crushing disappointment, it should be noted that special makeup effects artist Corey Welk and team do a terrific job on the physical transformation to Ben as he is exposed to the burning sun and freezing nights in the desert. The blood orange skin, blisters, dry lips and open wounds are among the most convincing, credible aspects of a film that needs all the help it can get.
Production company: Further Films, Literal Media
International sales: Good Universe, bjack@good-universe.com
Producers: Robert Mitas, Michael Douglas
Executive producers: Stephen Susco, Philip Elway
Screenplay: Stephen Susco
Cinematography: Russell Carpenter
Editor: Adam Wolfe
Production designer: Clark Hunter
Music: Dickon Hinchcliffe
Main cast: Michael Douglas, Jeremy Irvine, Hanna Mangan Lawrence, Ronny Cox