Dir: Bruce Robinson. US. 2010. 120mins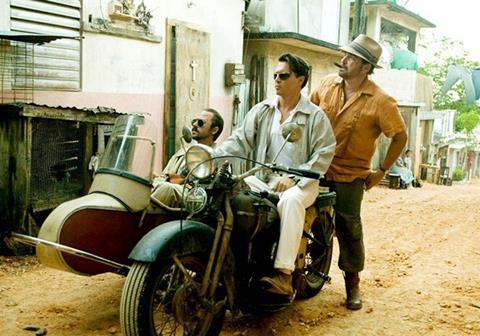 For better and for worse, The Rum Diary has all the hallmarks of the passion project it very much is. Wildly indulgent and skilfully idiosyncratic, this period drama based on a Hunter S. Thompson novel meanders like its drunken, aimless characters, and depending on which sequence in the movie you're watching the results can be either sublime or tedious. Overlong yet quite affecting in parts, The Rum Diary ends up an arresting snapshot of Puerto Rico in 1960, even if its story is only sporadically compelling.
This is a movie about lost souls who too easily are stumbling through life.
Opening in the US October 28, this FilmDistrict feature could prove a difficult sell, even with Johnny Depp as its star. Hindered by a narrative without much of a commercial hook, The Rum Diary will need to cater to fans of Depp's pre-Pirates Of The Caribbean career, back when he was doing esoteric work like Fear And Loathing In Las Vegas. Thompson's cult following may attract the curious as well, but this may prove too strange and disjointed a film – and one not well-reviewed enough – to gain much of a foothold theatrically.
Inspired by Thompson's own adventures as a journalist in Puerto Rico in the early '60s, The Rum Diary stars Depp as the Thompson-like Kemp, a hard-drinking writer looking for a fresh start working at a newspaper in San Juan. But soon he is approached by Sanderson (Aaron Eckhart), a morally shady businessman who wants to pay him to write flattering articles about a hotel development he's planning. But Kemp seems far more interested in Chenault (Amber Heard), Sanderson's free-spirited, flirtatious fiancée.
The terrain of The Rum Diary – alcoholic writers, colourful supporting characters, vividly drawn locales, world-weary pessimism – is not terribly different than that of Fear And Loathing, another Thompson book turned into a film starring Depp. The superstar actor was friends with the writer for many years and had wanted to adapt The Rum Diary for quite some time.
Directed and written by Bruce Robinson (Withnail & I), the film is a wonder of sweaty, pungent atmosphere, and with the help of cinematographer Dariusz Wolski and actual Puerto Rican locations the viewer is immersed in San Juan's tension between aspiring to be an island paradise and acknowledging the reality that it's a city rife with poverty. The Rum Diary's central characters have to live within that dichotomy, Americans who abandoned the mainland for different reasons and are looking to Puerto Rico for a new life.
But while the world of The Rum Diary is a fascinating one, Robinson can't always make the people who populate that world equally interesting. After Depp's full-on Thompson impression in Fear And Loathing, his turn as Kemp is more measured and subdued, although he does occasionally slip into Thompson's distinctive rat-a-tat-tat delivery. He's a quieter, more melancholy presence than he's been on screen in quite some time, and while the change is welcome, he and Robinson don't entirely pull off Kemp's transition from drunken burnout to idealistic journalist warrior. Likewise, Kemp's pals (Michael Rispoli's Sala and Giovanni Ribisi's Moburg) are a little too quirky to feel entirely real.
What is most successful is the unlikely romantic triangle between Kemp, Sanderson and Chenault. As Kemp and Chenault's slow-burn attraction starts to ignite, The Rum Diary almost takes on the tone of a noir, with Heard quite capably proving herself a fetching femme fatale. Despite the 20-plus-year age difference between them, Depp and Heard have a seductive chemistry, with Eckhart effortlessly serving as the rich, slick, smug obstacle to their love affair.
Unfortunately, that romantic triangle is but one story thread in this overstuffed film, which simply takes on too many themes and incidents to be as coherent as one might hope. What ultimately holds The Rum Diary together is also what limits its achievement: This is a movie about lost souls who too easily are stumbling through life. Try as it might, even the movie can't always bring these people into focus.
Production companies: GK Films, Infinitum Nihil, Film Engine
Domestic distribution: FilmDistrict, www.filmdistrict.com
Producers: Johnny Depp, Christi Dembrowski, Anthony Rhulen, Robert Kravis, Tim Headington, Graham King
Executive producers: Patrick McCormick, George Tobia, Bill Shively, A.J. Dix, Greg Shapiro, Colin Vaines
Screenplay: Bruce Robinson, based on the novel by Hunter S. Thompson
Cinematography: Dariusz Wolski
Production designer: Chris Seagers
Editor: Carol Littleton
Music: Christopher Young
Website: www.rumdiarythemovie.com
Main cast: Johnny Depp, Aaron Eckhart, Michael Rispoli, Amber Heard, Richard Jenkins, Giovanni Ribisi