Dir/scr: Clio Barnard. UK. 2013. 91mins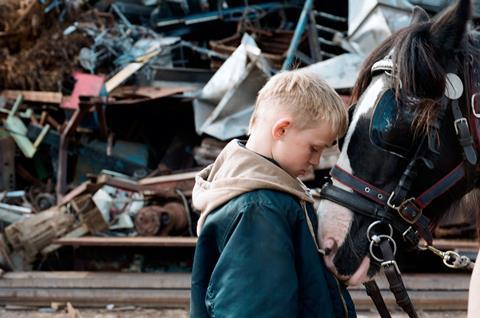 The Selfish Giant, the fiction debut of British filmmaker Clio Barnard (whose documentary The Arbor received much acclaim) is a powerful and moving contemporary fable about friendship, greed and exploitation and likely to be compared with the compassionate drama of Ken Loach at his very best.
The film is gently dramatic, strikingly moving and impressively memorable, and confirms Clio Barnard as a talent to watch.
The film has its origins with the characters and environment of the housing estates of Bradford that Barnard came across when researching her award-winning 2010 documentary The Arbor, about local playwright Andrea Dunbar. Taking Oscar Wilde's fairy tale The Selfish Giant as her inspiration, she reimagined the story against the backdrop of a tough modern setting.
The film is likely to attract awards and plentiful further festival attention, and also has the gritty sense of warm-but-powerful drama that defines Loach's films and should find welcoming distributors who have previous experience handling such niche but undeniably powerful earthy dramas.
The film follows 13 year-old Arbor (Conner Chapman) and his best friend Swifty (Shaun Thomas), who find themselves excluded from school (though to be honest they are not the most applied of students) and decide to try and make some money by collecting scrap metal.
The meet Kitten (Sean Gilder), a local scrap dealer – the 'Selfish Giant' of the title – and start collecting scrap for him using a horse and cart. Initially the savvy and feisty Arbor is a favourite of Kitten, who likes his drive, but when Swifty shows a natural gift for horses Kitten starts to favour him, and recruits him to drive his horse-and-trap (known locally as a sulky) in local road races.
With life getting tougher for Arbor he starts to feel increasingly alienated by Kitten and in a bid to emulate the man he admires he starts to become more and more greedy and exploitative…becoming more like Kitten himself. Tension builds between the two teens, but despite his random cruelty the mild-mannered Swifty is still loyalty to Arbor…but his decision to help out on a hunt for scrap metal in amidst electricity pylons leads to a tragic event.
Barnard was adamant that both Arbor and Swifty should be played by fresh and inexperienced young actors, and in Conner Chapman and Shaun Thomas she has unearthed two ebullient and natural talents who interact impressively with the more experienced adults, especially Sean Gilder as the complex (greedy but generous, impatient but supportive) Kitten and Siobhan Finneran (who featured in The Arbor as well as Downton Abbey) as Swifty's gentle but battered mother.
The tough atmosphere of the Bradford estates is impressively documented by Barnard, with the gentle but ominous hum of the electricity pylons adding a powerful sound effect to sit alongside the nicely shot vistas. The film is gently dramatic, strikingly moving and impressively memorable, and confirms Clio Barnard as a talent to watch.
Production companies: Moonspun Films, BFI, Film4
International sales: Protagonist Pictures, ww:w.protagonistpictures.com
Producer: Tracy O'Riordan
Executive producers: Katherine Butler, Lizzie Francke
Cinematography: Mike Eley
Editor: Nick Fenton
Production designer: Helen Scott
Music: Harry Escott
Main cast: Conner Chapman, Shaun Thomas, Sean Gilder, Lorraine Ashbourne, Ian Burfield, Steve Evets, Siobhan Sinneran