Dir: Karim Ainouz. Brazil. 2011. 85mins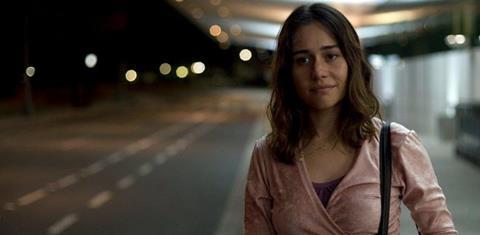 As he did in the 2006 film Love For Sale (O Ceu de Suely) director Karim Ainouz constructs a dazzling film around a woman who is manipulated in spite of her beauty and sexual allure. Here he takes us - and her - on a road trip through his native Rio, tracking in a highly original, non-didactic manner how the male of the species disrespects the female.
Ainouz's background as an architect is evident in almost every frame of the film.
Although the filmmaker displays his usual flair The Silver Cliff (O abismo prateado) is a small production with such a basic story line that its prospects are limited to festivals and small arthouses in Brazil. It appears that the film was not intended to do much more than that in the first place.
Ainouz's background as an architect is evident in almost every frame of the film, though it is never static; in fact, the city, like its main character, is in constant motion. Violeta (Negrini), a 40-year-old dentist, is frequently framed by doors and windows, not self-consciously, but naturally.
Only a former architect would use a construction site as more of an artwork than a gritty workplace. Violeta travels from her dental office on one side of Rio toward Copacabana on the other, and the tall buildings she passes quickly are as much part of the artistic landscape as the blurred coloured lights of the city at night.
She has received a message on her cell phone from her husband that he is leaving her. It is as if the rejection would disappear if only she refuses to sit still: she bikes, she dances maniacally, she runs. It is when she finally slows down, in a public restroom on the beach, that Ainouz introduces what is almost a second film.
There she meets a young homeless girl, Bel (Pereira), and the two become attached. Feeling a maternal need to help her, Violeta forgets her own problems. Outside Bel introduces her to her out-of-work father, Nassir (Martins), who is living with his daughter in his van.
The narrative appears to take on a more optimistic cast. Inside the city's nearly empty airport, Violeta and Nassir quietly flirt while Bel skips around happily. Ainouz will not let the viewer become complacent. Nassir does something that once again reveals Violeta's vulnerability at the hands of a man. The filmmaker's empathy is palpable.

Production company: RT Features
International sales: Rendezvous Pictures, www.rendezvouspictures.com
Producers: Rodrigo Teixeira, Luis Alfonso Otero, Pedro Paulo Magalhaes
Executive producer: Eliane Ferreira
Screenplay: Beatriz Bracher, Karim Ainouz
Cinematography: Mauro Pinheiro Jr.
Editor: Isabela Monteiro de Castro
Music: Tejo Damasceno, Rica Amabis, Dustan Gallas
Main cast: Alessandra Negrini, Otto Jr., Thiago Martins, Gabi Pereira, Carla Ribas