Dir: Craig Johnson. US. 2013. 90mins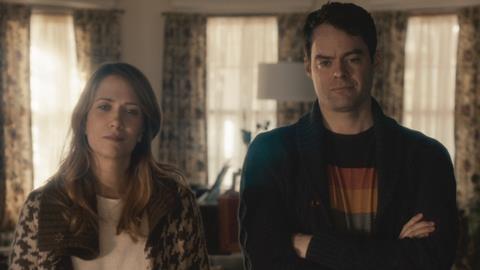 Caustically wry and cloyingly sentimental, The Skeleton Twins is a crowdpleaser. Its two leads – Kristen Wiig and Bill Hader – are comic pros and well-known enough from various hit films as well as Saturday Night Live to offer a huge audience for Craig Johnson's tale of dysfunction that lurches between laughs and despair.
Wiig finds a special uneasiness as a married woman, fraught with the passing of time, who confuses practicality with surrender.
Despite some glaring script problems, this brother-sister act should be a hit. The punchline in Craig Johnson's film is pain, and there's plenty of it.
Maggie and Milo Dean are twins who have been estranged for more than a decade. When inconsolable Milo slits his wrists in the bathtub in Los Angeles, dental hygienist Maggie tosses away her own handful of pills and flies to his aid, eventually inviting her bibulous failed actor brother to join her and her dull garrulous husband Lance (Luke Wilson) in the Hudson River town where the twins grew up. Chafing in close quarters as raw memories resurface, the reunion breeds conflicting emotions.
Johnson's script, co-written with Mark Heyman, opens with a scorching scene of gay self-contempt wrapped in a razor wit, in which Milo fuels his last exit with booze. His campy tour through the objects from former lovers that trigger depression - and his regrets about surviving - will remind you that one man's misery is another's laugh line. The writing crackles, and Hader couldn't be better.
By the time that Milo settles in with Maggie and the amiable Lance, the script has played its best cards. Melancholia rules. Wiig is vulnerable as a wife who settles for love without excitement and sleeps with her sexy scuba instructor. Milo seeks out an old flame (Ty Burrell) who was ousted from his teaching job when he and Milo (then 15) were lovers. The laughs don't prevent both siblings from re-trying suicide.
Johnson injects drama into his dialogue-heavy back-and-forth with skit-like moments of choreographed spectacle – a lip-synching motivational camp-fest to Nothing's Gonna Stop Us Now, a Halloween parade in which Hader ought to win best drag queen, and a slapstick teeth-cleaning sequence with Milo on the receiving end of sibling aggression.
The screenwriters labour to connect plot lines from past and present in the brother-sister story that echoes the warring emotions of sibling co-existence in The Savages by 2007 film Tamara Jenkins. They're no doubt betting that the audience is already won over by the time the script starts showing its seams, and leaves you wondering how the characters got where they are.
Wiig finds a special uneasiness as a married woman, fraught with the passing of time, who confuses practicality with surrender. Hader explores Milo's experience of failure by lying, drinking and shielding himself with zinger lines. Luke Wilson is the unbearable frat boy who, despite his good heart, makes Maggie shudder at the thought of spending the rest of her life with him.
Cinematographer Reed Morano finds a look that complements the conflicted emotions of The Skeleton Twins with the golden hues of autumn and the approaching chill of winter. The sour note in that mix is musical, with Nathan Larson coaxing insistent rhythmic momentum and tearful strings into scenes that don't need that kind of help. If the audience is already along for the emotional ride, it probably won't matter.
Production companies: Duplass Brothers, Venture Forth
International sales: ICM Partners, www.icmtalent.com
Producers: Stephanie Langhoff, Jennifer Lee, Jacob Pechenik
Executive producers: Mark Duplass, Jay Duplass, Jared Ian Goldman
Screenplay: Craig Johnson, Mark Heyman
Cinematography: Reed Morano
Production designer: Ola Maslik
Music: Nathan Larson
Main cast: Bill Hader, Kristen Wiig, Luke Wilson, Ty Burrell, Joanna Gleason