Dir: Benito Zambrano. Spain. 2011. 128mins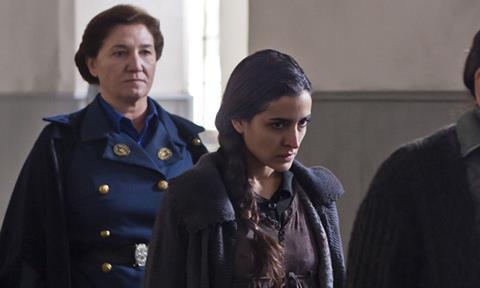 The Sleeping Voice (La Voz Dormida), which relates the story of two sisters involved in the Spanish resistance, comes at a critical time at home, when Spain's Civil War past is literally being exhumed and word is finally emerging of the thousands of children who were stolen during Franco's brutal dictatorship.
The Sleeping Voice seems to lack a certain confidence in the power of its own story,
But while Benito Zambrano's (Havana Blues) adaptation of Dolores Chacon's popular novel will have a strong resonance on the Iberian Peninsula, a somewhat over-wrought approach to its subject matter may see it face challenges in overseas markets. Shot in a grey palette, it is a female-centric tale of woe which wrenches every last drop of pathos out of the plight of Cordoban lasses Hortensia (Inma Cuesta) and Pepita (Maria Leon) as they are caught in the repressive Fascist state.

Dedicated to the women who suffered through the Civil War and the Dictatorship and set during the immediate aftermath of Franco's victory, The Sleeping Voice is based around the plight of Republican firebrand Hortensia, imprisoned in Ventas women's jail on the outskirts of Madrid and seven months pregnant by her love Felipe (Daniel Holguin), who is still fighting on in the mountains outside the Spanish capital.

Hortensia, easily distinguishable from the other female prisoners due to her movie-star looks, has sworn allegiance to the Republican ideals even until death. As The Sleeping Voice opens with a firing squad decimating her cell, it seems clear that this is the direction in which Hortensia is also heading unless she gets down on her knees and repents to the cruel religious orders which are running the jail, and the country, alongside Franco's brutal generals and the Guardia Civil.

Into this maelstrom of fear arrives younger, non-political sister Pepita; naive, honest, and determined to help her sister. She takes a position as a maid in a Falangist household, although her employer's husband has some sympathies for the Republican cause, and soon becomes entangled with the militia herself, eventually falling in love with its leader (Marc Clotet).

Set in claustrophobic prison cells and homes in which a queasy silence rules, The Sleeping Voice seems to lack a certain confidence in the power of its own story, and Zambrano has a tendency to sail over the top just when some subtlety is urgently required, as witnessed during a sequence when a nun goes into frothing rage overdrive on Christmas Day.

A dinner table scenario where Pepita waits on powerful generals wistfully calls to mind the quiet terror of a film like Saura's Cria Cuevos. There are undoubtedly many films to be made and many more horrific stories to emerge about Zambrano's subject matter, but The Sleeping Voice sadly probably isn't the one people outside Spain will see.

Tech credits are TV movie standard, while Leon shines as a shy country girl who finds the courage to defend her sister.

Production company: Maestranza Films

International sales: The Match Factory, www.the-match-factory.com

Producer/executive producer: Antonio Perez

Screenplay: Benito Zambrano, Ignacio de Moral from the novel by Dolores Chacon

Cinematography: Alex Catalan

Production designer: Javier Fernandez

Main cast: Maria Leon, Inma Cuesta, Marc Clotet, Daniel Holguin