High-end TV movies and mini-series are becoming more ambitious in scope, and increasingly use high-profile theatrical talent on both sides of the camera. On the eve of MIP-TV (April 12-16), John Hazelton explores the evolution of the event TV business in the US.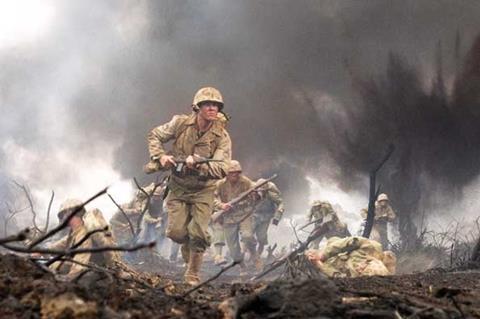 Event programming has been part of the US television landscape for more than three decades, from Roots in the 1970s, through The Day After and Tales Of The City in the 1980s and 1990s, to Taken and Angels In America in the last decade.
Lately, however, the event concept has been evolving. These days the category takes in fewer, bigger TV movies and mini-series as well as some high profile continuing series. The on-screen and behind-the-camera talent often includes major names from the theatrical film world. And the financial models are trickier to put together.
The Pacific, the 10-part Second World War mini-series from HBO which premiered in the US on March 14 and made its debut in several international markets in March and April, illustrates some of the recent trends.
With a total cost of just under $200m the project is certainly big ― probably bigger, in financial terms, than any other mini-series before it.
Based on the intersecting real-life experiences of three US marines who fought in a number of Pacific Theater battles, the mini-series shot for nine months on a handful of locations in Australia, with soundstage work in Melbourne, additional photography in Los Angeles and 20 months of post-production. Six directors led a total crew of more than 800.
The project's production auspices are equally impressive. Tom Hanks, Steven Spielberg and Gary Goetzman, the team behind HBO's 2001 Europe-set Second World War mini-series Band Of Brothers (plus, of course, a long list of hugely profitable features), executive produced for Playtone and DreamWorks.
For a subscriber-supported pay ­network such as HBO, which fully funded the mini-series, turning a profit on individual projects is not a necessity.
"We're in original programming to satisfy the HBO subscriber. It's a brand play," says the network's president, programming and West Coast operations Michael Lombardo. "We're not looking to cost-justify every programming decision, or any programming decision."
In a perfect world, Lombardo ­concedes, HBO would look to cover about half of a project's budget from ­off-­network sales. However in the currently imperfect financial climate that may be difficult.
"We'd love to be surprised," he says, "but when we jumped into this we knew that it was quite possible that the off-HBO revenues would not come up to the same percentage of the budget that we realised on Band Of Brothers."
Australian tax incentives will already have helped out with the cost of The Pacific. HBO would not put a figure on the incentives received, but Australia's location offset programme offers a 15% rebate on the production of large-budget film and TV projects shot in the country (see page 44).
The mini-series was pre-sold to TV outlets ― including Australia's Seven Network and the UK's Sky ― in the vast majority of international markets for what Charles Schreger, HBO's president of programming sales, describes as "extraordinary licence fees. I guarantee we set the world record, and I think we set the world record before with Band Of Brothers." (UK rights to Band Of Brothers reportedly sold to the BBC for more than $10m.) Domestic syndication could be another revenue source. HBO reportedly received $7.5m from cable network The History Channel for the rights to re-run Band Of Brothers in the US.
The then-booming DVD marketplace produced a bonanza for Band Of Brothers ― reportedly around $200m in worldwide sales of the six-disc box set ― but given the recent DVD slump HBO is not counting on a similar haul for The Pacific.
"Even if the market hadn't softened," Lombardo asserts, "Band Of Brothers so exceeded even the most aggressive expectations in terms of its DVD performance that it would have been foolish of us to use that as a benchmark."
Beyond its off-network sales, suggests Lombardo, The Pacific's value will lie in its ability to reinforce the HBO brand in the eyes of potential viewers. The network never expects an individual show, or even a cluster of shows, to boost subscription numbers, he says, but "over time you build the brand significantly enough that when people are opting for a pay service the one they view as critical is HBO".
It is that brand-building ability that keeps HBO in the event programming business.
While the network's output of movies has decreased somewhat in recent years, the line-up still contains plenty of noteworthy projects, such as director Mick Jackson's Temple Grandin, featuring Claire Danes; Barry Levinson's You Don't Know Jack, starring Al Pacino; and Richard Loncraine's The Special Relationship, with Michael Sheen and Dennis Quaid.
Mini-series in the works, meanwhile, include Todd Haynes' version of James M Cain's novel Mildred Pierce, with Kate Winslet in the title role; Hollywood saga A Ribbon Of Dreams, from The Sopranos creator David Chase; and the Andrew Davies-scripted Marlene Dietrich, reportedly to be co-produced by the BBC with Gwyneth Paltrow starring.
An increasing number of HBO's ongoing series also have impressive pedigrees. Martin Scorsese is producing period drama Boardwalk Empire and has directed the pilot episode. Michael Mann is producing and directing the pilot for potential horse-racing drama series Luck, with Dustin Hoffman. Oscar-winning director Kathryn Bigelow is said to be set to direct the pilot for Broadway story The Miraculous Year and Lee Daniels, director of Precious: Based On The Novel Push By Sapphire, is developing a series about a multiracial, multi-generational family.
Setting the pace
Where HBO has led, other networks often follow, looking for brand enhancement through the airing of series and mini-series made by prestige-endowing theatrical talent.
In the pay cable arena, Showtime recently ordered 10 episodes of historical drama series The Borgias, with Jeremy Irons starring and Neil Jordan executive producing and directing the first two segments. And Starz, now headed by former HBO CEO Chris Albrecht, recently showed its interest in event material by acquiring $40m mini-series The Pillars Of The Earth, based on the Ken Follett historical novel, from Germany's Tandem Communications, Canada's Muse Entertainment and Ridley and Tony Scott's Scott Free.
Among US basic cable networks The History Channel recently greenlit political mini-series The Kennedys, its first scripted project, and Syfy is developing a new limited series with X-Men director Bryan Singer, who made The Triangle for the channel five years ago.
Even the broadcast networks, though they no longer produce movies or mini-series in any quantity, have seen the value of working with theatrical film-makers. Among the series projects currently in contention for spots on the networks' new autumn schedules are pilots from Jerry Bruckheimer (whose TV credits already include the CSI ­franchise), JJ Abrams (Lost) and Matrix producer Joel Silver.
Part of the attraction for film-makers is that television now provides an outlet for the kind of material ― adult drama and extended literary adaptations, for example ― that is increasingly difficult to set up in the youth-oriented theat­rical film world.
"Our interest [in long-form television] is specific to the types of stories you can tell in that format," says David Zucker, president of Scott Free Television, which is now discussing an adaptation of World Without End, Follett's sequel to The Pillars Of The Earth.
The problem, Zucker adds, is finding script development funding in the television arena: "Oftentimes that's the hardest part. You need someone to make the leap of faith and say we'll commit monies to this without having a script in hand."
High-profile film-makers can in turn attract high-profile talent to major TV projects. "It all comes down to ­material," says CAA agent Michael Katcher. "If Martin Scorsese or Todd Haynes is going to do something, it's going to attract talent."
Though actors are not paid as highly in television as they would be in film, especially if a TV project has limited international potential, deals can be negotiated with even A-list talent if the material is sufficiently attractive. And that can be a boon to a broadcaster trying to draw attention to a movie or mini-series in the over-crowded television marketplace.
"By and large," says HBO's Lombardo, "why people do a film for us is they're offered a chance to do a role that they're not seeing in the feature-film world right now. Al Pacino did You Don't Know Jack [about assisted-suicide champion Dr Jack Kevorkian] at a fraction of what he could get for a feature film because it was for him an enormously compelling role."
Crossover talent
Many of Hollywood's most notable film-makers first made their names in television, and a number stay active in the medium while they continue feature careers. John Hazelton profiles some leading crossover talents
JJ Abrams Though he started out writing features ― including Regarding Henry and Armageddon ― Abrams established himself as the creator of network series Felicity. In between subsequent series Alias, Lost and Fringe, he co-wrote and directed Mission: Impossible III and produced and directed last year's Star Trek. He is currently working on sequels to both features and the pilot for potential network drama series Undercovers.
Alan Ball After stints as a writer on sitcoms Grace Under Fire and Cybill, Ball shot to prominence in 1999 with his Oscar-winning script for American Beauty. He created cable series Six Feet Under, made his debut as a feature writer-director with Towelhead and is now back in cable as creator of vampire series True Blood.
Greg Berlanti The versatile Berlanti was co-executive producer on Dawson's Creek before creating network drama series Everwood and comedy drama series Eli Stone. He made his feature debut with The Broken Hearts Club in 2000 and his second film, Life As We Know It, is slated for release at Christmas. His script for action feature Green Lantern is being filmed and he is executive producing a pilot for network drama No Ordinary Family.
Barry Levinson Before Diner, Levinson won two Emmys as a writer on TV sketch comedy series The Carol Burnett Show. Since then he has mixed movies (Rain Man, Wag The Dog, Bandits) with cable and network TV series (Homicide: Life On The Street, Oz, The Philanthropist). His HBO movie You Don't Know Jack debuts this month.
Michael Mann Starting as a writer on Starsky & Hutch and other 1970s television series, Mann had a relatively low-key feature career until his late-1980s stint as executive producer of ground-breaking series Miami Vice. Writing and directing The Last Of The Mohicans, Heat, Collateral, Public Enemies and others has made him a major theatrical name and his TV side ventures have included the Robbery Homicide Division series. He is currently directing and executive producing the pilot for possible HBO series Luck.
Ryan Murphy Best known as creator of hit cable series Nip/Tuck, Murphy first made his mark as co-creator of acclaimed high-school comedy drama Popular. He also wrote and directed 2006 feature Running With Scissors. In TV, he most recently co-created hit high-school musical series Glee. And in features, he just finished shooting (from his own script) Eat Pray Love with Julia Roberts and Javier Bardem.
Roberto Orciand Alex Kurtzman Writers Orci and Kurtzman are action experts. They first teamed up on 1990s syndicated series Hercules: The Legendary Journeys, following that with JJ Abrams' series Alias. Moving into features, they wrote The Island and both Transformers movies for Michael Bay as well as Mission: Impossible III and Star Trek for Abrams. Their latest TV projects are Abrams' Fringe and network series pilot Hawaii Five-O. Next up in features are Cowboys & Aliens and the Star Trek sequel.
Alan PoulTales Of The City and My So Called Life were among the TV projects on which Poul was a producer early in his career. Executive producing and directing stints on cable's Six Feet Under and network series Swingtown came next. Poul makes his feature directing debut with upcoming romantic comedy TheBack-Up Plan.
Matthew Weiner A writer and producer on network sitcom Becker and landmark cable series The Sopranos (for which he won two Emmys), Weiner became a major TV name in 2007 when he created acclaimed cable series Mad Men (which has earned him another pair of Emmys). Weiner's next move is expected to be into feature directing, possibly with You Are Here, a romantic comedy he wrote while working on The Sopranos. He also has a blind feature commitment from Mad Men production company Lionsgate.
John Wells Known primarily as executive producer of ER and The West Wing, Wells has long had a foot in the theatrical world ― as a producer on features including Doom, The Good Thief and White Oleander and as a backer of independent production outfit Killer Films. Last year, he stepped further into the film world with The Company Men, his first feature as a writer-director. He is currently executive producing network series Southland and Killer's cable mini-series Mildred Pierce.
SALES and CO-PRODUCTIONS
International co-productions are becoming increasingly frequent in the event-TV business. John Hazelton reports
US TV movies and mini-series can be good sellers in the international marketplace. But in a business that often operates by funnelling Hollywood studio programming through high-volume output or package deals they require careful and individual handling.
Even when the international TV sales division of its sister company Warner Bros was its primary distributor, HBO would itself handle sales of bigger event projects in major territories. And since the cable network took international licensing in-house about three years ago, a la carte sales have remained an integral part of the strategy. "We don't package because with very low-volume, very high-quality programming you have to find the right broadcaster for the right show," explains Charles Schreger, HBO's president of programming sales.
While it has output arrangements in a handful of markets ― including France, Australia and Scandinavia ― and licenses to HBO Latin America in that region, for the most part the network sells completed programmes on a project-by-project basis. In some instances programmes are licensed for both pay- and free-TV windows.
The Pacific was only pre-sold in most markets "because it was a big, expensive mini-series that was a follow-up of sorts to Band Of Brothers," says Schreger. "So it was very easy for [broadcasters] to understand."
International DVD and electronic sell-through rights are retained by the company and exploited through HBO Home Entertainment operations around the world.
Occasionally the company's movies are licensed for theatrical release outside the US, as has been the case in several markets with The Special Relationship, which stars Michael Sheen as Tony Blair and Dennis Quaid as Bill Clinton. Often, however, "there's a bit of prejudice when you're trying to sell something theatrically overseas," Schreger admits. "The first thing theatrical distributors ask is who is distributing in the US."
On some projects ― among them mini-series Band Of Brothers and Elizabeth I and movies The Gathering Storm and The Life And Death Of Peter Sellers ― HBO has worked with international co-production partners, developing material jointly and then splitting production costs and rights.
From the UK, the BBC has been a frequent collaborator. "In drama in particular they have had a similar mind-set to us in terms of quality," says HBO's president, programming and West Coast operations Michael Lombardo. "We've found them a very comfortable co-production partner."
The BBC was a partner on HBO's continuing series Rome and The No 1 Ladies Detective Agency. But in general, co-producing series has proved difficult for HBO because international broadcasters have been reluctant to co-fund the pilot episodes usually produced under the US model before a full series is ordered (Rome was made without a pilot and the pilot for The No 1 Ladies Detective Agency was funded by production partner The Weinstein Company).
As the event programming model continues to evolve, however, international ­ co-production could play a more important role.
The Pillars Of The Earth, the mini-series version of Ken Follett's historical novel recently acquired for the US by HBO rival Starz, was funded and produced out of Europe long before Starz bought the project.
David Zucker, president of Scott Free Television, which produced the series with Germany's Tandem Communications and Canada's Muse Entertainment, compares the mini-series to an independent feature funded through international sales before being sold in the US.
As well as providing US and international broadcasters with a $40m mini-series, the model, Zucker suggests, has given the series' producers an important upside. "For our production companies," he says, "having an ownership stake makes the rather steep investment in terms of personnel and resources worthwhile."