Dir: Saverio Costanzo. Italy-Germany-France. 2010. 118mins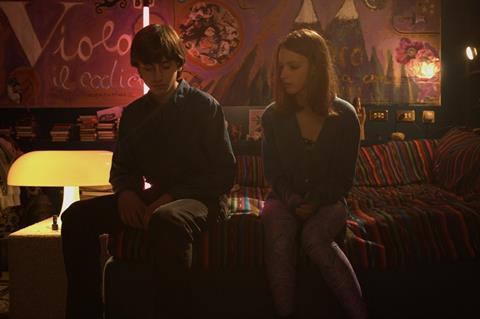 An overwrought misfit romance with few saving graces, Saverio Costanzo's third feature is a substantial mis-hit for this promising young Italian director, who plays the auteur here in a flashy, self-absorbed two-hour guitar solo, with little regard for audience sympathy or character credibility.
Though some may buy in to the romantic love story, which ends on a hopeful note, most will be baffled by Solitude's histrionics.
Opening in Italy on September 10, the day after its Venice competition screening, the film will benefit at home from the distribution and exhibition synergy of co-producer Medusa Film, as well as the casting of flavour-of-the-year star Alba Rohrwacher in one of the two lead roles. The film should get a theatrical workout of sorts in its co-production territories, Germany (which features briefly in the story) and France, but elsewhere it is difficult to see such a hyperventilating dark love story doing much business.
Based on the bestselling novel by Paolo Giordano, who also co-wrote the script, the story revolves around two damaged youngsters with issues. It pans out in four different timescales, which are first presented via loud and large screen captions in quickfire succession before being interwoven throughout the rest of the film. The idea, only partially realised by a confusing script (whose weaknesses may have something to do with Giordano's difficulties in approaching his own novel as screenwriter), is that backstory and frontstory gradually illuminate each other.
We first meet the two protagonists as primary school kids in 1984, when they're nothing worse than intense and lonely. Mattia (played here by Neri), looks after his twin sister Michela, who seems to be autistic and has a habit of screaming in class. Young Alice (Pizzo) has an overbearing father and passive, absent mother. Cutbacks to this period eventually reveal that it was at this age that both suffered a trauma that would condition the rest of their lives.
In 1991, teen Alice (Nastro), who now has a limp and is pathologically shy, gets bullied by class bitches (one of whom, Viola (Ruffino) later decides she's an interesting project and befriends her), while Mattia (Lomartire) has become a serious self-enclosed weirdo: he cuts himself with knives and barely interacts with his classmates, though he gets good marks at school. This is the point where he and Alice meet and begin an odd, circling, uncertain courtship.
Jumping to 2001, we see a still timid but otherwise reasonably well-adjusted 24-year-old Alice (Rohrwacher) , now working as a photographer; she rings Mattia (Marinelli) – who seems to have become her best friend, though she's never been to his house –and invites him to come along with her to Viola's wedding, which she has been asked to shoot that evening. Mattia's despairing mother (Rossellini), meanwhile, has decided that he should go and do his physics PhD in Germany.
Shot in an intense style, all feel-the-pain close ups, the film wants to come across as a dark fairy tale. It's full of grim Brothers Grimm symbolism, from the scary clown at a kid's birthday party to TV anime princesses to the misty snow-covered mountain where Alice has a skiing accident. Warped body images are another strand: self-mutilation, scars, limping, make-up: all are thrown on the fire. In the final section – set in 2008 – Alice has become anorexically thin, while Mattia has plumped out.
Then there's the bizarre soundtrack, made up of sombre electro music and pop classics from the various timelines, including a prominent, repeated Yes Sir, I Can Boogie. Though some may buy in to the romantic love story, which ends on a hopeful note, most will be baffled by Solitude's histrionics and disinterest in such minor details as real-feeling characters that we care about.
Production companies: Medusa Film and Wildside present an Offside – Bavaria Pictures – Les Films des Tournelles – Le Pacte co-production
International sales: Le Pacte, www.le-pacte.com
Producer: Mario Gianani
Screenplay: Saverio Costanzo, Paolo Giordano
Cinematography: Fabio Cianchetti
Production design: Antonello Geleng, Marina Pinzuti Ansolini
Editor: Francesca Calvelli
Music: Mike Patton
Main cast: Alba Rohrwacher, Luca Marinelli, Maurizio Donadoni, Isabella Rossellini