Dir/scr: Richard Jobson. UK. 2011. 97mins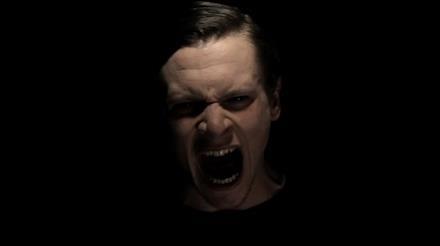 Richard Jobson is spitting with rage over what has become of the lost soldiers of our generation, the jobless youths who joined the army and ended up in a blizzard of bombs in Basra. It's a cumulative rage, however, which doesn't make itself fully-felt until The Somnambulists' coda; Tony Blair should feel the lacerating heat of Jobson's fury with this eerie piece..
The disturbing end credits playing out to Tony Blair's justification of the invasion of Iraq.
Coming across like a stage play or an installation (it's not really a surprise to discover this was 'heavily influenced' by Joanna Kane's photographic exhibition at the Scottish National Portrait Gallery), The Somnambulists has an uneven quality when taken as an overall piece but Jobson's writing is strong and powerful here. Added to the remarkable performances by his 15 'soldiers' giving their testimonies in angry monologue, and you have a passion which cannot be denied – in fact, you can barely look away.
Hardly multiplex fare, with its stripped-down talking heads and meager black-and-white moving-image inserts, The Somnambulists feels as if it's the beginning of something: whether it's a stage play, a TV series, a movement, it's hard to tell. Jobson, the former front man of the punk band The Skids, has abruptly switched tack after 2008's Edinburgh-set thriller New Town Killers (which also premiered at the London Film Festival), but in talking to the real-life Iraqi veterans whose voices populate The Somnambulists he has found a strong voice.
Cinematically, he sometimes falters with this film, a tough nut to crack for the big screen. After a moving pre-title sequence of a burning man, starkly lit soldiers talk directly to the camera about their lives on the front, their angry diatribes leavened only by interweaving black-and-white footage of people they left behind. These relatives, wives, friends, also stare into the camera holding colourised pictures of their loved ones, sequences which break up the monologues but aren't as effective as they never feel as real as the words being spoken (and the colourisation is, itself, a little too contrived).
The words themselves, meanwhile, come fast and furious, even as it becomes painfully clear that they are being spoken by dead people.
With 15 talking heads to get through, however, Jobson has set himself quite a task. His characters range from a Welsh squaddie with a pregnant girlfriend, to two female soldiers, a commanding officer, and a smack-addicted medic – and their time is growing ever-shorter as the film itself runs its length. "You be the brave one," a bomb disposal expert addresses the camera – because of course, "we" are the somnambulists, not them.
Jobson, working with Sol Rogers on visual effects, carries on the black-and-white, red and gold flaming motif of the title credits with explosions reflected in the pupils of the actors, or the cross hairs of a rifle as a sniper speaks, but otherwise the monologues are sparse (and uniformly well-delivered). With the disturbing end credits playing out to Tony Blair's justification of the invasion of Iraq coupled with the hymn All Creatures of our God and King, there's a sense that Jobson has overplayed his hand. But the words of his piece accurately and shamefully explain why he might have felt impelled do so.
Production company: No Bad Films
Sales contact: Alan McKenna: alanmckenna@mac.com
Producers: Alan Mckenna, Richard Jobson
Cinematography: James Stoneley
Editor: Steven Sander
Production designer: Jude Hanly
Main cast: Jack Monaghan, Michael Nardone, Jack O'Connell, Rhodri Lewis , Belinda Everett, Paul Thornley, Tom Padley, Johnathan Kerrigan, Alan Mckenna, David Fynn, Tobi Bakare, Joseph Creeth, Steven Robertson, Jessye Romeo, Scott Arthur