Dir: Jon Turteltaub. US. 2010. 110mins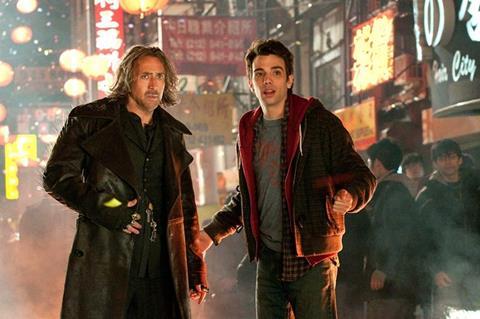 The effects are spellbinding in The Sorcerer's Apprentice, but otherwise this Nicolas Cage fantasy film isn't particularly magical. Producer Jerry Bruckheimer and director Jon Turteltaub, who previously teamed with Cage on the National Treasure franchise, have created an eager-to-please action-comedy that's sure to be a commercial dynamo, despite its utterly conventional hero's-journey storyline.
This Walt Disney offering should be embraced warmly by family audiences.
Opening domestically July 14, this Walt Disney offering should be embraced warmly by family audiences, but its potent mix of star power, robust action, and a healthy effects budget suggests that Bruckheimer might be hoping he's conjured another Pirates Of The Caribbean juggernaut, which like Sorcerer's Apprentice was based on a Disney property.
Nerdy physics college student Dave (Jay Baruchel) meets Balthazar (Cage), a centuries-old sorcerer who needs his help to defeat an evil magician named Horvath (Alfred Molina) who's bent on destroying the world. Convinced that Dave is a descendent of his mentor Merlin, Balthazar trains him in the art of magic.
Inspired very loosely by the 'Sorcerer's Apprentice' section of 1940's Fantasia, Turteltaub's film uses that nine-minute segment as a springboard for a very predictable narrative arc in which socially-awkward Dave becomes a hero and wins the heart of his childhood crush (Teresa Palmer). In She's Out Of My League and as a voice actor in How To Train Your Dragon, Baruchel confidently established his nebbishy persona, and his nasally, off-kilter delivery makes Dave's antics somewhat enjoyable, although he's fighting a losing battle trying to enliven a bland coming-of-age character.
As Dave's loopy teacher, Cage reins in much of his wide-eyed excesses, but as with Baruchel he's trapped playing an archetype rather than a character. Of the cast, Molina does the most with not much, lending a haughty air to his role as Balthazar's nemesis.
Cinematographer Bojan Bazelli makes good use of the film's New York locations to turn the city into a fantastical, otherworldly environment. And the effects team ensures that the characters' spells are consistently eye-popping, particularly during a car chase involving a mirror-image New York and a finale where the fate of the planet hangs in the balance. If only Dave and Balthazar were as memorable as the film's technical wizardry.
Production companies: Jerry Bruckheimer Films, Saturn Films, Broken Road
Worldwide distribution: Walt Disney Studios
Executive producers: Todd Garner, Nicolas Cage, Mike Stenson, Chad Oman, Norman Golightly, Barry Waldman
Producer: Jerry Bruckheimer
Screenplay: Matt Lopez, Doug Miro, Carlo Bernard (screen story by Lawrence Konner & Mark Rosenthal and Matt Lopez)
Cinematography: Bojan Bazelli
Production designer: Naomi Shohan
Editor: William Goldenberg
Music: Trevor Rabin
Main cast: Nicolas Cage, Jay Baruchel, Alfred Molina, Teresa Palmer, Monica Bellucci, Toby Kebbell, Omar Benson Miller