A Bob Hund concert and a Foley demonstration show Copenhagen's embrace of sound work.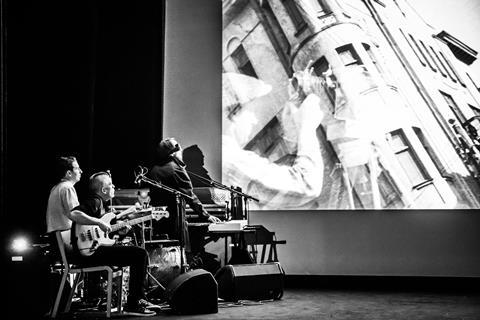 Copenhagen's CPH PIX has long been known for love of music – both music films and incorporating live music in the festival in many ways.
This weekend's festivities continued that trend – with one live highlight being lauded Swedish indie band Bob Hund playing a live score to 1929 classic A Man With a Movie Camera by Dziga Vertov, at the character-filled old theatre Betty Nansen Teatret in Frederiksberg.
The six-man band's krautrock-inflected sounds fit well with the rhythms of Soviet life seen on screen – trains, trams, factories and athletic pursuits.
Earlier in the evening, sounds of a different sort were on display as CPH PIX presented Denmark's first live Foley workshop, with Finnish Foley artist Heikki Kossi.
Kossi and sound designer Peter Albrechtsen talked about their work on Christina Rosendahl's new film Idealisten.
Kossi explained to a fascinated, sold-out crowd that Foley work, which uses sound effects created in a studio to enhance a film's soundtrack, "is one of the oldest artforms in the film industry that is still the same," as it was when Jack Foley pioneered the work in the 1920s. "It's the hand work and the foot work, the main things are still the same. It's all about trying to improve the story."
He pointed to a table of sound-effects props – plastic bags, shoes, coffee grounds, old blankets. "You think this is crap, but for me it's very important stuff," he joked.
Kossi gave a live demonstration of how he would record key sounds like footsteps, clothes rustling, or leaves blowing in the wind.
Other music-related offerings at CPH PIX include a concert by punk rockers Retox, fronted by Justin Pearson who also stars in Asia Argento's Misunderstood; 12 Years a Slave musician Colin Stetson performing in a new duo with Arcade Fire singer/violinist Sarah Neufeld; a gig by Jim Jarmusch's favourite band White Hills; Werner Herzog's composer Ernst Reijseger performing with his trio for the first time in Denmark; and an eight-hour electronic music 'sleep concert' by Robert Rich. For grooves of a different kind, there was a Studio 54 party.
CPH PIX continues through April 22.