Dir: James Marsh. UK-US. 2014. 123mins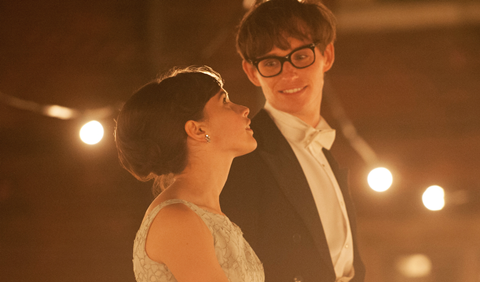 A love story full of romance but also wisdom about how passion can fade or be redirected, The Theory Of Everything tracks the relationship of famed physicist Stephen Hawking and his wife Jane with a fragile beauty. Led by stellar performances from Eddie Redmayne and Felicity Jones, this drama may occasionally flirt too heavily with "prestige picture" preciousness, but on the whole it's an absorbingly lovely and sad recounting of a marriage that wasn't built to last, despite its participants' best intentions.
The Theory Of Everything's classiness can sometimes seem too rigid for its own good, aiming for a studied elegance that feels mannered in places.
Premiering at the Toronto Film Festival before a fall release in the States from Focus Features, The Theory Of Everything seems destined to be a contender for Oscar and BAFTA nominations. Commercially, audience awareness of Stephen Hawking will be a help, as will the presence of rising stars Redmayne and Jones. But also don't discount the movie's chances of being a preferred date-night attraction for the art-house crowd, with crossover potential a decent possibility.
Spanning about 25 years, The Theory Of Everything (which is based on Jane Hawking's memoir) begins in the early 1960s as the young Stephen Hawking (Redmayne) is already well on his way to becoming one of the great minds of the 20th century as a student at Cambridge. In between solving complex mathematical formulas and working on a theory concerning the beginning of time, he meets Jane (Jones), a pretty, lively young woman who brings this sweet genius out of his awkward shell.
Unfortunately, their love affair faces a major obstacle early on: Stephen is diagnosed with motor neuron disease (more popularly known as Lou Gehrig's disease) and is told by doctors he won't live more than two years. Undeterred, Stephen and Jane marry, deciding to make the most of their time together. The gentle irony of The Theory Of Everything is that the couple had far more than two years together, which turned out not to be always such a blessing.
Directed by James Marsh, who has helmed other features but won an Academy Award for his documentary Man On Wire, the movie will have a melancholy sting for those familiar with Stephen and Jane's story. But for those unaware of the couple's twists and turns, Marsh and screenwriter Anthony McCarten observe each chapter of their lives from a respectful distance, drawing us into their love affair with an intelligence and understatement that emphasise the fragility of their marriage — not because Stephen and Jane aren't devoted to each other, but because they know that Stephen's deteriorating health could bring things to a premature end at any moment.
Because during most of the film Stephen is struggling with his debilitating condition, which forces him into a wheelchair and badly slurs his speech, there is a risk that The Theory Of Everything could devolve into a tasteful disease-of-the-week weepie. Thankfully, Marsh resists that inclination, and he's aided by Redmayne's performance. Obviously, playing a famous man requires a certain amount of mimicry, but the young actor does a commendable job approximating Stephen's crumpled physique and frozen half-smile, giving us a sense of a man whose mind is blazingly alive even though his body has failed him.
What's also remarkable about the performance is that it's honest about the growing challenges Stephen's condition brings to the marriage. Because Redmayne is so withdrawn, barely able to establish a rapport with Jones once the disease takes hold, The Theory Of Everything evolves into a frank portrait of living with illness, both for the sufferer and his spouse. Inevitably and understandably, emotional affairs begin to become an issue, first with Jane as she gets close to a kindly local choir leader (a just-right Charlie Cox) who simply wants to help her with Stephen, who can't take care of himself.
Whether it's the opening scenes when Stephen and Jane are falling hopelessly for one another or later when outside forces threaten to separate them, Marsh views romance with a wistful, curious eye, quietly attuned to love's ebb and flow. Eschewing cliché and thudding obviousness, The Theory Of Everything subtly makes the point that for all of Stephen's investigations into the mysteries of the universe, the heart can be equally unfathomable.
If Redmayne's role is the showier of the two, Jones is eloquent as the supportive, strong wife. This sort of character can fall into a type, but Jones finds layers in Jane's devotion, which is tested by her frustrations about his impairment. Happily, she doesn't play Jane as a silently suffering martyr, which gives The Theory Of Everything more of a sense of an equal partnership between its two characters.
As the film reaches its final moments, Marsh does allow for a more sweeping profundity that's a little too crowd-pleasing and bland. There's no question that this is a top-notch production from a technical standpoint: Benoit Delhomme's cinematography is diamond-sharp, Johann Johannsson's score is sublime, and hair and makeup designer Jan Sewell does beautiful work creating prosthetics to help transform Redmayne into the renowned physicist. But The Theory Of Everything's classiness can sometimes seem too rigid for its own good, aiming for a studied elegance that feels mannered in places.
Nevertheless, what one is ultimately left with is a sense of the richness of a complex marriage. Because The Theory Of Everything is based on Jane's memoir, there might be a presumption that the film will cast her in a more sympathetic light than her ex-husband, but it's to Marsh's credit that there are no villains in this sympathetic tale.
Production company: Working Title
International sales: Universal Pictures International, www.universalpicturesinternational.com
US distribution: Focus Features, www.focusfeatures.com
Producers: Tim Bevan, Eric Fellner, Lisa Bruce, Anthony McCarten
Executive producers: Amelia Granger, Liza Chasin, David Kosse
Screenplay: Anthony McCarten, based on Traveling To Infinity: My Life With Stephen by Jane Hawking
Cinematography: Benoit Delhomme
Production designer: John Paul Kelly
Editor: Jinx Godfrey
Music: Johann Johannsson
Main cast: Eddie Redmayne, Felicity Jones, Charlie Cox, Emily Watson, Simon McBurney, David Thewlis