Dir: Dante Lam. Hong Kong. 2012. 122mins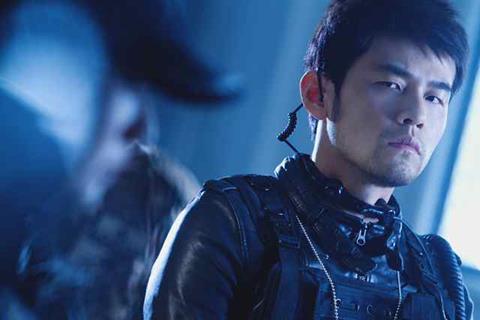 Viral pandemic drama takes a backseat to fraternal fisticuffs and gunplay in The Viral Factor, an enjoyably sprawling if completely scatterbrained action movie from director Dante Lam. A nervous tendency to flit to and fro between characters prevents the movie from successfully gaining much of an emotional foothold, and its two-hour running time renders vast swathes of its action theatrics redundant. But there's enough expressive investment in the two leads to mark the film as a slightly stronger than average genre piece.
The Viral Factor is big-budgeted and handsomely captured.
The Viral Factor, which unfolds in a mix of Cantonese, Mandarin and English, should do solid genre business in Eastern markets, and find specialty market penetration Stateside, where it releases in select AMC Theaters through a partnership with China Lion.
A mission gone wrong leaves cop Jon (Jay Chou, familiar to international audiences because of Green Hornet) with a bullet in his head, and the diagnosis of two weeks to live. His mother (Elaine Jin) tearily confesses to Jon that he has an older brother about whom he knows nothing. In traveling to Kuala Lumpur to track down his estranged father (Liu Kai-chi), Jon quickly crosses paths with this brother — Yeung (Nicholas Tse), a thief and single father who seems to attract shootouts like a magnet.
Soon Jon and Yeung are both on the trail and in the crosshairs of Sean (Andy On), a corrupt government agent and former colleague of Jon's working in cahoots with a billionaire funder and a legion of henchmen to develop a mutated strain of the smallpox virus, and its corresponding antidote, to create a panic and make a fortune in peddling the cure.
Lensed across a wide variety of locations, from the Middle East to Hong Kong and Malaysia, The Viral Factor encompasses a lot of local flavors, even if it doesn't come across as self-consciously epic. Cinematographer Kenny Tse's work touches on any number of inspirations. The film's jittery and saturated opening 15-minute siege, set in Jordan, evokes Ridley Scott's Black Hawk Down, while later passages recall the visual schemes of contemporary cop movies like Heat and We Own the Night.
The film's action vocabulary embraces Hollywood excess in a manner equal parts charmingly naïve, curious and dispiriting. There aren't huge set pieces, per se, which gives the action a more naturalistic and free-flowing vibe. But implausibility still courses through the movie, including sequences where protagonists walk away from tumbles down an elevator shaft or a car plunging headfirst several stories and landing on its roof.
The Viral Factor is big-budgeted and handsomely captured, but since its story doesn't unfold in a state of heightened reality, these bits come off as transparently lazy, a shrugging aping of the worst instincts of overblown Hollywood genre moviemaking. The inclusion of Yeung's daughter, Champ (Crystal Lee), also seems designed mainly to imperil a child late in the third act, when there's plenty of unresolved fraternal friction that is more dramatically meaty.
Lam does best when keeping the action straightforward; it's kind of exciting to see a car crash that doesn't unfold in a series of orgiastic edits, but rather with regular everyday action going on in the background. Only on occasion does Lam mix in a bit of CGI, which comes across as jarring and unsuccessful.
Chou and Tse, meanwhile, each cut effective profiles, and lend a pinch of gravitas to the movie's melodramatic inclinations.
Production companies: Emperor Motion Pictures, Beijing Universe Starlight Culture Media Company, Huayi Brothers Media Corporation
Domestic distribution: China Lion, www.chinalionentertainment.com
Producers: Albert Lee, Solon So, Wang Zhonglei, Candy Leung
Executive producer: Albert Yeung
Co-executive producers: Solon So, Wang Zhongjun
Screenplay: Dante Lam and Jack Ng, based on a story by Candy Leung
Cinematography: Kenny Tse
Editor: Chung Wa-chi
Art directors: Alex Muk, Joel Chong
Music: Peter Kam
Main cast: Jay Chou, Nicholas Tse, Bai Bing, Lin Peng, Andy On, Carl Ng, Liu Kai-chi, Elaine Jin