Dir/scr: Julian Roman Pölsler. Austria-Germany 2012. 108mins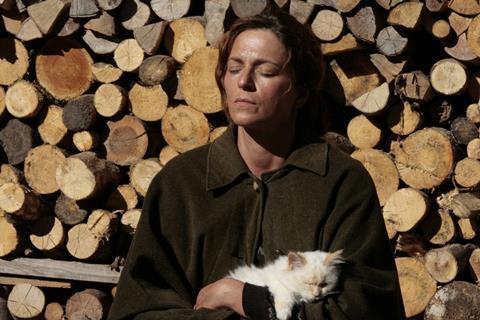 You don't see many films that so overtly address the Human Condition – with capital letters – as intense, contemplative Alpine drama The Wall (Die Wand), essentially a one-woman turn by German star Martina Gedeck. But, if you can buy the bizarre metaphorical premise that gets the film going, then Julian Roman Pölsler's spectacularly-shot, highly intelligent adaptation of Marlen Haushofer's early 1960s bestseller is riveting and emotionally involving from start to finish, though offering few conventional narrative pleasures.
Gedeck's performance, which must have been physically demanding in the extreme, is phenomenal.
The novel's lack of profile in many territories (notably English-speaking) means that many distributors won't be able to play on the recognition factor. But the superb solo achievement of Gedeck (best known outside Germany for The Lives of Others) will help boost prestige appeal to upmarket, serious-minded audiences.
Gedeck barely speaks, other than in the voice-over narrative threaded throughout. She plays an unnamed woman first seen sitting in a darkened cabin writing her 'report', as she puts it, on an extended period of seclusion. In a flashback, we see her insouciantly enjoying a car journey through the Austrian mountains with two older friends. The others drive off to the nearest village, leaving the Woman in the company of their dog Luchs (Lynx), which mysteriously chooses to stay behind.
Searching for her missing hosts the next day, the woman finds the road blocked by an invisible 'wall' – a sort of force field that Gedeck first evokes by doing a sort of Marcel Marceau mime routine (though some shots appear to use an actual transparent surface). Weirder still, in an eerie sequence, we later learn that people on the other side of the wall have been frozen in time – meaning that the Woman is not only trapped alone, but also quite possibly the last person left alive on earth.
Once we accept this odd premise, somewhere between sci-fi and Kafka, then the existential dimensions of the Woman's situation become increasingly resonant – all the more so because the film's exploration of her plight is so concrete. As the Woman explores her new domain – like a Robinson Crusoe of the mountains – Pölsler examines her world, and her daily life, in detail.
The woman finds both emotional and physical sustenance – a cow's sudden appearance betokens a sign of life, and a source of milk, while two cats and the quietly boisterous Luchs (played by the director's own pet) offer a further connection with the world. This bucolic idyll doesn't last long, however, and over several seasons, things get tougher, both physically and spiritually.
The voice-over offers some quietly provocative - if perhaps, ultimately pessimistic – cogitations on solitude, sanity and mankind's relation to time, nature and the universe. The film was shot over several seasons – presumably one reason for its phalanx of credited cinematographers, although its visual tone is extremely consistent.
Gedeck's performance, which must have been physically demanding in the extreme, is phenomenal – only occasionally does she directly express outward emotion, but in her interaction with animals and the landscape (including the seemingly real delivery of a calf), she creates a powerful impression of her character's coming to merge with the Great Outdoors.
The landscape photography, stunning without any traces of postcard beauty, merges with the voice-over to create a narrative that's partly existentialist, partly indebted to the German Romantic tradition. Sparse music includes Bach partitas played by violinist Julia Fischer; but sound design is paramount, from the ambient landscape noise to the wall's unsettling electronic hum. Pölsler is a veteran TV director, but The Wall is intensely cinematic – a high-risk, high-intelligence drama that will be intensely rewarding for viewers willing to scale its rarefied but heady heights.
Production company: Coop 99 Filmproduktion, Starhaus Filmproduktion
International sales: The Match Factory, info@matchfactory.de
Producers: Rainer Kölmel, Antonin Svoboda, Martin Gschlacht, Wasiliki Bleser
Cinematography: J.R.P. Altmann, Christian Berger, Markus Fraunholz, Martin Gschlacht, Bernhard Keller, Helmut Pirnat, Hans Selikovsky, Thomas Tröger, Richi Wagner
Screenplay: Julian Roman Pölsler, from the novel by Marlen Haushofer
Editor: Bettina Mazakarini, Natalie Schwager, Thomas Kohler
Sound design: Johannes Konecky
Main cast: Martina Gedeck, Karl Heinz Hackl, Ulrike Beimpold, Wolfgang Maria Bauer