Dir: Sngmoo Lee. US-South Korea-New Zealand. 2010. 100mins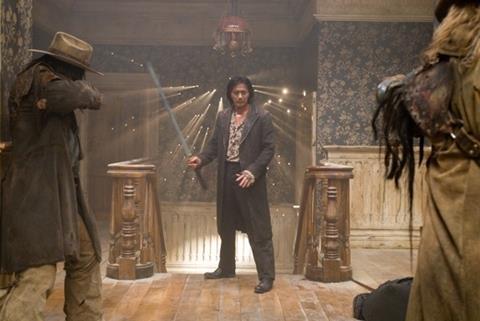 A visually rich but lumbering, narratively confused genre hybrid, The Warrior's Way feels like a wildly missed opportunity for East-meets-West action mayhem. Lackluster pacing and ill-defined dramatic stakes make this a tough sell for even its target audience.
The prospects for colourful culture clash between a nomadic assassin and a band of circus freaks would seem immense, but it remains largely unexploited here.
In a similar frame last year, Ninja Assassin opened to over $13 million en route to a $38 million domestic tally, though that film had the imprint of mega-producer Joel Silver. Based on both its title and marketing, The Warrior's Way seeks to position itself as an exotic action import, but the truth will out in lackluster word-of-mouth. Jang Dong-Gun's overseas star status should make the film a strong player in Asian markets.
When lauded swordsman Yang (Jang) refuses to kill the last member of his enemy clan, a mere baby, he earns the enmity of his mentor, Saddest Flute (Ti Lung). Abandoning his past to start a new life in the American badlands, Yang arrives in the dusty desert town of Lode, which is inhabited by a motley circus crew that includes would-be knife thrower Lynne (Kate Bosworth), diminutive ringmaster Eight Ball (Tony Cox), and Ron (Geoffrey Rush), a drunkard who harbors a past as a sharpshooter.
Yang inherits a laundry and strikes up a friendship with Lynne, but finds occasion to again unsheathe his sword when the villainous Colonel (Danny Huston), who murdered Lynne's family when she was young, returns with his cowboy posse to terrorise Lode. Tracking Yang, Saddest Flute and his crew of cloaked martial arts assassins eventually arrive as well.
In his feature debut, writer-director Sngmoo Lee works up a film that, thematically, serves as able homage to its various touchstones, Sergio Leone's spaghetti westerns among them. And with his tangerine hue, cinematographer Woo-hyung Kim's saturated frames also beckon mightily.
But Lee doesn't seem to know where to take his story. Yang's arrival is hinted at being foretold, but Lee abandons any exploration of a deeper mythology in this regard. CGI-enabled sprays of arterial blood mark the third-act, but little before that offers much reward for martial arts action fans; the movie is chiefly a character-rooted drama. Haphazard and inessential narration from Rush's character dips in and out as well, further muddying the movie's point-of-view.
Most crucially, for all its dawdling investment in story over action, The Warrior's Way's characterisations are surprisingly listless, and its conflict rather half-hearted. The prospects for colourful culture clash between a nomadic assassin and a band of circus freaks would seem immense, but it remains largely unexploited here. Saddest Flute's status as an adjunct villain is hazy, at best.
And while bloodletting ensues when Saddest Flute's clan of leaping swordsmen descend upon Lode at the same time as the Colonel and his massive, gun-toting posse, the film seems to miss, on a very basic level, the opportunity for the injection of tension via an enemy-of-my-enemy standoff.
The score and musical selections are more varied and interesting than one might expect. Composer Javier Navarette elicits engagement with everything from lightly percussive undertones to mandolin and slide guitar, and there is a moonlight training sequence set to Guiseppe Verdi's "La Donna è Mobile."
Too little of the story matches the impression of the movie's look and feel, however. Trying on a Southern drawl to go with her dyed-red hair, Bosworth gamely tries to inject some spitfire energy into proceedings. Jang is unfortunately something of a blank slate. The extremely taciturn nature of his character does him no favours, but neither does he muster much of a quiet, moody charisma.
Production companies: Boram Entertainment, Wellmade Star M, Fuse+Media Pvt. Ltd., Sidus FNH, Culture Unplugged Studios, OzWorks
Domestic distribution: Relativity Media, www.RelativityMediaLLC.com
Producers: Barrie Osborne, Jooick Lee, Michael Peyser
Executive producers: Tim White, Eui Hong, Tcha Seung-Jae, Nansun Shi, Satoru Iseki, Matthew Janner, David Milner, Kathy Morgan
Co-executive producers: Anaal Udaybabu, Doug Falconer, Michelle Hartly, Keyur Patel
Screenplay: Sngmoo Lee
Cinematography: Woo-hyung Kim
Editor: Jonno Woodford-Robinson
Production designer: Dan Hennah
Music: Javier Navarette
Website: www.IAmRogue.com/TheWarriorsWay
Main cast: Jang Dong-Gun, Kate Bosworth, Danny Huston, Tony Cox, Geoffrey Rush, Ti Lung, Analin Rudd