Dir/scr: Brian Klugman & Lee Sternthal. US. 2011. 96mins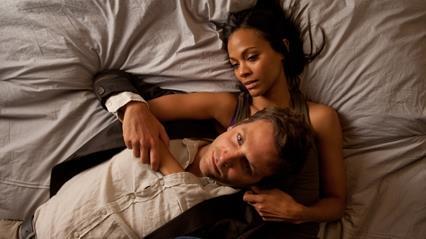 The seduction of storytelling informs just about every minute of The Words, a clever, polished entertainment that segues from thriller to drama to romance without breaking a sweat or offering much depth. The directing debut of screenwriters Brian Klugman and Lee Sternthal, this twisty tale of a literary bestseller with a tragic history boasts strong performances from Bradley Cooper and Jeremy Irons and moves along with the briskness of an airport novel. Don't look for anything more profound within the film's pages, and you'll have a fine time.
Irons seems to be relishing the ability to play an elderly, bitter man who takes vindictive glee at having the high moral ground.
CBS Films swooped in to purchase the film at Sundance, where it's having its official premiere on Friday, and it's easy to see why distributors would come courting. Beyond just the fact that it features emerging star Cooper (not to mention Olivia Wilde, Zoe Saldana and Dennis Quaid), The Words has a mainstream accessibility and juicy storyline that almost feels as if it's based on a pulpy bestseller. Expect this to be a solid mid-range commercial performer, but one that will require word-of-mouth to attract older audiences.
The Words unveils its tricky conceit in the opening: Successful novelist Clay Hammond (Quaid) reads to a packed audience excerpts from his new bestseller, which is about an aspiring novelist named Rory Jansen (Cooper) whose dreams of literary stardom seem hopeless until he finds a dusty old manuscript in a vintage satchel. As Hammond narrates the story, we watch as Jansen passes off the brilliant manuscript as his own, earning the acclaim and riches he always wanted. But soon after the book hits stores, a mysterious elderly man (Irons) confronts Jansen, telling him that he's the true author.
Klugman and Sternthal's film exults in its own story-within-a-story (sometimes story-within-a-story-within-a-story) construction, and while in less confident hands The Words could simply be one long narrative gimmick, the movie does a nice job unveiling its surprises – including the elderly man's reasons for writing the manuscript in the first place.
Moving between three different story strands – Hammond's, Jansen's, and the old man's past – the film also jumps around between genres, and the freewheeling energy of the piece is perhaps its most attractive attribute.
Where The Words suffers, however, is in its attempt to explore darker themes near the film's conclusion. The Words starts off with a palpable emotional hook – disillusioned Jansen's only way to become a great author is to hide behind the words of another – but the filmmakers' later investigation into guilt, regret, redemption and the fine line between art and real life feels forced, which is the only time this page-turner doesn't zoom right along.
Playing what might be considered a variation of his character from Limitless, Cooper once again shows an ability to portray protagonists who are hungry for success but can't cope with the repercussions of their slippery moral choices. Meanwhile, Irons seems to be relishing the ability to play an elderly, bitter man who takes vindictive glee at having the high moral ground on the plagiarist Jansen.
Of the film's three sections, Hammond's is easily the weakest, but Quaid does a good job (with an assist from Wilde) hinting at his character's own possible moral slipperiness. If The Words ends up being more than a smidge too clever for its own good, the cast's commitment to the elaborate artifice helps sell its slickness.
Production companies: Benaroya Pictures, Parlay Films, Waterfall Media, Animus Films, Serena Films
Domestic distribution: CBS Films, www.cbsfilms.com
Producers: Michael Benaroya, Tatiana Kelly, Jim Young
Executive producers: Laura Rister, Cassian Elwes, Lisa Wilson, Bradley Cooper
Cinematography: Antonio Calvache
Production designer: Michele Laliberte
Editor: Leslie Jones
Music: Marcelo Zarvos
Main cast: Bradley Cooper, Jeremy Irons, Dennis Quaid, Olivia Wilde, Zoe Saldana, Ben Barnes, Nora Arnezeder